SPRINGFIELD — Even as the unemployment rate continues to fall compared to 2016, job losses remain a stubborn statistic in the Decatur area.
Decatur lost 300 nonfarm jobs year over year in November, dropping to 51,600, according to data released Thursday by the Illinois Department of Employment Security.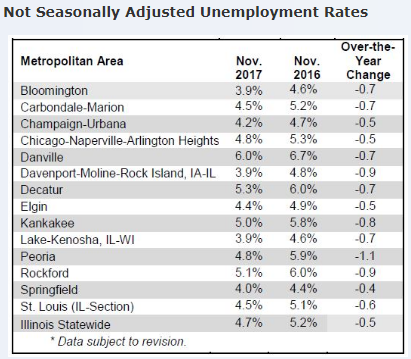 The Decatur-area unemployment rate continues to improve, sitting at 5.3 percent, compared to 6 percent in November 2016. The unemployment rate identifies those who are out of work and looking for work and is not tied to collecting unemployment insurance benefits.
Illinois' unemployment rate was 4.7 percent in November, compared to 5.2 percent in 2016. Nationally, the jobless rate was 4.1 percent, an improvement over 4.6 percent the previous year.
The IDES report noted that 10 of the state's 14 metropolitan areas did show job gains. In Central Illinois, Champaign (700), Springfield (400) and Decatur lost jobs, while the Bloomignton area added 500.
"It is encouraging that job growth was reported in 10 of the 14 metro areas," said IDES Director Jeff Mays. "More than 30,000 of those jobs were created in the Chicago metro area, so we need continued stronger growth statewide."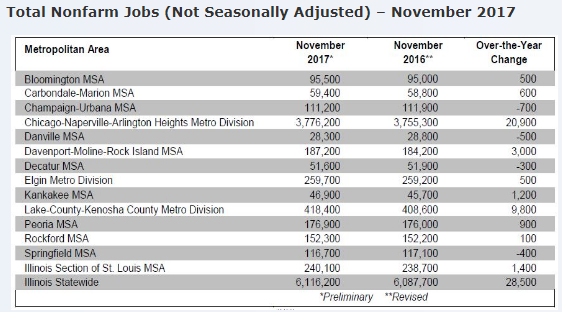 November unemployment rates in Central Illinois counties with 2016 rates in parentheses:
Clark 4.8 (5.2)
Coles 4.4 (5.3)
DeWitt 4.4 (5.2)
Douglas 3.8 (4.3)
Edgar 4.0 (6.1)
Iroquois 4.1 (5.0)
McLean 3.8 (4.6)
Macon 5.3 (6.0)
Moultrie 3.6 (4.2)
Piatt 3.8 (4.6)
Sangamon 4.0 (4.4)
Shelby 4.3 (5.5)