DECATUR — For more than 40 years, the popular Saturday morning "Schoolhouse Rock"  short films have taught children fundamentals in a fun way.
The musical "Schoolhouse Rock" follows the story in which a new teacher stresses about his first day of teaching. He relaxes in front of a TV as he remembers the popular children's songs.
The show is written for six cast members, but as the director of the family-focused group, Lightner wanted to include more people. "I cast the six leads and the rest are in the ensemble dancing and singing," she said.
The youngest cast member for "Schoolhouse Rock" is 4 years old. Three mothers will be on stage with their children. Family members will also help backstage and with props. A band will accompany the 22-member cast.
Jaxson Mackling, 15, performs as Tom the teacher.
"I've watched them, but didn't know the story behind them," he said.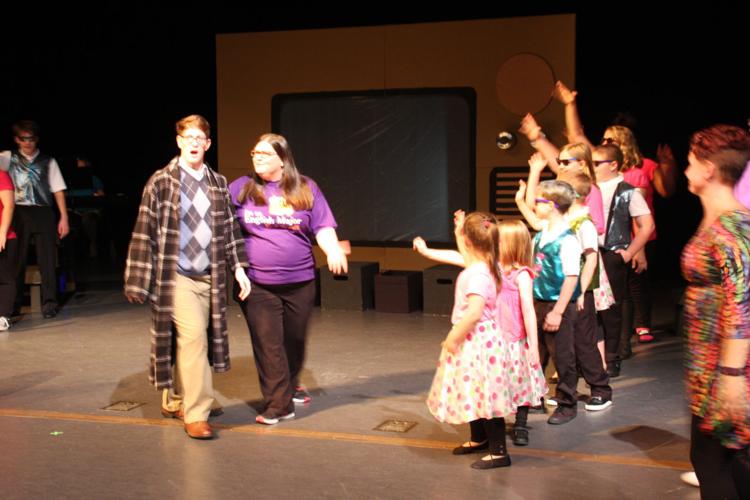 Mackling is a veteran performer with Mid-Summer Moon, having performed in eight shows.
"This is the first show as a lead character," he said. "It's been a challenge."
The show will have 21 songs with few speaking parts.
"The songs are the focus," Lightner said.
Some of the popular songs include "Lolly, Lolly, Lolly, Get Your Adverbs Here," "Conjunction Junction," "Interplanet Janet," "Interjections," "The Preamble" and "I'm Just a Bill.
"We're expecting a lot of audience participation," Lightner said.
The show will have many of the props and images reminiscent from the popular film clips with the help of a projector. "It will be a big TV and a screen will have the images from the songs," Lightner said.
Mid-Summer Moon Productions has made its home at the Decatur Civic Center for past productions, including "Christmas Carol" and "Alice in Wonderland."
Mid-Summer Moon Productions recently qualified as a 501(c)(3) nonprofit group. They are tax-exempt and are able to apply for grants.
"Our focus has not changed," Lightner said. "We continue to produce family-friendly shows that are family centered."
Lightner's plans include producing educational opportunities for the cast, including workshops and school productions. They also hope to produce larger shows such as "Shrek" and "Peter Pan."
Lightner chose "Schoolhouse Rock" as the first show of the season because it was her first as the president of the Mid-Summer Moon Productions. She wanted a manageable play as well as a small cast and something with name recognition. "And I wanted something that would draw families," Lightner said.
The show has all the characters many will remember, including the conductor, conjunction girls and The Bill.
Matthew Lightner, 16, will be scrolled into his costume to represent one of the more iconic songs. He was aware of the cartoons and often heard the "Schoolhouse Rock" songs while in grade school.
"I remember watching one on naming the colonies and 'I'm Just a Bill' and how long the process was," he said.