Churchill: Story of runaway dog's icy odyssey warms many hearts
A dog in survival mode sees every human, even those trying to help, as a threat.
Especially when there are lots and lots of them.
That was the dilemma for people trying to catch a runaway Great Dane north of Decatur during one of the coldest winters on record: The longer the canine remained on the loose, the larger its social media following — and potential search party — grew.
Richard "Richie" Rich, the trapper who captured the female dog near Maroa last weekend, said he had never seen anything like it.
"Volunteer help is so important when we need eyes for sightings," he said. "The number of people and the distance they were driving was incredible!"
The happy ending capped a harrowing odyssey that produced sightings near such places as Clinton, Harristown, Kenney, Latham, Maroa, Wapella, and Warrensburg and Facebook posts dating back to at least November.
But a photo posted Dec. 30 by Jamie Zombro, road commissioner of Maroa Township, was the one that took on a life of its own, shared by other users 2,875 times.
"Anyone know who this (dog) belongs to?" Zombro wrote. "I tried getting it but it ran away (and) was last seen along the creek on Route 51 north of Emery Road, east side."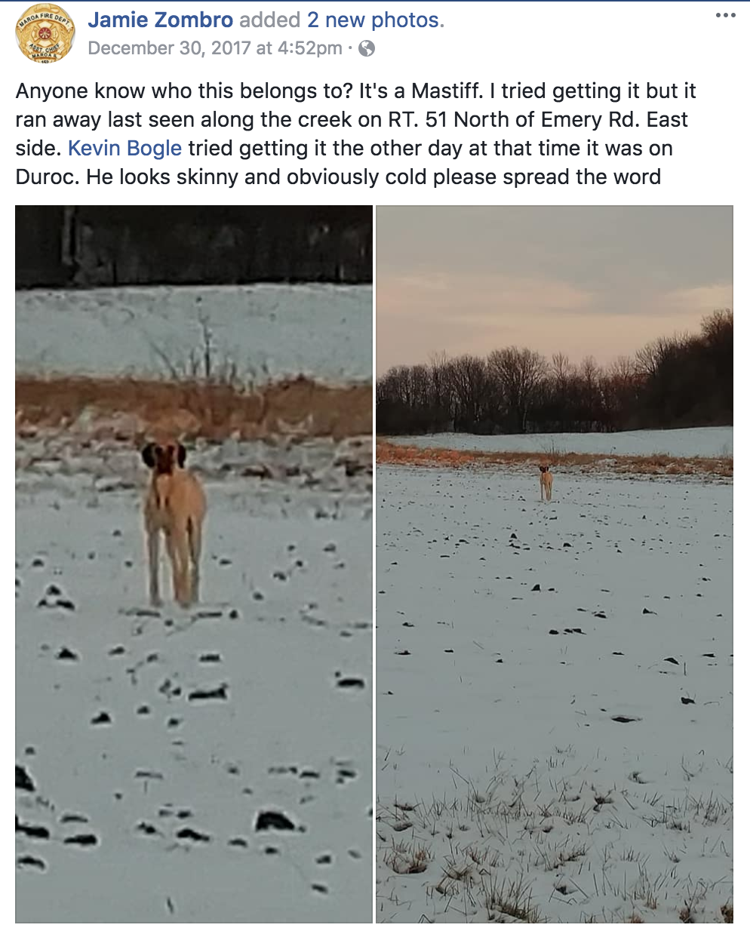 That drew scores of comments and plaintive pleas like this one from Charleston native Marty Lang, who said she wanted to help even though she lived too far away to join the search: "This makes me sick that she is scared, hungry and cold."
Record cold of -13 degrees was recorded Jan. 1 at Decatur Airport.
Macon County sheriff's Sgt. Matt Reynolds said his animal control wardens began searching for the dog around this time after seeing the Facebook posts. They rejected the idea of using a tranquilizer for fear the animal would run and hide, go to sleep and freeze to death. He said a live trap would pose the same danger unless monitored continuously.
"We've seen only two or three cases like this in the last 10 years of a dog that we couldn't easily catch," Reynolds said.
Two weeks ago was also when Becki Holloway of Normal tagged Rich in the comments of Zombro's viral post.
Rich, who with some friends started Trap and Recover Animals in Peoria four years ago, came to Maroa three times, Jan. 3, 5 and 6, to make the grab.
First, with help from volunteers, he located the Great Dane's "safe spot," which at the time was some tall dead grass between two fields on the northwest edge of town. Then Rich returned alone the next day before sunrise, set up a camouflage hunting blind nearby and waited.
"She must have slept somewhere else that night," Rich said. "She showed up about 9:15 a.m., walking up the hedge line and laid down."
The plan was to cook some Spam in the tent, place it in a bowl outside and use a snare to catch her when she came close. Trouble was, as the morning wore on, two or three motorists began driving slowly through the neighborhood and a woman on foot started calling for the dog and clapping her hands.
Afraid they would flush out the canine, Rich switched to Plan B. He left the blind, got in his pickup and drove it as close as he could via an indirect route. Then he ran up and jumped on the dog while she was sleeping.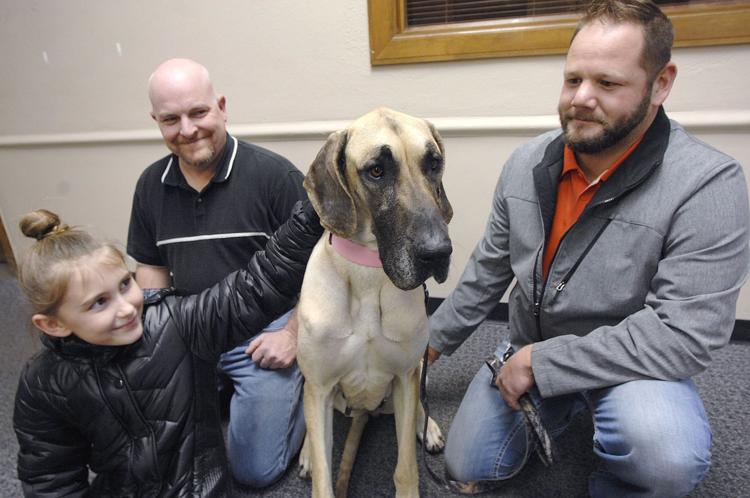 "I don't recommend the 'ambush' method," Rich said. "There's a huge risk of injury, and I got hurt both times I had to do it."
This time he suffered a 1½-inch gash above his left ear that required six staples when his head collided with the dog's.
A veterinary exam revealed that the Great Dane is about 4 years old and suffered frostbite to the tips of her ears, part of her nose, her nipples and the pads of her feet. She also tipped the scales at a mere 99 pounds, compared to a healthy weight for her breed and gender of 140 to 150 pounds.
A Facebook fundraiser set up by Dawn Voss has collected more than $1,500 to cover the bills.
Rich, who believes the dog may be an escapee from a puppy mill because she had not been micro-chipped or spayed, has named her Daisy Ma (pronounced May but standing for Maroa) and is keeping her with him for now.
"She looks over her shoulders when she eats and is scared of everything," he said. "It's going to take some time to see where she needs to be."
Rich joins Zombro and Beth Hughes from the Care Van pet program in thanking all the people who posted fliers, reported sightings, put out dog food and opened their garages. "These kind actions surely kept her in Maroa and alive," Rich said.
Zombro added, "I have met some of the most caring, loving and considerate people through this."
Facebook comments on photos of Daisy Ma safe and sound were about as numerous as earlier ones expressing worry over her plight.
"Such wonderful news to wake up to!!!" wrote Linda Cox of Clinton. "God bless everyone that helped rescue her!!"
Theresa Churchill is a retired senior writer for the Herald & Review. Suggest places, people and topics for her by emailing theresandy85@gmail.com.