Crews start Aaction Equipment warehouse clean-up — nearly 3 years after fire
DECATUR – Work to finally remove enormous piles of debris from the former Aaction Equipment building is underway — almost three years after fire destroyed the 1060 E. Grand Ave. structure.
Here's what to know about the massive project:
WHAT'S BEING DONE
Crews are removing piles of bricks, pipes and other debris from the site, which takes up nearly an entire block along North Illinois Street between East Grand Avenue and East Locust Street. The rubble, which is believed to contain asbestos, has been sitting there since January 2015, when fire gutted the warehouse. Firefighters from across the region were called in to battle the blaze, which could be seen for miles as it lit up the night sky. 
WHY THE DELAY
The building eventually collapsed but was never cleaned up. "It's just literally become a landfill," neighbor Charity Doyle, told the Herald & Review in September. The case has been tied up in a protracted legal battle between the city and those who control the property. The owner died and the building was not insured.  Click here to read more about the case.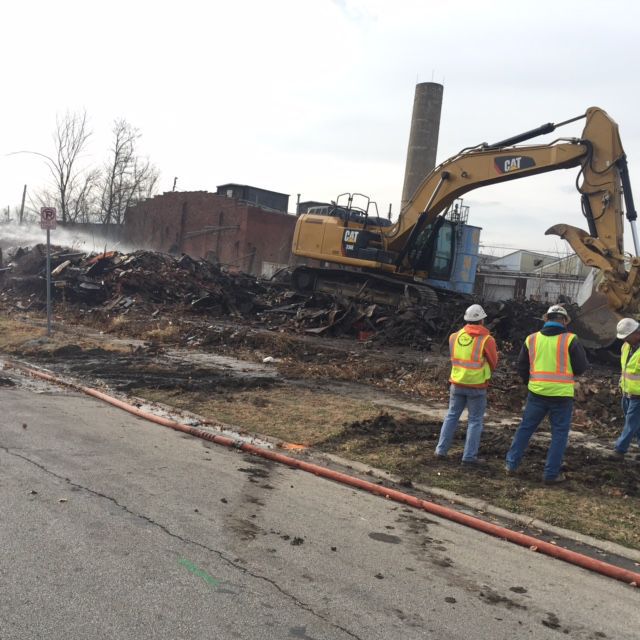 WHO IS DOING THE WORK
The city has partnered with Operating Engineers Local 965 in Springfield for the removal. The city at first said the project would cost $300,000, but officials now estimate it will be lower because of the partnership. They're not sure how long it will take. 
On Monday, a crane and other equipment was brought in as the area was sprayed with a hose.  The union is using the cleanup to offer training opportunities for members.
HISTORY OF THE BUILDING
The three-story warehouse starting in the 1890s housed Faries Manufacturing, makers of kitchen cabinets, mirrors, bird cages and stands. The business sold the building to Sol Tick & Co. in 1955 and moved to Elkhart, Indiana. The restaurant equipment company was housed there since the 1970s.