EDUCATION
Decatur Christian students take geography lessons to heart with international pen pals 📨
FORSYTH — Sarah Dodson knows people all over the world.
That's handy if you're a geography teacher, like she is, especially when it comes to giving your students firsthand knowledge of other countries.
"We're writing postcards to people across the world," said Alexis Shew, a freshman at Decatur Christian School, where Dodson teaches. Alexis designed the postcards the students wrote to their newfound global friends. It features a globe, atop which stands a "Wandering Warrior," and includes the school's logo. The school's mascot is the Warriors.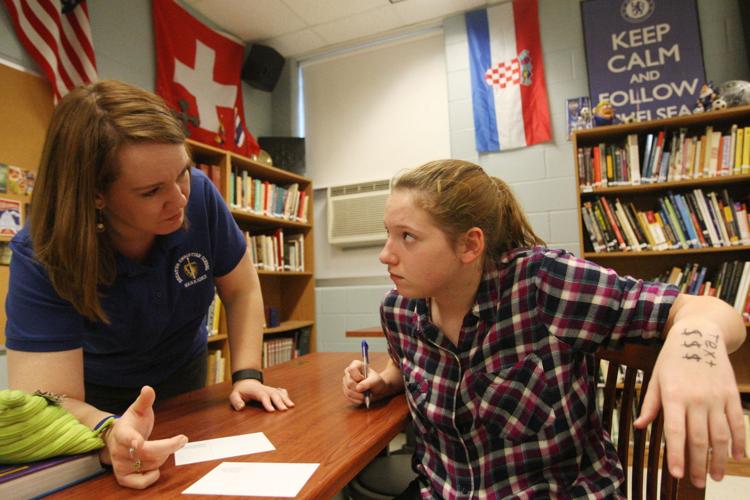 "They're people our teacher knows," said Breanna Evans. "She's been across the world. Most of the places that we're writing to are places we've studied in our (geography) book."
Dodson met her worldwide acquaintances in college for the most part, people whose careers or marriages or missionary work took them to France, Norway and the United Kingdom, or who had come from those places to attend college in the United States.
"It kind of helps us get a more personal perspective," Alexis said. "When the people write back, we get to ask questions and and get a personal perspective, rather that just what our book says."
That's exactly what Dodson hoped for when she came up with the idea. Reading about places in a book, or even looking things up online, is not the same as having a pen pal who lives there. They can describe the scene outside their home, the shops and the people and the food, in a more personal way.
And the reason for doing this project with postcards instead of email is simple, she said.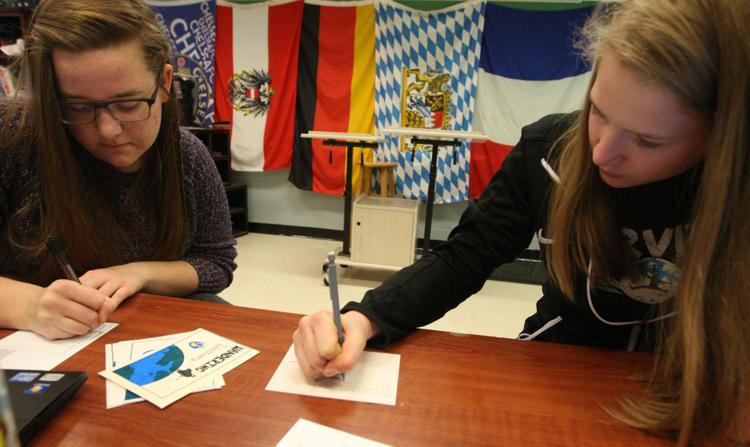 "I want them to have something to hold, something that came from another country," Dodson said, pointing to a bulletin board at the front of the room, where some students had hung postcards they'd already received. Holding an item sent around the world brings a little piece of that world into their classroom.
The students had to choose at least one of Dodson's contacts to send postcards to, but some chose several, like Alexis and Breanna. The students consulted one another about what to say and what to ask, and fitting all they wanted to ask on one postcard proved a bit challenging in some cases
"Right now, I'm writing to a couple in Cardiff, the United Kingdom," Breanna said. "They've been to the USA, and I'm asking them about the differences."
Cardiff is the capital of Wales, a port city on the south coast of Great Britain.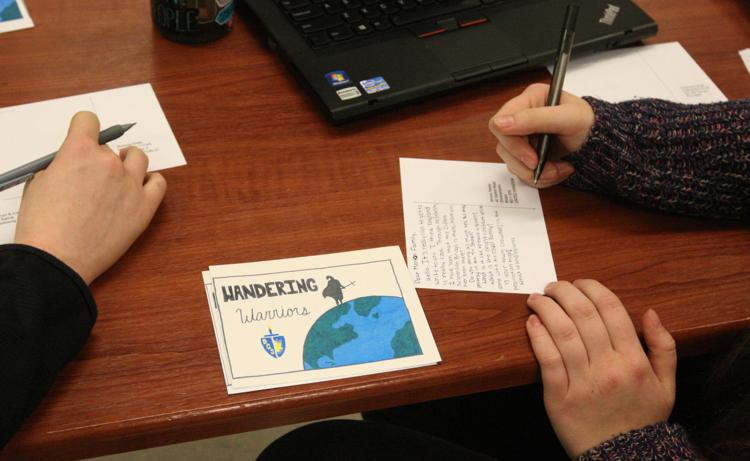 All the recipients speak English, and the one person whose native language is not English is fluent, so that's one difficulty they won't have, Alexis said. She wanted to know if her British correspondents really drink as much tea as the movies and television would suggest.
These are the kinds of details, Dodson said, that friends who live in these places can provide that will give faces and names to those in other countries and provide her students with a global outlook that books and videos cannot.