HARRISTOWN — Only a select few 13-year-olds can say they've performed in the legendary Carnegie Hall. Vanessa Templeton of Harristown is among them.
Last month, Vanessa was part of a group of middle school students who were chosen by audition for the Honors Performance Series, which included a choir, band and orchestra. Vanessa is an alto who sings in her school choir and the Millikin University Children's Choir.
"She wants to go to Millikin to go to college and major in music, but understands how hard that is, so wants to study education to be a teacher if she needs something to fall back on," said her mother, Kari, who accompanied Vanessa to New York City, along with her own mother, Helen David. "Mom and I got to go on a sightseeing boat tour on the Hudson, tour Carnegie Hall; could go to history and art museums, but we ran out of time."
Vanessa's mother's friend, Glenda Weldy, helped her learn "Make You Feel My Love," recorded by Adele, for her audition recording. Weldy also played accompaniment for the recording.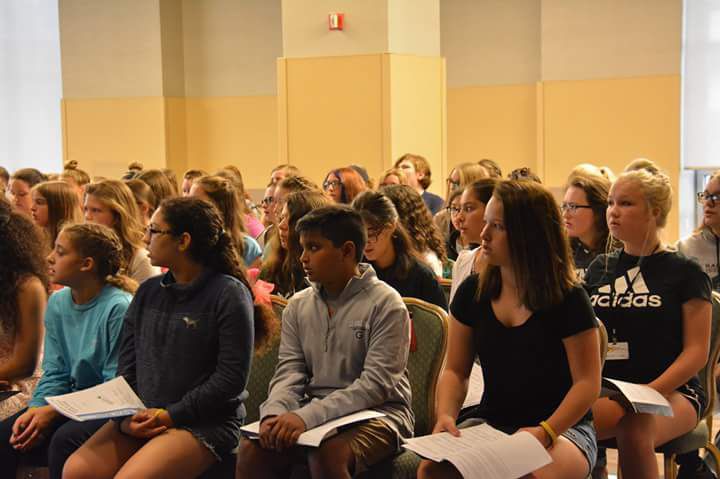 "It's kids from all over the country," said Vanessa reflecting on the students who joined her at Carnegie Hall, "then there were kids from Mexico, Australia, Japan and Taiwan."
She's going into eighth grade at Sangamon Valley Middle School, and she heard about the program from her music teacher.
She sent her audition recording in November and didn't hear back until March that she'd been accepted. As far as she knows, only one other Illinois student was in the group. She received sheet music ahead of time to learn her parts prior to the trip.
"When we got there, we got everything situated and we started working on our practices the next day," Vanessa said.
The group performed six songs, and the two rehearsals a day were intense and several hours long, plus a dress rehearsal the day of the show.
The musical director, Greg Gilpin, also composed some of the music especially for the performance, and he is a perfectionist, Vanessa said. He often stopped a song simply because one of the singers had pronounced a word slightly differently from the way he wanted, she said.
Gilpin is a nationally acclaimed recording artist and composer who lives in Indianapolis and spends much of his time traveling and working with young performers. He's also in demand as a studio musician and producer, and conducts educational choral tours worldwide. He's director of educational choral publications for Shawnee Press.
Vanessa said she learned a lot about shaping words as she sings. One example, she said, is the word "gloria," which he told them to pronounce as "cloria," because when a large group sings together, adjustments have to be made to make the sounds clear to the audience.
"After they sang, there's a little course," Kari Templeton said. "They have to get online, and when they finish, they get high school credit."
Being on the stage at Carnegie Hall was a little nerve-wracking, Vanessa said.
"You see all these people," she said. "And I was scared because I was scared I was going to fall off (the stage). At dress rehearsal, I fell off the stage, but it's OK."
Carnegie Hall was packed, Kari Templeton said, because the orchestra, band and choir added up to more than 300 performers, and they all had family and friends in attendance. Video wasn't allowed, for fear it would distract the young performers, but she did manage to take a few photos during some of the preparation.
"We got to sit in a rehearsal and watch them, and they were all amazing," Kari Templeton said. "(Gilpin) worked really hard with them and they really paid attention and sounded just amazing."