Today is Veterans Day, a time for Roger Drake to fondly but sadly remember his best friend, Leon Bryant, whom he regarded as a brother during their carefree days as Argenta-Oreana High School students, Class of 1961.
They played basketball together, went to dances together, played baseball in the pasture that was Drake's huge yard.
"We'd get in my dad's truck and slide around the corn cribs with the other kids in the back," Drake remembers of his family's farmland on Mound Road, near where Richland Community College is today. "It's a wonder we didn't get anyone killed."
When Bryant was winning track meets all over Central Illinois, Drake was his biggest fan. When Bryant was helping lead Argenta-Oreana to a 24-win season in basketball, Drake was his tall, skinny teammate who marveled at how his buddy played to the point of exhaustion.
When it became apparent that Bryant was at Drake's home as often as his own, Drake's family kept a bed ready for him. The two pals ate together, shared secrets together and dreamed together.
"We were pretty much inseparable," Drake said.
On this Veterans Day, Drake will give pause to the great respect now shown to military members who die in action and whose bodies are returned to Central Illinois. He's grateful that our communities have come to regard this with such honor, that flags are placed along roadways and that people stand at attention and salute and shed tears when one of the fallen returns home.
But he'll never forget that it wasn't always done with such care and dignity.
He will never shake the memory of the dark, cold November night in 1967 when Leon Bryant's body was returned to Decatur, how a box car clattered to a halt at the old Wabash Railway station, stopping unceremoniously without a single salute or tearful cry of, "Welcome home."
It was only Drake and Bryant's grief-stricken brother, Jimmy, and Bryant's brother-in-law, the respected horse trainer, Leroy Moyer, along with a worker from the Dawson & Wikoff Funeral Home.
When the train door was pushed open, a military aide climbed out. He had accompanied the casket on this final leg of its journey, less than two weeks after Bryant had been killed in Binh Chanh, Vietnam, in a barrage of gunfire as he tried to protect members of his company who had wandered into a firefight.
That small group of men unloaded the casket and placed it on a metal cart, where it was wheeled to a hearse and transported to the Dawson & Wikoff facility on Wood Street.
Fortunately, Bryant was saluted by friends, family and classmates at a funeral service, but all the while Drake knew his dear friend had been treated like so many other Vietnam vets when they returned home. In fact Bryant had it better than many. He was merely overlooked; others were scorned and ostracized.
Ironically, Bryant's much more positive moment occurred while he was training at Fort Leonard Wood in Missouri. It was there when Anita Bryant, the onetime Miss Oklahoma winner and Miss America finalist, showed up to entertain the troops.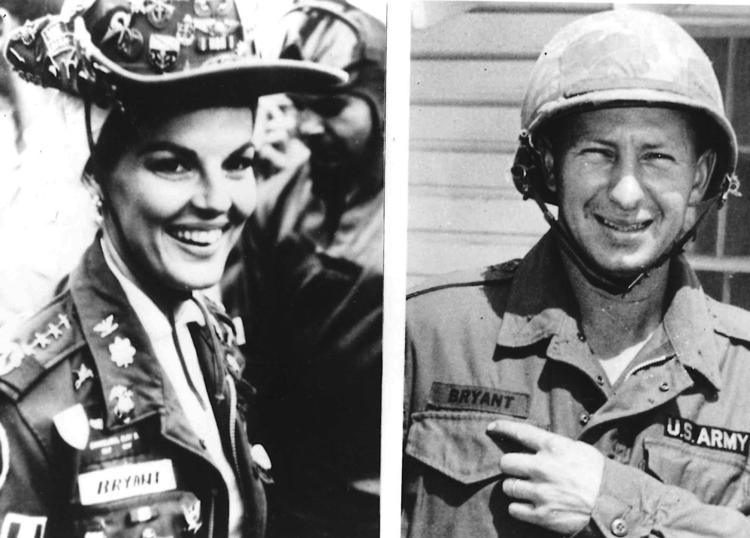 She'd been collecting military patches and pins and asked for a fatigue coat to display them on. Leon Bryant passed his coat along to her and she was thrilled to see the "BRYANT" name stitched to the garment.
Anita Bryant wore that coat throughout Vietnam as part of Bob Hope's road show. And although Leon Bryant never met the entertainer, Anita Bryant corresponded with his wife, Yvonne, expressing her appreciation and the hope that she would meet Leon during her tour through Vietnam.
Leon Bryant wrote letters, too. Some were to Roger Drake. More were to his wife, including one dated Oct. 21, 1967 – 24 days before his death – that said, "Finally, I have a few minutes to sit and answer your letters. A lot has happened in the last couple days. We've had seven men killed and four wounded in the last two days … We were under heavy VC fire for about one your yesterday."
The letter continued, describing an ambush that left six soldiers dead. They were found with heads, arms and legs chopped off.
When she learned of Leon Bryant's death, Anita Bryant expressed her grief in a letter to Yvonne. She was shocked to feel so deeply for a person she'd never met.
When he learned of Leon's death, Roger Drake, who'd been the best man and Leon and Yvonne's wedding, was inconsolable.
"I was at home working on my car when Leon's brother and his wife showed up and told me," Drake says of a moment he'll never forget. "I cried so hard. It was a terrible time."
If you wonder when Drake will get over the death of Leon Bryant, the answer is never.
He sometimes wonders what would have become of his best friend had he escaped gunfire in another land.
"I think about what his life could have been," Drake said. "He was happy. He had a good wife. He'd worked at Mueller and I think he would have had a family and become a supervisor there.
"We would have gone to a lot of games and races together," said Drake, who became a stock car driving champion at Macon Speedway and other tracks.
"But in that one instance, it all went away."
Drake doesn't stay awake at night pondering this sad story, although he has pushed for Leon's inclusion in the Argenta-Oreana Athletic Hall of Fame. That seems like a no-brainer for a guy who won the mile run four straight years in the Macon County Track Meet and who won the 880-yard run in three of four years.
But if there's one thing that still tugs at Drake, it's that dark, cold night in November when Leon Bryant's body was returned with barely a shred of dignity and without an ounce of honor.
If there's a lasting message on this Veterans Day, it's that Roger Drake is grateful to see America doing a much better job of respecting its fallen heroes these days. He applauds the way entire communities seem to appreciate their service and are not afraid to be touched by their sacrifice.
He only wishes the mood of the country had been more sympathetic back then.
He'll think about that on Tuesday, the 50th anniversary of Leron Bryant's death.