DECATUR — Eileen Zilz drove her golf cart around Scovill Golf Course through the fog and mist Wednesday morning and cackled into the cool fall air. The lace on her red and black witch hat covered her eyes but not her smile.
The course hosted "The Witch Golf Tournament," and although Zilz couldn't play because of an injury, she made sure others enjoyed themselves. She whipped around the course passing out candy and heckling dozens of competitors dressed in witch hats and striped socks.
The course was decorated with Halloween signs, dummies stabbed with golf clubs and other festive decor, including a giant spider. 
"The guys on the grounds crew have a lot of fun putting it together," said Sandy Fisher, who helped organize the event. 
It's inspired by a tournament at the former Nelson Park Golf Course called The Monster, which traditionally presented participating golfers with challenging conditions. The Monster was held on the weekend, so The Witch began for women who don't golf on the weekends, Fisher said.
The decorations make the game fun, one golfer Phyllis Kunzeman said. The different holes with increased difficulty also make the game fun, presenting a more challenging and unique experience. 
"I just enjoy it, all the girls dress up," Kunzeman said.
The event is held for the women to have some fun and celebrate a good season of golfing before the course closes for the winter. This year, however, the closure is permanent — the Decatur Park District is closing the course after 88 years, citing declining revenue and interest in the sport. 
So, it became a last hurrah for many of the women who won't be playing together much anymore.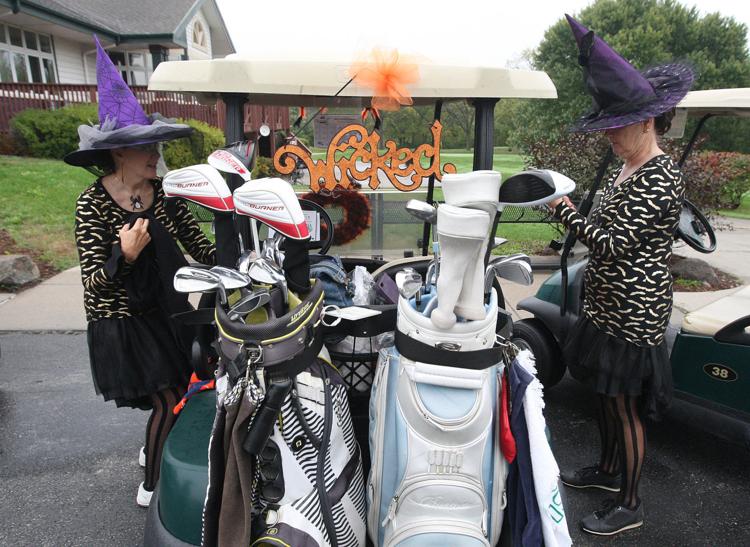 As Zilz drove her golf cart broom around, she heckled the players and passed out glow-in-the-dark chocolate. She also reminisced about the Scovill course and the good memories she's had there. She paused at her favorite spot on top of a hill by the eighth hole and took in the view.
"It's a good end to the year," Zilz said. "Hopefully we can do it next year, I don't know, it'll have to be a different course."
She also wondered what will happen to the land, something that hasn't been made clear to the public.
Another golfer, Louise Mrotzek agreed. She said, "it's sad, it's a wonderful golf course especially for women, because it is a shorter course."
Now, the ladies who've become good friends will be all spread out, Mrotzek said. Some will go to Moweaqua to play and others will go to the other locations in town, Hickory Point Golf Course and Red Tail Run Golf Club.
"I think it is awful, I really do," Mrotzek said. "If you ask everybody in here it's the same thing, it shouldn't be closed, but what are you going to do?"