CHAMPAIGN — Eight months into his tenure as the University of Illinois basketball coach and the puzzle to understand Brad Underwood's personality is still coming together, piece by piece, scowl by scowl.
Friday night gave the world its first chance to see him coach Illinois in a game that counts and already he looks to have a better-than-average chance to endear himself to a Midwest basketball fan base hungry to love someone who isn't afraid to roll up his sleeves, stand tall on behalf of greater orange and blue good and punch someone in the face.
Not literally punch someone, of course. But big-time college sports are often a brawl that stops just short of bare-knuckle fisticuffs and in the course of watching this program slide into national obscurity, those fans know it will take someone special to drag the whole deal back to where it matters. It will take a fighter.
AD Josh Whitman identified Underwood as that person, a tough guy with Midwest roots who understands the finesse aspects of basketball and implements it with the brute force of football.
Underwood is that kind of coach, unafraid to mix it up in the trenches because he learned the game from mentors who coach with clenched fists, too.
Underwood played for legendary coach Jack Hartman at Kansas State. Hartman was also a football guy who played at Oklahoma State and in the Canadian Football League before deciding to coach on the hardwood.
Underwood's coaching mentors include Bob Huggins, now at West Virginia, and Frank Martin, now at South Carolina. If Huggins isn't the scariest coach in college basketball, Martin is.
Martin, who looks like a slightly deranged body builder, committed to coaching only after he was subjected to gunfire while working as a bouncer at a nightclub.
All of these men come from the School of Hard Knocks, where they apparently train coaches by having them stand in front of a mirror to practice their scary face. It is there where scowls are an art form.
Huggins' scary face is threatening. Martin's is downright terrifying.
Underwood has a look that should be accompanied by a chainsaw and we've already seen it in the exhibition loss at Eastern and in Friday night's 102-55 victory over Southern in the season opener.
He takes this seriously and it wasn't long into Friday night's game that he started a loud, running banter with Deon Thomas, the school's career scoring leader who was sitting courtside in his role as the radio analyst. This time – because his team was already up by 45 – it was mostly an act.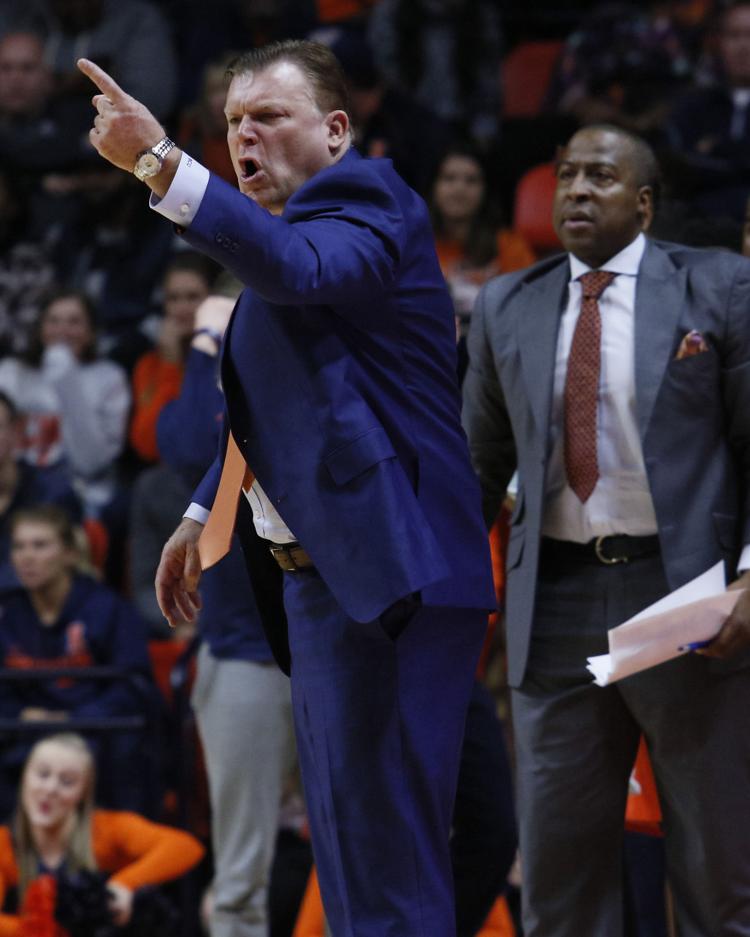 When 6-10 freshman Matic Vesel started dribbling like a Harlem Globetrotter point guard at center court, Underwood pretended to come unhinged. "What's that?" he barked at Thomas, gesturing with both hands stretched upward. "Can you believe that?"
What Illini fans are either ignoring or simply rejecting as too good to be true is Underwood's claim that when Whitman asked him to climb on his private jet and fly back to Champaign last March, he was merely agreeing to accept his dream job.
Fans still have open wounds from the day Bill Self let them know Illinois wasn't quite his dream job. Instead, he wanted to take over at Kansas. But while Underwood, a Kansas native, was at Stephen F. Austin, an administrator asked him point-blank: "What is your dream job?"
The administrator wrote that word on a slip of paper and filed it away. When Underwood left Oklahoma State after just one season to come to Champaign, the slip of paper was unfolded and mailed to Underwood as a momento and a nod of congratulations. Clearly, Underwood had been telling the truth.
Six hours before Underwood's first game as the Illini head coach Friday, he slipped quietly into the State Farm Center to get a peek at the start of the Illini women's game.
Nancy Fahey was making her Illini coaching debut, too, and while wanting to support her, Underwood also wanted to drink in a bit of what it would feel like later that evening when it was his turn.
"I just love the smell of the arena," he said. "Just to soak that in for a minute.
"I have so much love for the students and the support they bring. They bring the ambience, the atmosphere, and I always want to thank them. They create that."
Underwood looked anxious as he marched onto the State Farm Center floor on a night when 14,637 turned out.
"I was nervous … emotional I guess from the standpoint of, I'm living out my dream."
Nothing lasts forever. But taking him at his word that this is his dream job, and watching his tough guy personality begin to stretch out, it feels like this is a coach-fan relationship that has a chance to be around for a while.