Northbrook-based GMX Real Estate Group is seeking to develop the southwest corner of U.S. Business 51 and West Ash Avenue on Decatur's north side.
A public meeting to discuss the issue with residents who live in that neighborhood was Monday night at Decatur Public Library, and a large crowd turned out to make their opinions known.
Here are five things were learned: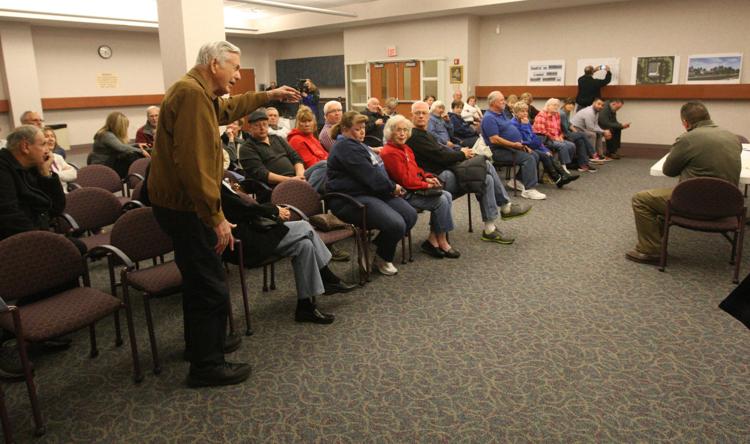 1. GMX Real Estate Group is seeking to rezone 1.6 acres into a 10,400-square foot shopping center near the high-traffic intersection. Though vague on specifics, some recent projects by the company include a Portillo's restaurant in Homewood, McDonald's in Danville and Downers Grove and shopping centers in Homewood and Palantine.
2. Residents who attended Monday's meeting at the library were vehemently opposed to the development, which many say is no different than the Aldi's plan which the city council rejected two years ago. They object to what they say will be increased traffic and lower property values for their homes if the project goes through. 
"You're just adding more traffic to our street , and it's already crazy enough in my opinion," said Julie Bresnan, who has lived in her home, directly across the street from the planned development, since 1993.
3. Mayor Julie Moore Wolfe and council members Pat McDaniel, Chuck Kuhle and David Horn attended Monday's meeting. Horn and Kuhle were not on the council during the Aldi vote in 2015. They expressed a desire to keep an open mind about residents' concerns vs. the need for new business development.
"It definitely is an inconvenience for these residents," Kuhle said. "But on the other hand, we're trying to grow Decatur, and to turn business away is a tough call."
Moore Wolfe voted for the Aldi proposal, while McDaniel voted against it.
4. GMX has submitted its petition to rezone for planned development, according to Deputy City Manager Billy Tyus. The item is expected to come before the Plan Commission at its Dec. 7 meeting. The commission will make a recommendation to the council, which will vote at an unspecified date.
Two years ago, the council rejected by a 4-3 vote the Aldi proposal after it was recommended for approval by the Plan Commission.
5. GMX co-manager Andrew Goodman said the U.S. 51 and Ash Avenue site, which includes established businesses such as Walmart, Walgreen's and Panera, is desirable for its high traffic. He said if this plan were rejected, his clients might walk away rather than look at another location in Decatur.