DECATUR — Fire officials say the cause of a fire at the former Wake the Dead church/coffeehouse was undetermined Tuesday evening, but no injuries were reported in the blaze.
Chief Jeff Abbott said five fire companies responded to the two-story brick building at the 1202 and 1210 E. Eldorado street, and saw flames showing from the side of the building facing North Jasper Street. Firefighters contained the blaze to the back corner of the building's first floor, he said. 
"I think there have been reports that between the first and second floor, there's some type of heavy duty floor a heavy duty floor or a concrete floor, so (the fire) hasn't made its way up there," Abbott said. 
Despite earlier reports that someone might have been inside, Abbott said firefighters searched the building and did not find anyone. Earlier in the day, animal control was called to the scene to remove stray animals, but it was not clear Tuesday night whether that had anything to do with the fire that broke out later. 
Abbott could not provide a damage estimate Tuesday night. Despite some initial concerns about the building's construction history, he said it appeared sound enough for investigators to go inside and work the scene.  
Now defunct, Wake the Dead opened in 2004 and served as a venue for local musicians, as well as an art gallery and a place for local patrons to hang out Decatur-based rock band Icon for Hire played some of its first performances at the venue before touring the country and releasing its 2011 debut album, "Scripted."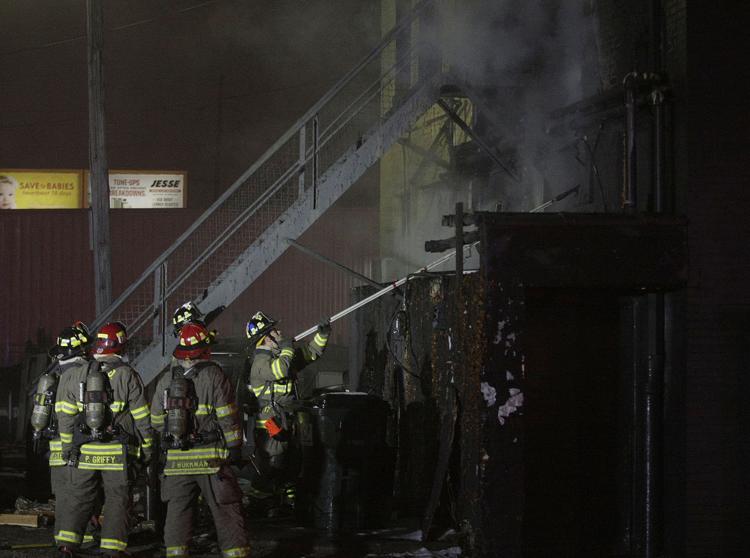 Samantha Dalton of Decatur has fond memories of Wake the Dead. As a teenager, she said the venue was where she spent most of her time. Not only was it a place to hear a variety of local Christian bands, but Dalton said it was also a good place to go for hot food and warm conversation with friends. 
"It's sad to see that it's going," said Dalton, 29. "It was a landmark of good memories."
The building is currently owned by Rarhan Mohammed, according to Macon County records. City records show a legal nuisance case filed in September.