Note: This blog is part of a series in which an intrepid group from the Herald & Review has set out to find the best cheese toastie in the city. I'll be joined by Ashley Fenner, online technician, and Bridget Sibthorp-Moecker, regional digital director, as we try a different restaurant each week and report back our findings.
We decided to head away from downtown for our third week of the cheese toastie hunt. Our destination this week was Donnie's Homespun Pizza, 126 S. Oakland. Their version of the sandwich is called Grilled Cheese on Jalapeño Cornbread, and its ingredients are cheese, mozzarella, tomato and light pesto spread. It costs $8.75 and, like all of the sandwiches at Donnie's, comes with hummus and blue corn chips.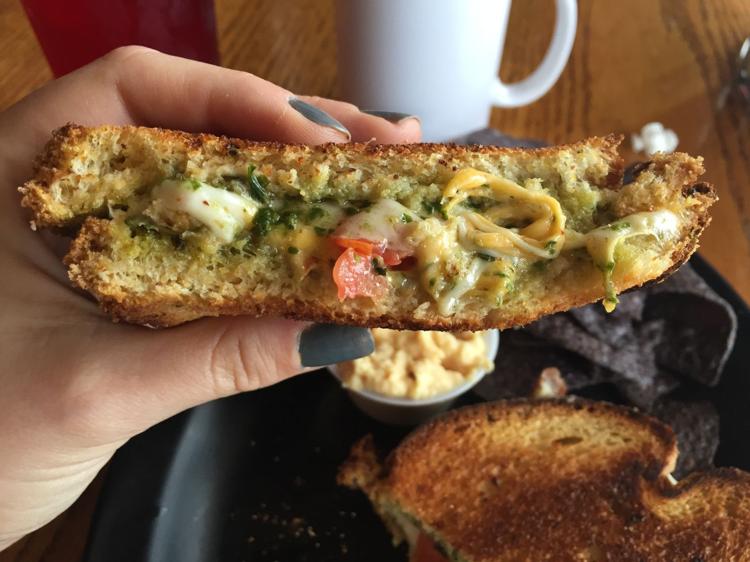 Here are our observations:
Allison: This sandwich was very different from the two we previously tried. While there wasn't a lot of pesto, the flavor was very much present. I really like basil, so I was fine with that. The bread didn't reflect the texture of what I'd picture as "cornbread" (more like a multigrain wheat), but was tasty and perfectly toasted. Also, the word jalapeño might scare off some people, but this wasn't spicy at all.
This sandwich revealed the best way to incorporate tomatoes is to cut them into chunks. That method distributed the flavor well without creating unnecessary moisture or distracting from the other elements. Mozzarella was a perfect choice for the cheese on this one.
Ashley: This is the first cheese toastie that I finished completely. Admittedly, It could have been because I was virtually starving before we even left for lunch, but this was a really good toastie. Sure, the jalapeño cornbread did not taste like cornbread and had no heat so it was more similar to a whole grain, but that was fine with me. The pesto on the sandwich was very good and complemented the bread and tomatoes. There was not too much cheese which could have been a serious problem. It was also a little soggy, probably from the tomatoes and pesto, but the bread was thick enough to hold up and it didn't cause a problem for me. I also very much enjoyed the hummus and chips that this came with and finished pretty much all of those as well. Overall, I would rate this toastie at a 4.0. It was delicious, but I am still dreaming of Taproot's bacon and apple creation.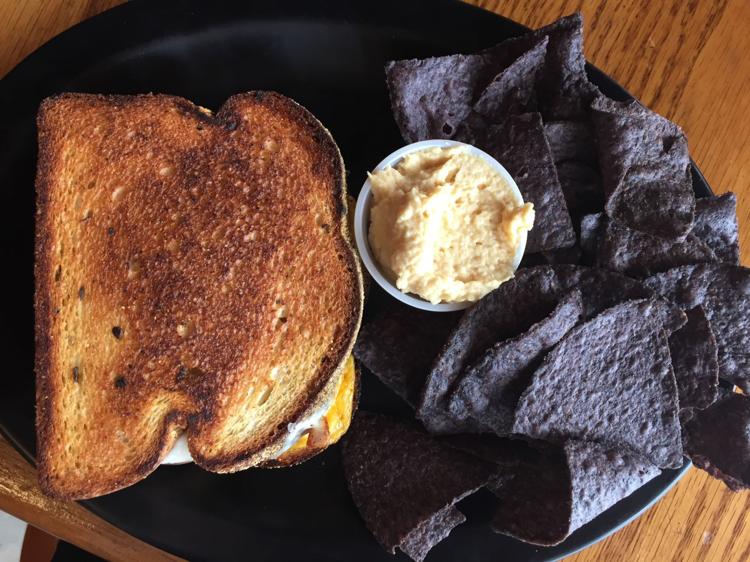 Bridget: I was pleasantly surprised to find that one of my favorite pizza joints had a cheese toastie on the menu. The idea of jalapeño cornbread both frightened and excited me.
You have free articles remaining.
Turns out, the bread was the star of the show. It had just a hint of heat, and struck me as more of a multigrain than what I expected from a cornbread. In fact, I asked the waitress to confirm that it was, in fact, cornbread.
It was, in all its dense and yellow goodness.
I'm not a fan of pesto, so I opted to leave that off of the sandwich. My toastie was on the bland side because of that, but I have no regrets. The cheese was melty and perfect, with just the right amount.
We're finding that the addition of tomatoes to grilled cheese is popular. This sandwich included diced tomatoes rather than sliced. I found this was much better for the overall flavor distribution, and the sandwich didn't slide apart.
All in all, this cheese toastie was legit. 4/5 stars.
Our overall rating for the Donnie's cheese toastie was 4 out of 5 stars. Where should we go next? Email suggestions to apetty@herald-review.com.