Note: This blog is part of a series in which an intrepid group from the Herald & Review has set out to find the best cheese toastie in the city. I'll be joined by Ashley Fenner, online technician, and Bridget Sibthorp-Moecker, regional digital director, as we try a different restaurant each week and report back our findings.
In our second week of the Great Cheese Toastie Experiment, we decided to visit TapRoot Restaurant, which is located at 170 N. Merchant St. Their version of the sandwich is called a "Very Gouda Grilled Cheese." It costs $8, and comes with smoked Gouda, apple and bacon on toasted ciabatta bread. The side is either quinoa salad or fries, and the fries come with a dipping sauce of your choice (garlic aioli, white cheese, rooster mayo or buffalo BBQ).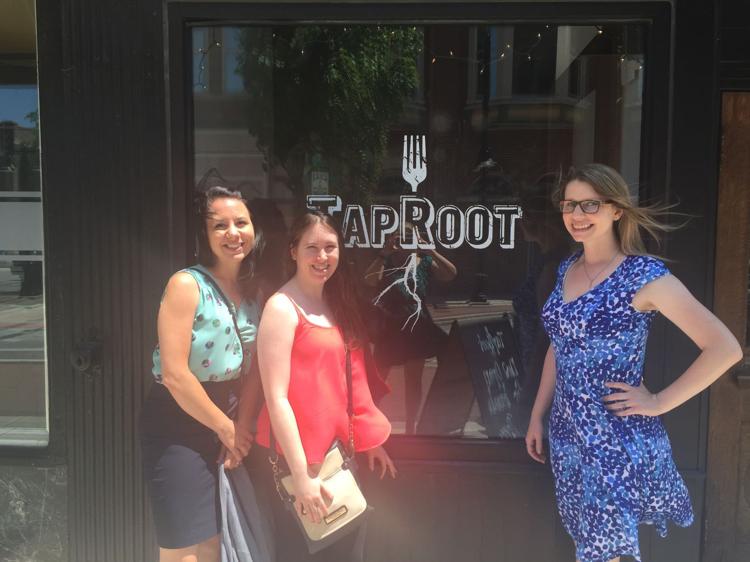 Here are our observations:
Allison: TapRoot is one of my all-time favorite restaurants, so it's no surprise that I loved their version of a cheese toastie. "Gouda" is one of my food buzzwords, so there is a strong chance I would have ordered this on my own eventually. The cheese is rich and creamy, but the apple cuts it perfectly. Our waitress told us that sometimes people try to order the sandwich without one of the components (usually the apple), and it isn't as good; the ingredients harmonize so well that separating them is ill-advised. I would agree. Order this without any changes. Also, I had the white cheese sauce with my fries, and I found that to be a bit too much cheese for one meal (as one might expect), so I recommend one of the other sauces with this sandwich.
This sandwich is very good, but very rich. You could easily split one with someone else to save room for TapRoot's amazing strawberry shortcake.
Rating: 4.5 out of 5 stars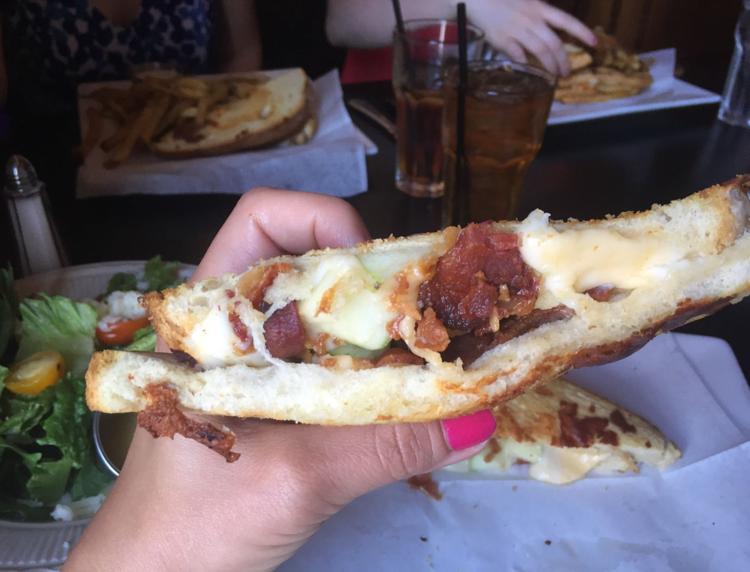 Ashley: The cheese toastie from TapRoot is everything I want from a cheese toastie prepared by a restaurant. Like our last cheese toastie, this one included more than just cheese; however, I enjoyed the bacon and apple in the TapRoot sandwich much more than the spinach and tomato in the Locals 101 toastie. The bacon was crisp and almost overpowering compared to the apple, but, who doesn't love bacon? Plus, the apple provided a crisp, refreshing burst of fruit and flavor when you did get a chunk of one. I personally would have liked a little more apple in mine as I rarely seemed to get any bites with a substantial amount of apple, but it was good nonetheless. As for the cheese, TapRoot uses Gouda, which was delicious and complemented by the bread, which was thick and crisp and did well at keeping the sandwich contained.
Overall, I give this toastie a 4.5 out of 5 because although I did want more apple, this was a sandwich even I, as a non cheese toastie lover can love.
Rating: 4.5 out of 5 stars
You have free articles remaining.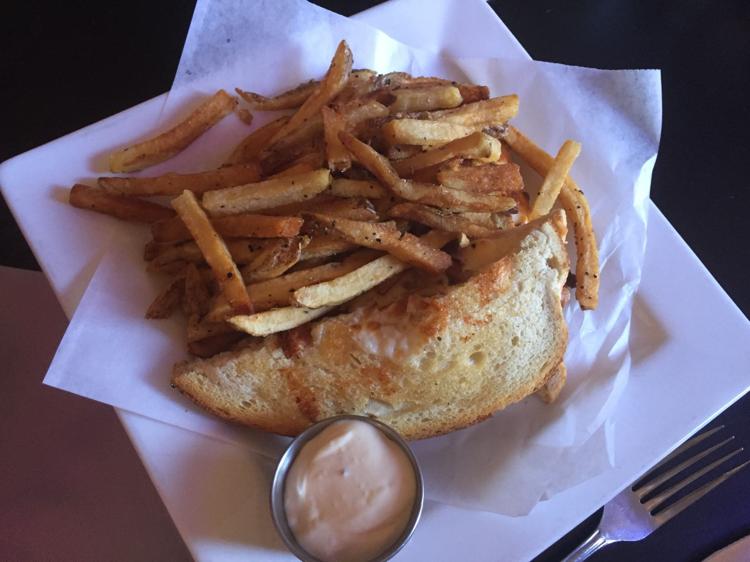 Bridget: Now THIS is a cheese toastie! It's everything a grilled cheese should be, and more.
I've enjoyed this sandwich before, and it's every bit as good the second time around. I'll admit that the bacon and apple seemed strange on paper, but they really play nice with the Gouda cheese.
The texture for this toastie was on point: crusty bread, gooey melted cheese, generous hunks of perfectly-cooked bacon and slices of green apple. There's a surprising yet satisfying harmony in the flavor department, between these ingredients that don't seem like they would go together. The smoky cheese and bacon are rich and decadent, and the slight sourness of the fresh apple cuts through the richness and balances it out.
Admittedly, there is a lot of bacon in this cheese toastie, but I'm not complaining.
I must also mention that the sandwich was cooked perfectly and played nicely, in all its hot and buttery glory.
This toastie is a winner for me: 5 stars. It was so rich that I couldn't finish it, but that's my failure of will and not a shortcoming of the sandwich.
Our overall (average) rating for the TapRoot cheese toastie is 4.7 out of 5 stars. A strong showing for the second week! If you have suggestions for our next destination, email them to apetty@herald-review.com.