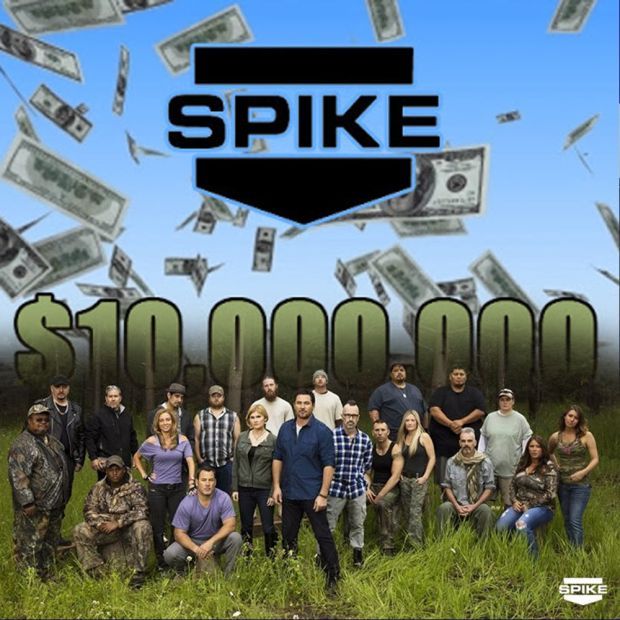 Each time a brand new BS show about cryptids finds its way onto cable, it's like my personal equivalent to seeing the Bat-Signal in the sky. And so, I made sure to catch the premiere of Spike TV's new "10 Million Dollar Bigfoot Bounty" last week so I could faithfully report on the latest televised attempt to cash in on America's unceasing fascination with the nonexistent mega ape. With this level of interest, one has to wonder why Bigfoot isn't already hosting a late night talk show on TBS. Lord knows they could use the help.
From the start, I love this show's title. A whopping $10 million! What a prize, among the largest in television history. Let's think, why would someone offer such a sum…hmmm…could it be because nobody is going to collect on it? But wouldn't that be duplicitous? Well, as it turns out, there's also a secondary prize of $100,000 that will be awarded to the "last team standing," which will be henceforth referred to as "the actual prize." This wasn't mentioned at all during the pilot episode, but I happened to stumble across the information at the bottom of this surprisingly detailed feature on the program. 
The show's format is part competition, part investigation and entirely stupid. Nine teams of hunters were assembled, led by former TV Superman Dean Cain for reasons no one is quite sure of. Each episode involves dropping the team in the woods somewhere, where they compete for advantages that will better help them locate an animal that no one has ever successfully located. It culminates in your typical night-visiony evening hunt where they stumble around in the woods, get excited over coyote calls and don't find anything. While this is happening, I can only imagine Dean Cain is waiting back at the trailer with a team of manicurists and a beautician applying "Superman Black" hair dye.
My favorite part happens next. Todd Disotell, who is apparently in charge of New York University's molecular primatology lab, was brought on as the show's resident scientist, and he's in charge of testing all the "evidence" that each team can gather in the course of a nighttime investigation. In the morning, he just went straight down the line telling each team how much they sucked, and that is not an exaggeration. To one team that brought in hair samples: "This is moss. This is not hair." To another team that brought elk scat to prove there was plenty of sasquatch food in the area: "This isn't evidence." To another team that brought in possible bear droppings: "You brought in the wrong part of the scat to get DNA." This guy wasn't impressed or interested by a single bit of evidence any of the teams brought to him, which is fitting, given that none of them found anything of value. But how novel a concept is this — an actual scientist on a Bigfoot show? Who could have predicted that?
The other highlight of the first episode was the testimony of one of the contestants, a man named Justin Smeja, who casually mentioned during the introductions that he shot and killed two bigfeets a few years back.  This video doesn't contain the rest of their discussion, which I'll try to summarize here. Smeja claimed he spotted an adult Bigfoot with two juveniles. He opened fire, hitting the adult and one of the kids. The adult escaped (this counts as a kill somehow), but he tracked down the wounded baby, which he then killed by choking it to death. I am not kidding. This is exactly what he says on the show. "I choked a baby Bigfoot to death." Faced with a dead body that could be worth millions of dollars, he then did what any of us would do — took a couple of hair and flesh samples and left it in the woods, because what would the point be of bringing in a whole body? It's just excessive. Taking photos? Also excessive, and possibly churlish.
Unfortunately, some cold-hearted naysayers had problems with that story, particularly when DNA testing of the hair and flesh came back as belonging to a black bear. People started asking the really tough, incisive questions, such as "Why'd you bury the corpse in the woods?" and "Just how stupid do you think we are, exactly?" That's why Smeja is back now, looking to shoot another Bigfoot and prove his story once and for all. Because as he explains in this rambling essay laced with egregious spelling and grammatical errors, "DNA is no longer good enough." 
"10 Million Dollar Bigfoot Bounty" is another sterling addition to the pantheon of shows that fail utterly to achieve the promise set by their own titles. Just as a grand total of zero bigfeets have been located in four full seasons of "Finding Bigfoot," this show is doomed to end without anyone receiving those millions in sweet, sweet Bigfoot prize money, which truly is a shame.
Might I recommend that any of the disappointed contestants look into James Randi's One Million Dollar Paranormal Challenge  as an alternative? It's celebrating its 50th anniversary this year of nobody being able to collect a $1 million prize for demonstrating paranormal abilities in a lab setting. Fair warning: I would estimate their chances of collecting either prize to be roughly equal, hovering right around the "zero percent" range.
Be the first to know
Get local news delivered to your inbox!