With more than half of their crops harvested, farmers in Central Illinois are reporting strong corn and bean yields, despite recent rains that forced a pause in an otherwise brisk pace in the fields.
Mike Stacey, who farms in western Macon County and is president of the Macon County Farm Bureau, just finished his harvest before the rains came.
"We were pleased with the yields and we have been hearing others say the same thing," he said. "We think it's going to end up being a pretty decent year."
Dean Carter said that he is getting more than 70 bushels of beans per acre on on his farm near Decatur.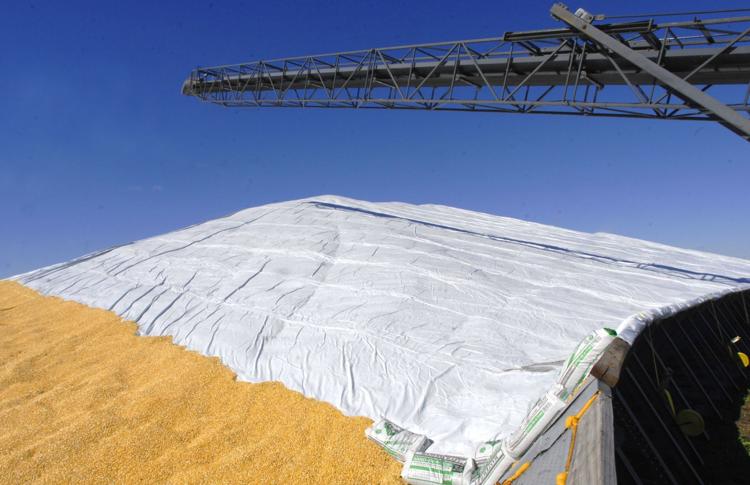 "We have been mostly pleased with both the corn and soybeans," he said. "There is always going to be some variation from one field to another, but this year, virtually every field came in strong."
In response, the Trump administration is offering up to $12 billion in emergency relief funds for American farmers. U.S. Agriculture Secretary Sonny Perdue in August said that soybean growers will get the biggest checks, totaling $3.6 billion.
As of early this week, the U.S. Department of Agriculture said, about 63 percent of the corn had been harvested, which is well ahead of last year, when only 36 percent of the corn had been harvested as of Oct. 7. The five-year average is about 41 percent, the USDA said.
"The yields have been surprisingly good, considering the lack of rain we have had this year," said Ron Kindred, who farms near Atlanta. "We have some marginal ground which was hurt with a lack of moisture. The gravel and the hillside stuff didn't produce very well.
"But outside of that, we have done well. The corn yields are probably about 30 bushels per acre better than we anticipated."
In August, the USDA Crop Production report estimated an average of 207 bushels per acre of corn for Illinois farmers, which would set a new record.
Not everyone was seeing higher yields.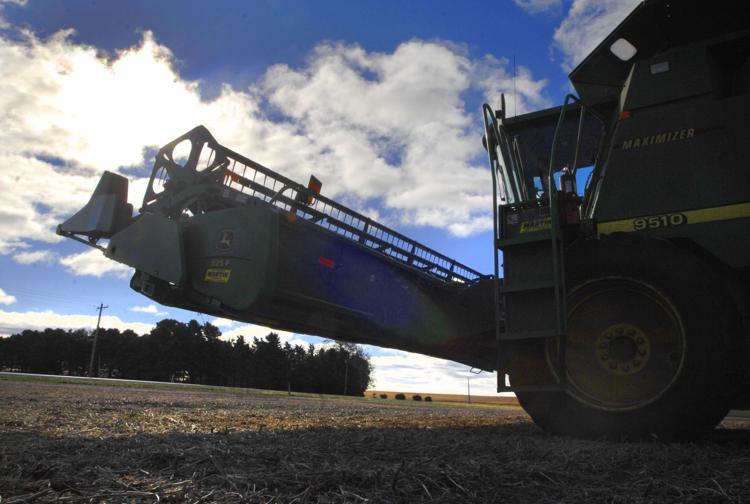 "Corn yields are probably down about 5 to 10 percent for us from our five-year average, but we were in an area that was kind of dry," said Brian Schaumburg, who farms near Towanda. "We are probably averaging about 235 bushels per acre on corn."
The USDA also reported about 51 percent of the soybeans in Illinois had been harvested at the start of the week — compared to 49 percent a year ago and 39 percent over the previous five years.
"Our bean yields are close to last year," Schaumburg said. "I don't think that there are going to be too many records set for corn, but there might be for beans."
The USDA estimated 64 bushels per acre for soybeans, which also would set a new record.
"I'm getting around 75 to 77 bushels per acre on beans and so we are pretty happy with that," Schaumburg added.
Last week, during a stop in Bloomington, U.S. Rep. Rodney Davis, R-Taylorville, said he has been hearing similar reports from other farmers.
"I stopped at a grain elevator in Clinton, and they were full and storing grain outside," he said. "We're all happy when the harvest is going well."
Thomas Wargel, an accredited farm manager and owner of Black Prairie Ag Services Inc. in Clinton, said other farmers in the region are reporting similar results.
"The yields have been phenomenal," he said. "Overall, they are better than last year. As far as weather, it was a very similar season. It was dry, but we didn't have any real long stretches of real hot temperatures. That was key because there wasn't as much stress on the crops and that helped."
Several farmers reported midweek that they have finished their corn harvest, or are close to it, despite heavy weekend rainfall. Before many farmers could get back into the fields, more rain came on Wednesday.
For some, the break came at a good time.
"We had worked about 23 or 24 days straight," Kindred said. "This break came at a good time because we needed it."
Schaumburg agreed that the rain helped area farmers get some rest.
"We really needed to catch up on some sleep and get some equipment repairs done," he said. "It will be good to get back in the fields, finish the harvest and then get the fertilizer on and begin planning for next year."
Stacey agreed, saying, "Everyone had worked for about a month straight and that is hard on the equipment and hard on the body as well. So, our main goal is safety and this little break is good to help people get some rest, repair some equipment and keep safe."
---
Read the full Herald & Review series: Safety on the small farm