BLOOMINGTON — For Patrick Bane, trade isn't just part of his business. It's the biggest part.
"With pork, we export over a quarter of what we produce. Pork is the largest-consumed meat in the world, but 95 percent of that is outside the borders of the United States," said Kane. "Export is really important."
That's why it's critical for Bane, who operates a 3,000-sow closed breed-to-wean farm near Arrowsmith, that tariffs not cut into his bottom line.
"Retaliation from Mexico and China due to the steel and aluminum duties are ... costing us a lot of money. ... Our industry is kinda taking the brunt of it," he said. "We strongly encourage a resolution as soon as possible."
That was Bane's message Friday to U.S. Sen Dick Durbin as he visited the McLean County Farm Bureau for a refresher on local ag policy. The Springfield Democrat, who's served in Congress since 1983 and in the upper chamber since 1997, joined the Senate Committee on Agriculture, Nutrition and Forestry this year.
In addition to trade, Durbin touched on the recent farm bill, immigration and infrastructure in a wide-ranging discussion with Illinois Farm Bureau leaders, most of whom work in crop production.
Several leaders said they appreciate improved crop insurance under the farm bill, which was approved in December, and hope Durbin will work to preserve it. They noted cost increases have been offset by yield increases, in part thanks to technology, and that soybeans are a particularly stable crop.
"You're in the garden spot of the world. ... Everybody would like to farm in McLean County, Illinois," said Carl Neubauer, a Downs farmer. "We typically are payers of crop insurance, not collectors, but we need it from a risk management standpoint."
Bane and Durbin agreed that immigration helps businesses like his that rely on migrant labor. Durbin and other Democrats continue to negotiate with Republicans, including President Donald Trump, on border security, the subject of a five-week federal shutdown that could resume in mid-February.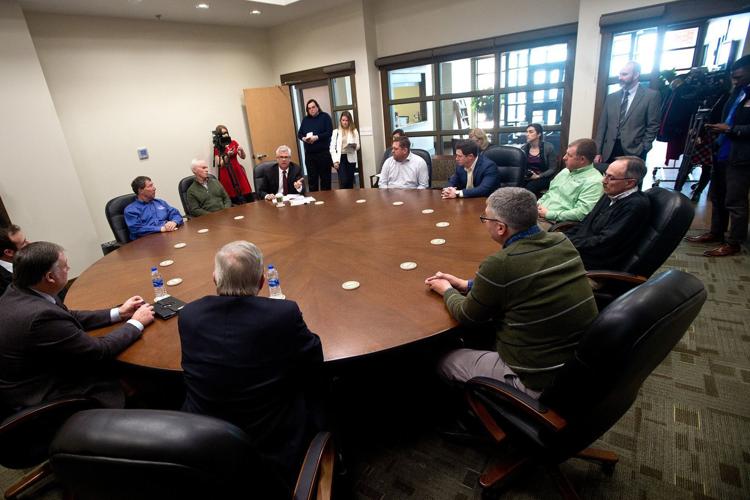 "We can't get Americans to do the work. I don't like saying that, but the facts are the facts," said Bane. "I strongly believe (migrant workers) don't cost American jobs. They make American jobs because if I can't do my business, the jobs I could create downstream that Americans want to do aren't there."
Some leaders noted they haven't gotten as much information on the farm bill as they would have liked because of the shutdown.
Durbin said he hopes to help negotiate a federal infrastructure bill to help facilitate trade, and he's optimistic new Gov. J.B. Pritzker, a Democrat, can do the same on the state level. Durbin noted Trump showed a willingness to negotiate on a bill in a recent meeting with Democrats.
Durbin also toured Destihl Brewery in Normal and visited McLean County Democrats' new headquarters at 422 N. Main St. in downtown Bloomington.