"By and large, I would say the yields have been a little bit better than we expected," said Thomas Wargel, a farm manager and owner of Black Prairie Ag Services in Clinton. "There's lots of variability. There's variability every year, but there is more variability this year."
"Actually the yields turned out better than expected considering the dry August," he said. "You can tell who got rain in August because if they got any rain that month, their yields are a little bit better."
"You can tell the rain played a major part," said Arin Rader, who farms west of Normal near Hudson. "Some are dramatically different. We farm some fields with slight hills on them. The sides of the hills where we didn't get any rain there for a while, took the August heat pretty hard. You could tell a big difference between what got rain and what didn't."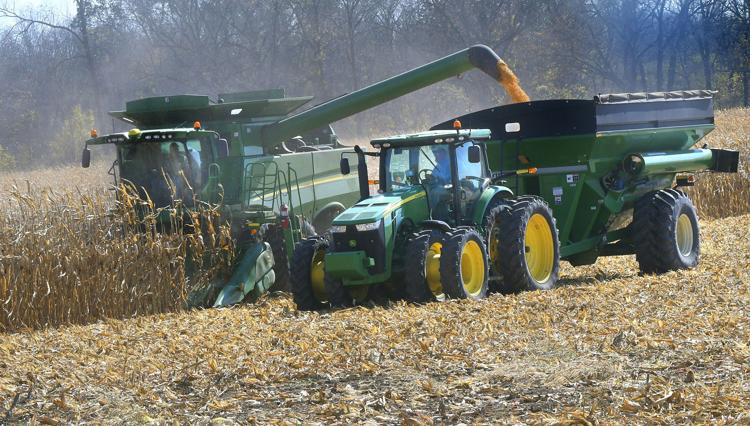 "It has been a good harvest," he said. "We have some ground that had some water damage early and the yields are down, but for the most part, we are pretty pleased with the yields we have been getting. Most of the other farmers are saying the same thing. The soybean yields are a little better than expected but the planting date seems to have a lot to do with the outcome of the yields."
The agriculture sector across the country also has been dealing with various COVID pressures, from softening demand because of closed restaurants to increased infection rates in some rural areas to various trade issues. A powerful wind storm in August also caused damage across the Midwest, with Iowa losing about 850,000 crop-producing acres. 
The USDA last month released an additional $14 billion in COVID relief funding for farmers. 
Today, beans around Central Illinois have been reported to range anywhere from 65 to 85 bushels per acre and some of the corn has approached 250 bushels per acre, but most have averaged closer to 200 bushels per acre.
"We had this dry stretch where we were able to knock a lot of it out in a hurry and got us ahead of average as far as getting the crop out," Rader said. "But we could have used a little more rain over the summer."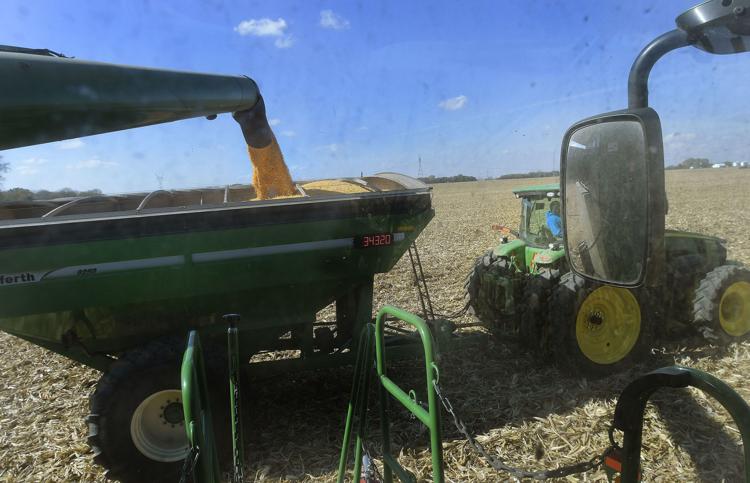 "I'm getting close to being done," said McLean County farmer Toby Frate, a corn and soybean farmer near Bloomington, "and I have been fairly happy with the yields I've been getting."
"We have had some really good corn, and then some average corn and with the beans, those are pretty much all about average, nothing spectacular, for us" he added. "It is going to end up being about an average crop compared to the last several years."
The USDA estimated average soybean yields at 60 bushels per acre in Illinois, down 4 bushels from the August estimate. The average corn yields were estimated at 203 bushels per acre.
In Coles County, the first reviews of the harvest season have been positive, said Coles County Farm Bureau Manager Tonya Eich.
"I think yields are going well and harvest is going well for the majority," she said. "We have had some issues with combine fires, but with the quick response of all of our fire departments and volunteers, everything turned out as well as it could."
Tom Moore, a Coles County corn and soybean farmer near Charleston, said the harvest season has been everything he expected.
"We didn't have any major issues as far as extreme weather or extreme drought during the summer," he said. "No year is perfect, and we could have used a little more rain — and maybe a little less during the spring, but compared to last year when we were just getting into the fields about now, we are happy."
According to the U.S. Department of Agriculture Crop Production Report, Illinois farmers are expected to harvest 615 million bushels of corn this fall, up 16% from last year.
All agree that the harvest weather has been close to perfect.
"They have been going pretty much non-stop since Labor Day," Wargle said.
Frate said last week's rains came at a good time.
"When the weather is suitable for field work, you have a mindset to not stop until it rains," he said. "Some rain now and then doesn't hurt anything at this point."
While keeping one eye on their fields, Central Illinois farmers are also keeping a close eye on the price of soybeans and corn. During the latter stages of summer, the price of beans climbed about $2 per bushel up to almost $10 a bushel. Corn has increased about 80 cents per bushel, close to almost $3 a bushel.
"There has been a pretty good rally in both crops from the time we planted until now and so we made good strides in that regard," Rader said. "That has kind of helped the mood out. There have been several disaster events in Iowa and things that have caused those prices are always sad to see, but it helps when you are gaining money toward harvest. That usually doesn't happen like that."
---
The 24 most unique town names in Illinois
The 24 most unique town names in Illinois
We've got nothing but love for peculiar town names—we are the home of Normal, after all. Here are 24 Illinois communities with rather interesting names.
Contact Kevin Barlow at (309) 820-3238. Follow him on Twitter: @pg_barlow
The business news you need
With a weekly newsletter looking back at local history.