Brandon has served local musicians for more than 52 years with Linda's Music Center. Manager Hugh Reeves, who has worked with Brandon for almost 30 years, is ready for semi-retirement himself, and doesn't want to buy the business and carry on. If someone else wants to buy it, Brandon said, Reeves has volunteered to stay on for a while to help a new owner get started. Otherwise, the plan is to close by the end of February or early March.
"I'm ready to not work as much," Reeves said.
The 2192 E. Wood St. store is open Tuesday through Friday, 10 a.m. to 6 p.m. and Saturday, 10 a.m. to 5 p.m. If Brandon was away, Reeves had to be there. He's never even seen her home in Florida, Brandon said.
Sale prices will start this week, Brandon said, and while dealers like her are normally required to adhere to the "minimum advertised price" set by the factory, her sale prices will be below that, which is lower than the prices at internet sites. The minimum advertised price requirement was instituted a few years ago to prevent online-only outlets from undercutting brick-and-mortar locally owned shops like hers.
What prompted her to finally close for good is a health scare last year, which made her realize that even leaving most day-to-day operations in Reeves' hands wasn't enough.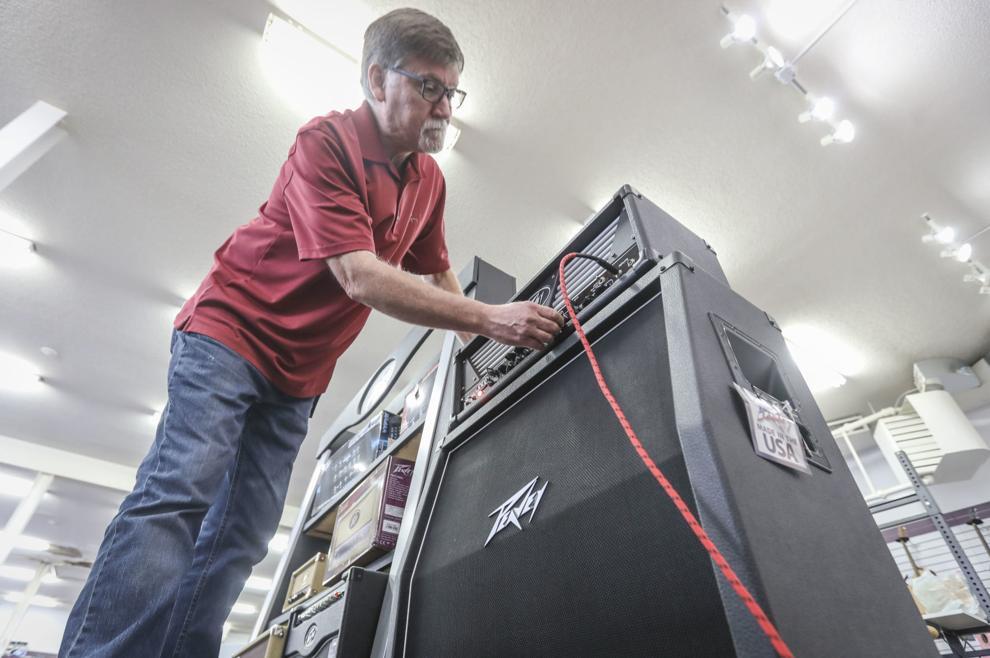 "I am just at the point where I want no headaches," Brandon said. "I want to retire, totally. Hugh runs it, but I've still got it. I've been waiting on him, and he turned 62 (and therefore eligible to retire) and I said, 'I'm doing it.'"
Brandon entered the music store business at a time when a woman in the music business was a rarity, she said. In 2017, she received a Milestone Award from the National Association of Music Merchants to celebrate 50 years in business. Through the years, she's met and become friends with such a variety of music greats that the back wall of her store is filled with photos of them.
Her favorite is Chet Atkins, renowned for his guitar prowess, and another old friend is Jeff Cook of Alabama, who took a Fender Squier guitar and gussied it up with bright-colored pick guard, knobs and pickups for fun.
"I told him, now that you've done all that, you should sign the thing, too," Brandon said and Cook obliged. The guitar is on display in her store.
She's met Leo Fender (of Fender guitars), Jim Marshall (Marshall amplifiers) and counts Hartley Peavey among her friends. She danced with Ray Stevens on his TV show. Stevens ended his shows with asking a woman from the audience to come up and dance with him as a regular feature, and he called to ask if she'd agree to be that woman when she was in town.
Country music greats are often the nicest in real life, she said, while that isn't always true of rock and roll stars, but a few of those grace her Wall of Fame, too. Brandon, herself a guitar and keyboard player, was a regular on the stages of Central Illinois in a variety of bands for years, so she knows what the local musicians need and nearly all of them, generations of them, have been regular customers.
She's also been a music teacher and can give hands-on advice to novices looking to enter the musical world.
As much as she's enjoyed it all these years, however, she's ready to move on and so is Reeves. As is true of many small businesses, the internet has left a big dent in sales. Her longtime customers still come in to buy equipment, but some younger people tend to lean more toward online buying, even though the personal touch, repair and adjustment are lacking.
"I want to get (the closeout) started," Brandon said. "I'm ready to go."
______________________________________________________________
Tim Cain's 10 favorite Beatles songs
Tim Cain's 10 favorite Beatles songs
Herald & Review entertainment editor Tim Cain, a life-long Beatles fan, is counting down the Beatles songs as he has ranked them. Follow along as he publishes No. 217 through No. 1 daily on his Facebook page, or skip ahead and see his top 10 now.
Contact Valerie Wells at (217) 421-7982. Follow her on Twitter: @modgirlreporter