DECATUR — Kathy Minott walked into the Fairview Plaza Kroger to buy a gallon of milk Thursday afternoon, but walked away empty-handed. 
The grocery store has reached the end of its 50-plus year history at the west side shopping center. Earlier this month, The Kroger Co. announced that the store at 1401 W. King Street  and the store at 1475 Woodlawn Road in Lincoln would close at the end of August, citing a lack of profitability for both stores. 
With the exception of a few non-perishable food items on shelves and small boxes of items near the self-checkout lanes, the Fairview Kroger was mostly empty on Thursday. Yellow tape cordoned off the store's produce, frozen food, and lunch meat aisles, keeping customers contained to a small area inside of the large building. 
Kroger was one of the first tenants of Fariview Plaza when it opened in 1958. Three-hundred people had applied for 58 jobs at the store's opening, the Herald & Review reported, and the store later expanded in 1976. 
Shoppers have said that closing the store will inconvenience west side residents and Millikin University students, who relied on the formerly 24-hour store for its accessibility and wide product selection.
Minott thinks the closure would also be detrimental to elderly shoppers who live nearby, as the closest grocery stores in the area after Kroger are Save-A-Lot on Grand Avenue and the Kroger in South Shores. She also said she was concerned for the 95 employees affected by the store's closing. 
Kroger Spokesman Eric Halverson said in an email that as of Monday, 65 of the Fairview store's associates accepted offers to transfer to one of the area's other Kroger stores at Brettwood Village, Airport Plaza on the city's east side, and the South Shores store. Eighteen of the associates resigned, he wrote, and nine chose to accept severance packages. 
Tim Raycraft of Main Place said the property manager is currently exploring uses for the Convey space, including a call center. 
"As for the Kroger space, we are receptive to any reasonable use so long as it makes economic sense," Raycraft said in a statement. He said Main Place is currently marketing to grocers to fill the void that Kroger's departure would leave within the community. 
"With a 50-year history, it made sense to us to try for another grocer and the community continues to express the need for a grocery store on the West End," Raycraft wrote. 
Minott said she also thinks it would be good if another grocery store moved into the Kroger building. As for herself, she said she'll continue shopping at Brettwood and make the best of the city's grocery store closures.
"I'm still just doing my thing," Minott said. "I mean, you just adjust. You've got to eat."
---
Decatur Daily Review January 1958.jpg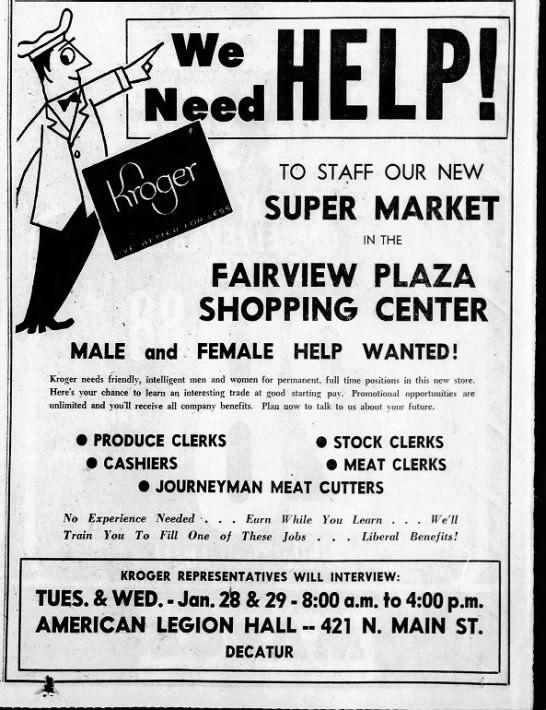 Decatur Herald January 1958.jpg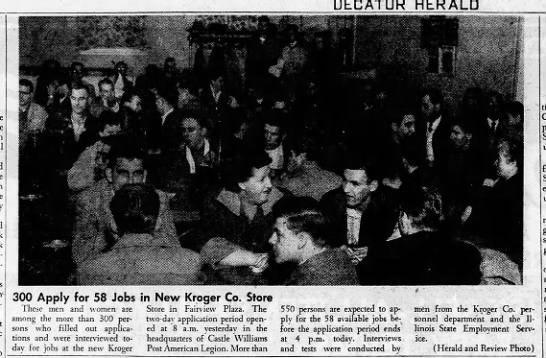 March 1958.jpg

The Decatur Daily Review 1971.jpg
The Decatur Herald 1958.jpg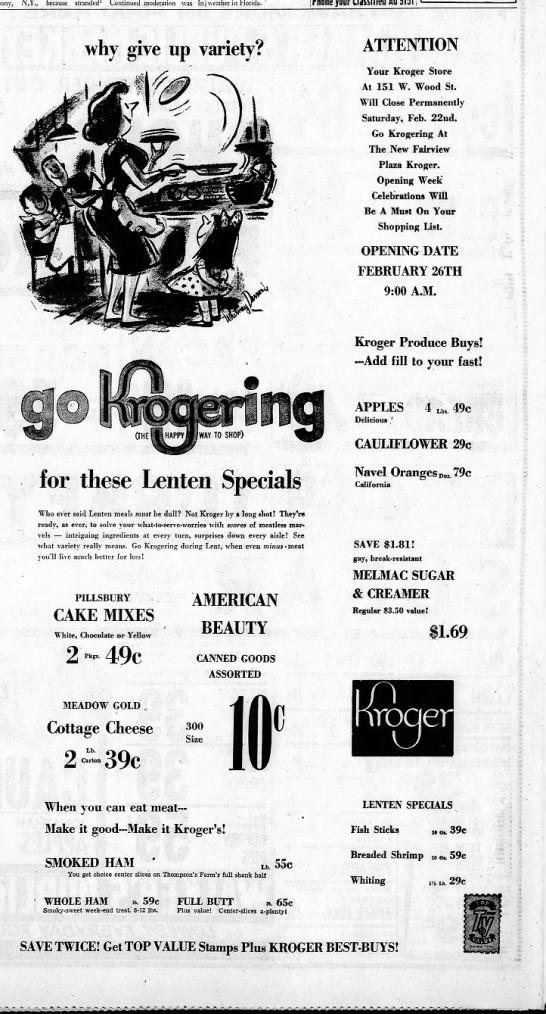 The Decatur Herald 1959.jpg

The Decatur Herald February 1958.jpg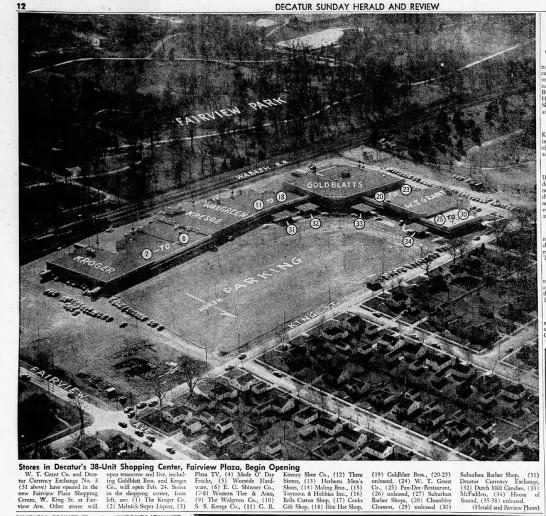 The_Decatur_Daily_Review_Wed__Sep_2__1959_.jpg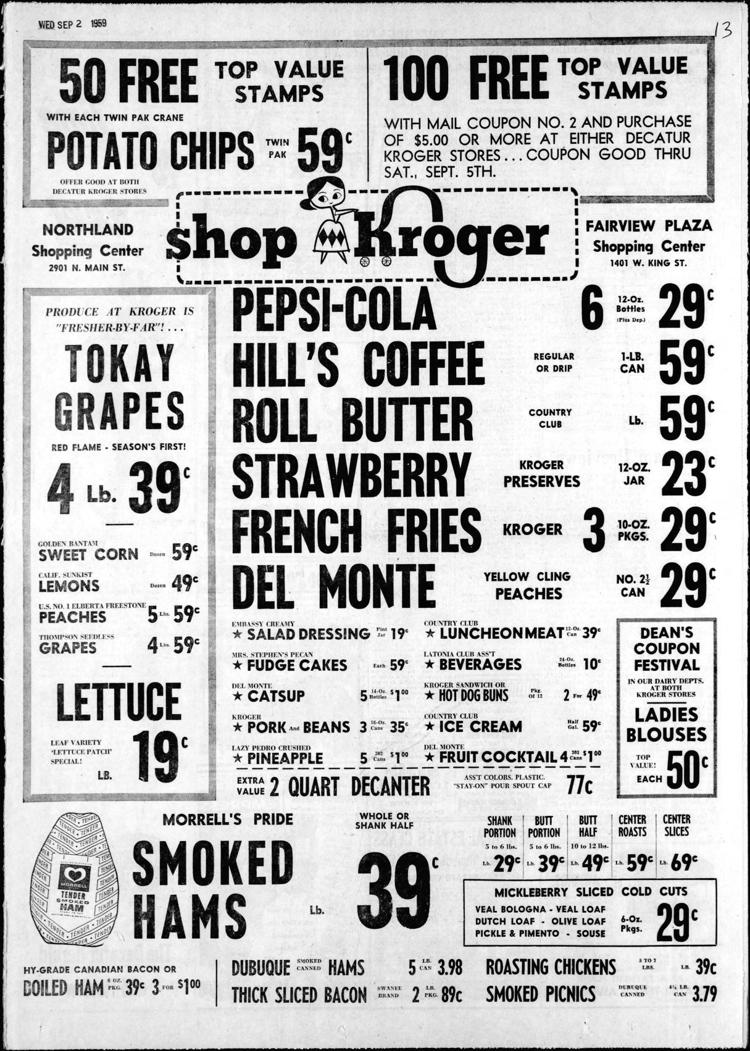 The_Decatur_Herald_Mon__Feb_24__1958_.jpg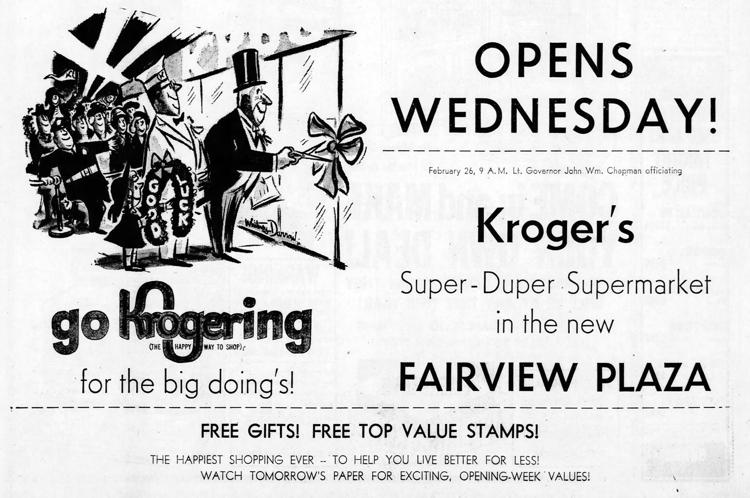 Kroger Fairview 1976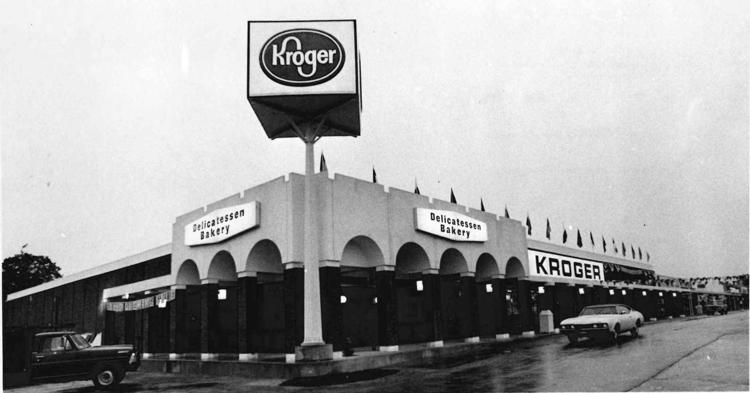 Kroger Fairview remodel
Remodel 1985