DOWNTOWN DECATUR
As downtown Decatur picks up speed, parking shifts into balancing act
As downtown Decatur picks up speed, a balancing act develops
DECATUR — At noontime Thursday, vehicles lined downtown Decatur streets and filed into lots nearest the most popular shops and restaurants. Some drove in a loop looking for parking before a space opened up.  
Seven years after Decatur removed meters as part of a $14 million streetscape project, the debate over downtown parking continues — and the time of day is a major factor.
Dreux Lewandowski, owner of Decatur Brew Works, a popular brewery that opened in 2016 at 101 N. Main St., said he can't recall a single customer complaining about parking.
"I think parking has been better than it ever has been," he said.
Brew Works opens in the afternoon and caters to a nighttime crowd. A couple blocks north on Main, John Ninnemann, owner of Downtown Cafe, takes an opposite view.
He said parking is a problem for a business like his that operate during the day and caters to an older demographic. While before his business would have three servers during lunch, they now typically only have one, as longtime patrons tell him they do not come anymore because of the parking situation.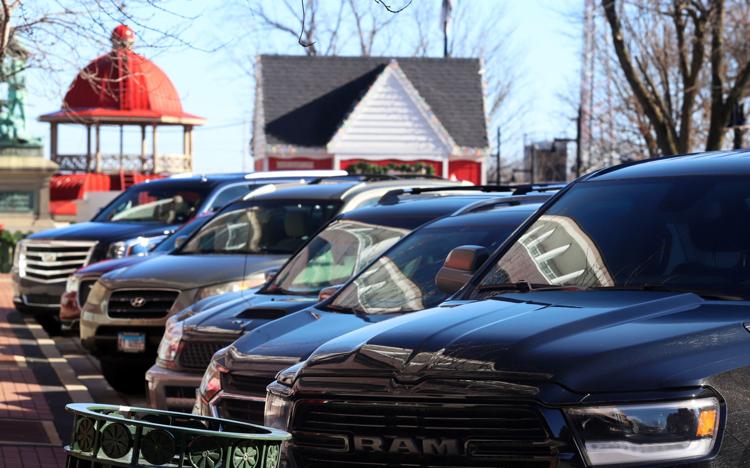 "Before they took the meters out, I never heard anyone complain," he said.
A big problem Ninnemann sees is downtown employees taking up the closest parking to his business and forcing customers to park a bit farther.
The decades-long question of parking is nothing new in Decatur, and a new calendar year has just meant more of the same questions asked about the current situation.
The city council voted in 2012 to eliminate parking meters in nearly all of downtown, shifting toward free parking with set time limits in different areas that could be electronically tracked and enforced during business hours. Council members said at the time that parking meters did not fit in with the "planned aesthetic" of the renovated downtown, which came as part of a five-year, multimillion-dollar streetscape project that replaced sidewalks, repaved roads, added new benches and lighting and created more than 100 parking spots.
Whether there actually is an issue with parking in the downtown area depends on whom you ask. 
"It's fantastic," said Mayor Julie Moore Wolfe, who was on the council for the 2012 vote and is now seeking a second term as mayor. She said that in her decades of community involvement, including seven years as president of the Greater Decatur Chamber of Commerce, she regularly heard about downtown parking from businesses and their customers. That's dropped off in recent years, she said.
"The fact is it's been really quiet," she said. "Things seem to be working out very well."
On the opposite end of the spectrum is Pat McDaniel, who was the lone council member to vote against the removal of meters. McDaniel said this week he has continued to hear from businesses that wish something could be done to provide customers closer parking spots.
Like Ninnemann, McDaniel said the main concern is that employees take the closest spots, which forces customers to walk additional two or three blocks during peak hours to go to their business. McDaniel said the distance might not seem like much, but for an older person or someone planning to carry items they just purchased, it can be a deterrent.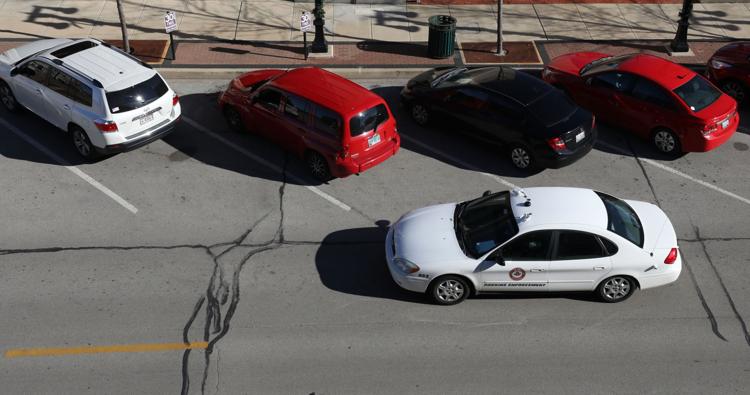 "If we want the downtown shopping experience to grow, we need to get the parking in control," he said.
Recent years have seen Decatur join cities across the country in embracing urban renewal efforts as businesses and community leaders take more interest in to revitalize downtown areas that had become deserted in past decades. Along with the new streetscape, businesses that have opened up downtown in recent years include The Gin Mill, TapRoot and R. Bar and Grill.
One of the perks boasted about the streetscape was the creation of more than 100 parking spots. Many are angled and just off North Main Street, which can be a bit of a hassle, said Karen Shiflett, who with her husband Vincent were downtown on Thursday.
"The angled parking can be difficult," she said. "It's like playing cat and mouse with the stoplight system to make sure you are able to back up without getting injured or rear-ended."
A similar concern was raised by John Funk, who said the angled parking can be tricky when a large car is parked next to you and blocking your view of the road. Yet all three of them said that, overall, they did not have any issue with downtown parking.
"The free parking has been a benefit," said Karen Shiflett. "I like anything free."
"At night it is great," Funk said, adding he has been impressed with the updates in downtown.
Today, the city has 1,904 parking spaces within the downtown footprint bounded by Eldorado, Wood and Church streets and Martin Luther King Jr. Drive, interim City Manager Billy Tyus said. Those include 790 on the street, 369 in lots and 745 in the parking garage across from the Decatur Public Library.
The parking garage at East Main and North Water streets across from the Avon Theatre is reserved during normal business hours for employees at the nearby Archer Daniels Midland City Center.
Questions about how to handle downtown parking are nothing new, says Paul Osborne, Decatur mayor from 2003 to 2008.
Osborne said city councils have spent decades trying to address concerns from businesses and customers about downtown parking — with any fixes typically leading to new concerns.
"It's just a problem that, when we had the meters and you had to feed it, it was a problem then," he said. "And when you took the meters out, there was still a problem."
If there is any solution, Osborne suggests it may have to include some collaboration between all parties, which could be concerted efforts to have employees park farther away or a sustained publicity effort by city officials to promote underused parking spots within an extra block or two of businesses.
Any changes by the council would not occur until a new city manager is hired. Council members held interviews last month in a closed-session meeting at the Decatur Conference Center and Hotel, and an announcement could come any time.
Even after one is hired, Moore Wolfe said such proposed changes would have to go through a study session to assess the matter. The mayor noted she is not opposed to the discussion, but said she was unsure if other council members considered it an immediate priority.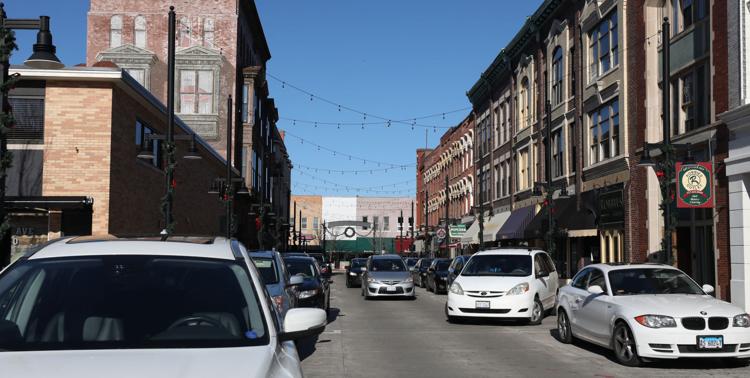 McDaniel sees it as a priority and he hopes to speak to the future city manager about it shortly after he or she is hired. 
"It's a pressing issue for me," he said.
Even those who may some qualms about parking would not go as far as to say it's a make-or-break situation.
Ninnemann clarified that his business is in no danger of going under, as weekend business has picked up in recent years. Parking is not a major issue in the grand scheme of things, Ninnemann said, but he sees no reason the meters cannot make a return.
Customers "paid it before. Before they took the meters out, we never had a problem with parking," he said, noting the only exception was when downtown parking was free around Christmas.
Whether any changes need to be made to parking, Lewandowski said he was not sure whether it was necessary.
"Downtown is at its apex," he said. "I don't think we can get any better than where we're at."
Contact Ryan Voyles at (217) 421-7985. Follow him on Twitter: @RVVoyles