CENTRAL ILLINOIS ECONOMY
China targets soybeans, a key Central Illinois crop, in escalating trade dispute
Central Illinois soybeans in cross-hairs of China retaliation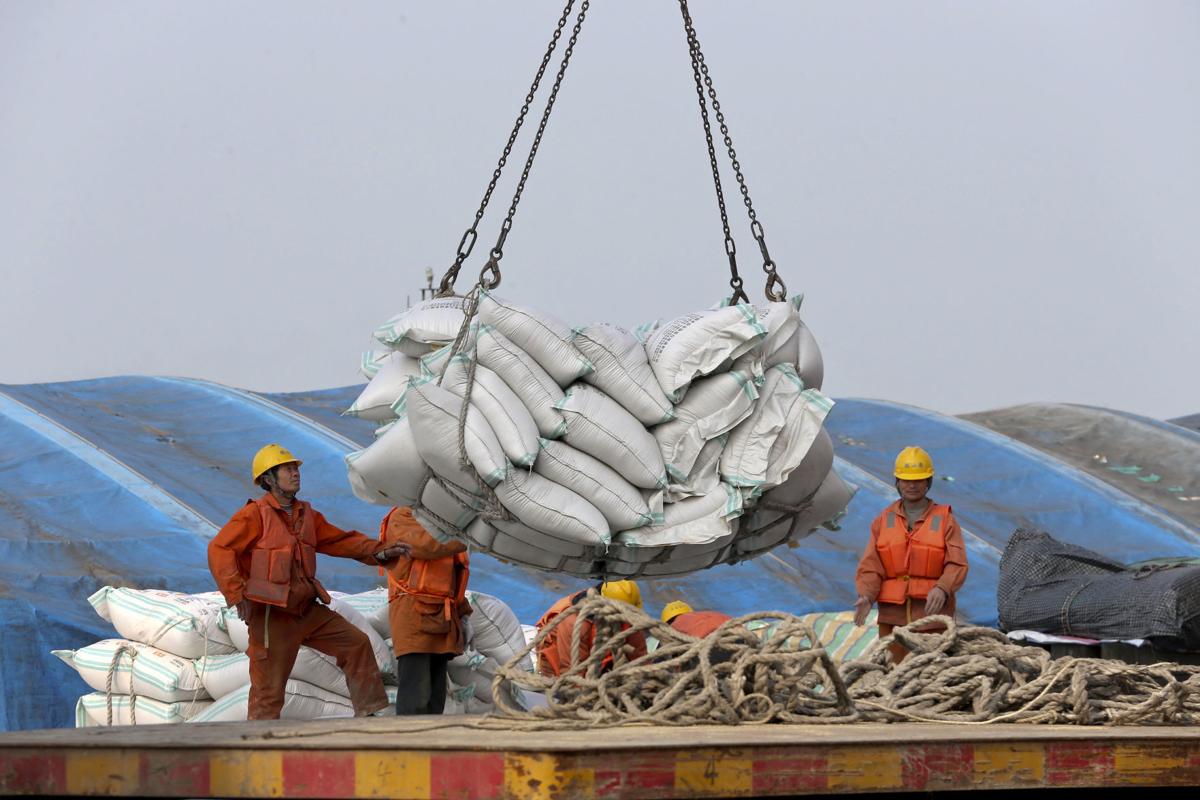 WASHINGTON — China on Tuesday took aim at soybeans, a critical Central Illinois crop, with a 25 percent tariff seen as retaliation against Trump administration, raising concerns about an escalating trade war between the world's largest trading partners.
The American Soybean Association, a lobbying group for 21,000 U.S. soybean producers, said farmers lost an estimated $1.72 billion on Wednesday morning alone as futures tumbled.  China is the largest consumer of U.S. soybeans, buying about one-third of all U.S. soybean production each year, the group says.
"Financially, it looks like it is not a pretty thing for our farmers right now," said Tim Stock, executive vice president of the Macon County Farm Bureau.
After the United States unveiled plans to impose tariffs on $50 billion in Chinese imports Tuesday, China lashed back within hours, matching the American tariffs with plans to tax $50 billion of U.S. products, including soybeans and small aircraft. The move comes after Beijing on Monday raised tariffs on a list of U.S. goods including pork, apples and steel pipe in a separate dispute, responding to increased duties on imports of steel and aluminum that took effect March 23.
The newest tariffs wouldn't kick in right away. The U.S. government is inviting public comment on its trade sanctions through May 11 and will hold a hearing on the plan May 15. And China set no date for its 25 percent duties to take effect, saying it is waiting to see what President Donald Trump does.
Illinois is the country's largest producer of soybeans and fourth-largest source of pork, according to the USDA. The latest agency numbers show that the state has the third-highest value of agricultural exports, totaling more than $8.3 billion in 2016.
U.S. Rep. Rodney Davis, R-Taylorville, said Wednesday that he understood the effect the tariffs could have on Central Illinois and its farmers, but was willing to wait and see whether the two nations could reach an agreement in the coming weeks. 
"We have to do something about China, and we have six weeks for the administration to work with the Chinese government so we can reduce the opportunities for these unfair tariffs from China," Davis said, "but do it in a way that really sends a message to China that they need to trade more fairly if they want to access our products and allow them to go into their market, and for their products to go into our markets."
Stock said Wednesday that friends told him in the morning not to check what was happening with the grain futures markets, "or if you do, wake up with a bottle of whiskey in your hand." 
The tariffs would come on top of already declining income levels for farmers, he said. Recent years have seen producers receive lower prices for their crops, which could be depressed further by the new tariffs, he said. 
"I hope they can get this straightened out, and all farmers hope they can get this straightened out," Stock said. "We rely heavily on exporting our product and need to work on getting that market back." 
Agribusiness giant Archer Daniels Midland Co., far Decatur's largest employer with some 4,000 workers, processes corn and soybean at facilities in the city. Asked about the potential effect of the tariffs on Wednesday, company spokeswoman Jackie Anderson said in a statement: "ADM's global reach offers America's farmers access to markets far beyond the United States, and as such we are supportive of free and fair trade policies that help agricultural and food products move efficiently around the globe. These tariffs are not yet final, and we are hopeful for a positive resolution."
U.S. Commerce Secretary Wilbur Ross brushed off concern about a trade war. In an interview with CNBC on Wednesday morning, Ross said the tariffs announced by China amount to a mere 0.3 percent of America's gross domestic product. He added that some U.S. punitive action against Beijing has been "coming for a while" over what the United States calls China's predatory behavior involving technology.
"What we're talking about on both sides is a fraction of 1 percent of both economies," Ross said.
The larger concern, the commerce secretary said, is the protection of U.S. intellectual property.
The Soybean Association says China's proposed tariff on soybeans would be "devastating" to U.S. farmers.
Association President John Heisdorffer, an Iowa farmer, is calling on the Trump administration to withdraw its proposed tariffs and meet with soybean farmers to discuss ways to improve competitiveness without resorting to tariffs.
"That's real money lost for farmers, and it is entirely preventable," Heisdorffer says in a statement.
Ron Moore, a farmer in Roseville, Ill., and a chairman of the American Soybean Association, said ripple effects would reverberate throughout rural America — a cruel fate, he pointed out, given the overwhelming rural support for President Trump in the 2016 election.
"It doesn't seem like he's listening to the people that helped get him elected as much as we would like him to," Moore said. "When agriculture becomes successful, rural America becomes successful."
Davis, whose 13th Congressional District encompasses a heavily agricultural area from Champaign-Urbana to Madison County, told a crowd of local business leaders during a Greater Decatur Chamber of Commerce breakfast at the Decatur Club that he understands concern about the tariffs.
He pointed to the Granite City steel mill, which announced in March it was re-opening in part because of the U.S. steel tariffs that took effect March 23, as a sign that something needed to be done to address the United States-Chinese trade relations. He said he has faith that officials like U.S. Secretary of Agriculture Sonny Perdue can help the Trump administration find the right balance between protecting American exports to China while also addressing trade imbalance.
"This administration has got to work in a bilateral way to make sure we address the steel-dumping issue … we can address many of the issues in proposed retaliatory tariffs in those bilateral negotiations," Davis said. "But let's see what the final provisions are going to be in the next six weeks.
"If there still is an impact on this community, Illinois agriculture, then you'll be seeing a lot of us fighting like heck to change that impact."
Ryan McCrady, president of the Economic Development Corporation of Decatur and Macon County, said the situation was too preliminary to know how it might affect the area's economy. "It's a rapidly changing environment," he said, adding that none of the city's employers had contacted him yet about the tariffs and issues they might cause. 
Asked whether the U.S. tariffs against China were a negotiating ploy, Lawrence Kudlow, Trump's top economic adviser, said: "Potentially. It's part of the process. I would take the president seriously on this tariff issue. There are carrots and sticks in life. ... Both sides benefit by positive solutions that lower barriers."
Beijing's list of 106 products included the biggest U.S. exports to China, reflecting its intense sensitivity to the dispute over American complaints that it pressures foreign companies to hand over technology.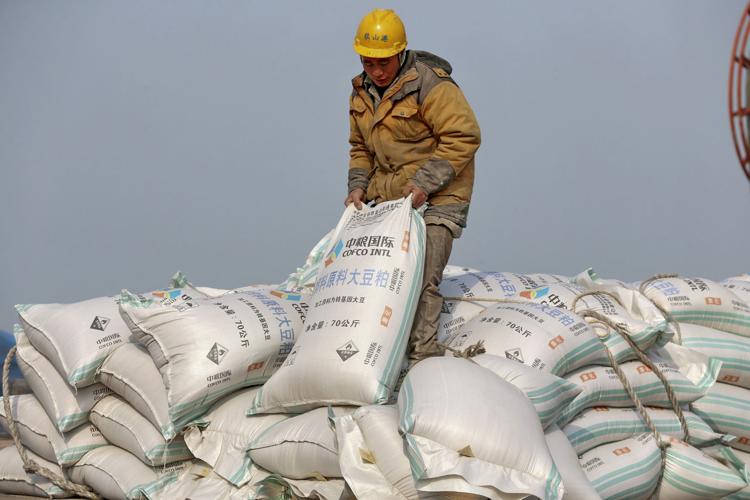 The clash reflects the tension between Trump's promises to narrow a U.S. trade deficit with China that stood at $375.2 billion in goods last year and the ruling Communist Party's development ambitions. Regulators use access to China's vast market as leverage to press foreign automakers and other companies to help create or improve industries and technology.
In a tweet Wednesday after China's announcement, Trump said: "We are not in a trade war with China, that war was lost many years ago by the foolish, or incompetent, people who represented the U.S."
A list the U.S. issued Tuesday of products subject to tariff hikes included aerospace, telecoms and machinery, striking at high-tech industries seen by China's leaders as the key to its economic future.
China said it would immediately challenge the U.S. move in the World Trade Organization. A deputy finance minister, Zhu Guangyao, appealed to Washington to "work in a constructive manner" and avoid hurting both countries but warned against expecting Beijing to back down.
Companies and economists have expressed concern that global economic activity might sputter if other governments are prompted to raise their own import barriers.
American companies have long chafed under Chinese regulations that require them to operate through local partners and share technology with potential competitors in exchange for market access. Business groups say companies feel unwelcome in China's state-dominated economy and are being squeezed out of promising industries.
Chinese policies "coerce American companies into transferring their technology" to Chinese enterprises, said a statement by the U.S. Trade Representative.
Foreign companies are increasingly alarmed by initiatives such as Beijing's long-range industry development plan, dubbed "Made in China 2025." It calls for creating global leaders in electric cars, robots and other fields. Companies complain that might block access to those industries.
Wang Shouwen, a deputy commerce minister, defended "Made in China 2025." He said it was "transparent, open and non-discriminatory" and foreign companies could participate. Wang said the plan, which sets targets for domestic brands' share of some markets, should be seen as a guide rather than mandatory.
A report released Tuesday by the U.S. Trade Representative also cited complaints that Beijing uses cyber spying to steal foreign business secrets.
Zhu, the deputy finance minister, expressed thanks to American soybean farmers who he said had lobbied the Trump administration to "safeguard hard-won economic relations between the United States and China."
To minimize the cost to China, regulators picked products for which replacements are available, such as soybeans from Australia or Brazil, said Tu Xinquan, director of WTO studies at the University of International Business and Economics in Beijing.
The Global Times newspaper, published by the ruling party and known for its nationalistic tone, suggested that further retaliatory action might target service industries in which the United States runs a trade surplus. Regulators have wide discretion to withhold licenses or take other action to disrupt logistics and other service businesses.
Ryan Voyles, Claire Hettinger and Tom Lisi, of the Herald & Review, and Bryce Gray, of the Herald & Review News Service, contributed to this story.