The General Assembly in the session that ended last month voted to double the state's fuel tax to 38 cents a gallon, the first increase since 1990. Diesel fuel also will cost 5 cents more and other fees are increasing.
The funding is meant to finance $45 billion public works projects by Gov. J.B. Pritzker to improve bridges, roads and infrastructure. Pritzker has said he will sign the legislation.
Ahmed Qidan, owner of University Corner Store and Gas Station at 1096 W. Main St. near Millikin University, is not looking forward to the gas tax jump.
"It will affect me a lot," he said. "People can't afford it, so it will hurt my business and the customer."
Qidan's business is not just selling gas, but impulse items as well, such as candy and soda. "They don't have the extra money to get what they want," he said.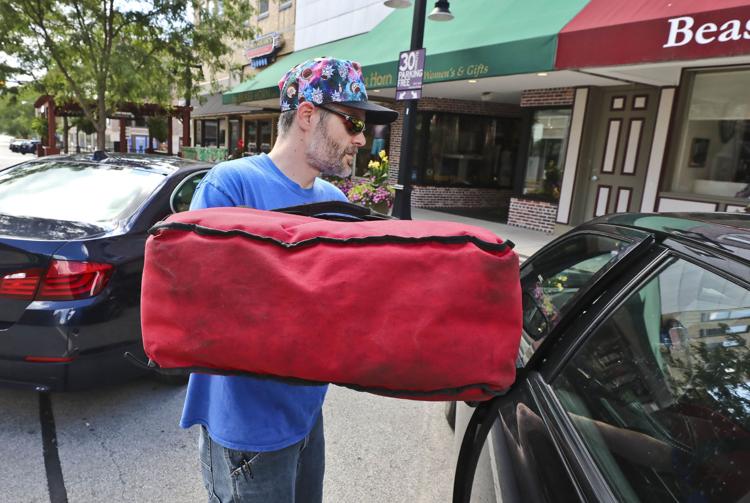 "Maybe they should not raise any more taxes this year," he said. "Wait a little bit longer to see the outcome."
Amar Lotey, who owns the Marathon gas station at 101 E. Pershing Road in Decatur, estimates 75% of his customers purchase items besides gasoline at his business.
"The common man will be spending more on the fuel cost," he said. "There won't be any money left for them to reward themselves to buy a drink or candy or a snack item."
Pritzker, who was elected in November, has said infrastructure improvements are a crucial need for the state, reversing years of limited funding for fixes.
"Think about all the pent up demand and need — the potholes, the bridges that are falling apart, the mass transit that we can all see in Chicago is crumbling," he told the Chicago Sun-Times editorial board this month. "We have to pay for these things."
Funding also will come from expanded gambling and legalizing sports betting.
Eating the cost
The tax increase also stings for businesses that offer delivery, as well as independent drivers who work through food delivery services like DoorDash and Uber Eats.
Brent Sloan, owner of Sloan's Calzones in downtown Decatur, has prided himself on offering free delivery, rather than attaching a fee.
The business employs four delivery drivers and reimburses them a percentage of earnings for gas and maintenance, Sloan said.
Those costs aren't passed on to the customer, he said. Instead, the business essentially eats them.
"Since we are basically paying the gas and maintenance reimbursements out of our own pocket, what is probably going to happen is certain menu items will increase in price so we can continue to offer free delivery," said Sloan, adding that he hadn't increased his prices in two years.
DoorDash, GrubHub and Uber Eats are all smartphone apps that allow people to order food from various restaurants online. Independent drivers, paid by the customer through the app, pick up and deliver the food.
The companies don't reimburse drivers costs of gas, vehicle maintenance and repairs, insurance and taxes. But Christian Perez, a DoorDash driver from Decatur, said he wasn't worried the gas tax would affect his day-to-day work much.
"Depending on how much I work per week, I can make well over $100 so the increase in tax won't really hurt me," said Perez, 21. "My profits will still offset the additional cost."
Government costs
You have free articles remaining.
The city operates a gas pump for police, fire and other city vehicles to use and refuel at.
Treasurer Gregg Zientara said the city is responsible for paying the state gas tax whenever it buys fuel for the pump, and while he did not expect that the gas tax would be doubled, the city should be able to pay the new taxes without breaking the bank.
"We're not out of the woods financially, but we're not pinching pennies," he said. "We've had some savings, and we'll be able to find the additional costs that will pay for this tax."
It's not easy to offset something like a gas tax because it's difficult for the city to conserve fuel, Zientara said.
Some can avoid paying the tax simply by not driving or not buying gas, he said, but "that's something that the city as an operation is not really faced with that possibility."
Bill Clevenger, executive director of the Decatur Park District, said the district pays the gas tax for unleaded fuel and clear diesel, but does not pay it for dyed diesel — which is a colored fuel used for machinery like off-road vehicles and lawn mowers.
He said that the district will have to look at its budget and determine what adjustments it would need to make, like fee increases or expense reductions, in order to incur the cost of the tax increases while continuing to keep its tax rate flat.
"For all of these actions, there has to be a reaction," Clevenger said of the tax increase. "... There's going to have to be very careful analysis on how we can approach what we do, and if there are different ways to do it. It's going to be a topic of conversation."
'Taxed and taxed'
There also is skepticism about where the money will end up, despite a constitutional amendment voters passed in 2016 that requires transportation-related money only go to transportation projects.
Theresa Bayer, 65, lives in Decatur and often stops by Lotey's gas station to purchase gas. She is concerned the tax money isn't being used for its intended purposes. "Illinois is taxed and taxed and taxed," she said. "Gas keeps going up."
Bayer said she has worked in law enforcement throughout her career and believes money could be found in other areas. "There is so much money that can be gotten out there if they make people start paying their fines," she said.
It's a concern shared by Colt McLeod, president of the Macon County trucking company McLeod Express. Poor road conditions have spurred rising maintenance costs for his industry, McLeod said.
He's hopeful that revenue from the gas tax will improve conditions — as long as the money is allotted to the appropriate fund.
McLeod said his company had supported lawmakers turning to the gas tax to pay for road repairs, rather than increasing tolls, which are not reimbursed by customers.
"The way we work is there is a base charge and a fuel charge," he said. "With fuel, we can typically track our customers back for fuel."
Pritzker told the Sun-Times now is the time to act.
"I think there are some people who are elected who want things to get done but they don't want to pay for them and they don't want to stand up and explain to people we have to pay for it," he said. "Virtually everything I've done from the beginning has been focused on fiscal responsibility and trying to move our state forward at the same time."
But Decatur resident Lloyd Williams, 69, said he's not happy facing another cost.
"It's pitiful," he said. "People can't afford it."
Williams owns a car and a motorcycle. He expects others will begin driving smaller vehicles.
"They could buy a bicycle with a motor on it," he said. "That could take you around for about $5."
Correction: An earlier version of this story had the incorrect address for University Corner Store and Gas Station. Additionally, the name of Colt McLeod, president of the Macon County trucking company McLeod Express, was incorrect. This version has been corrected. 
---
FROM THE ARCHIVES: Remember these Decatur business signs?
Contact Donnette Beckett at (217) 421-6983. Follow her on Twitter: @donnettebHR
Contact Analisa Trofimuk at (217) 421-7985. Follow her on Twitter: @AnalisaTro