DECATUR — The financial pundits who say online retail sites like Amazon are spelling doom for traditional department stores like Sears and J.C. Penney are also giving some local governments heartburn. The fear, along with lost jobs and vacant buildings, is a slide in sales taxes, which for cities like Decatur is a major revenue source.
"It's killing cities all over the place," Mayor Julie Moore Wolfe said at a recent city council meeting.
Falling sales tax revenue is not uncommon among Central Illinois cities. Recently, Springfield reported a similar dip, and Peoria officials voted to increase the city's sales tax a percentage point to boost slumping revenue. Bloomington's city council recently heard stagnant retail sales tax and rising costs are projected to create a revenue gap in its fiscal 2019 budget.
"You need to pass that (sales tax) on down to the municipalities based on the ZIP codes of the people that bought (online)," said Decatur City Councilman Pat McDaniel.
In the city of Decatur, about a quarter of its annual revenues come from state and local sales taxes.
"The people who live here still buy clothes and shoes, and if they're doing it online, that revenue needs to be coming back to us," Moore Wolfe said at the most recent council meeting.
There's no doubt local governments have to be losing some revenue to online sales, but it's difficult to track accurate figures, given that sites like Amazon and eBay include so many small purveyors all over the country.
But it is a different story in the adjacent villages of Forsyth and Mount Zion, where officials say sales tax figures are holding steady, even growing.
So far, sales tax receipts in Forsyth are about even with 2016, said Andrew Zupkoff, the village's community and economic development coordinator, "But that's not taking into effect all the business that have opened up literally in the next four months," he said.
In 2016, Forsyth ended up with $4.2 million in local sales tax receipts, and Zupkoff counts 10 new businesses that set up shot in Forsyth in the past year, including a number of stores that have filled some of the vacancies in Hickory Point Mall.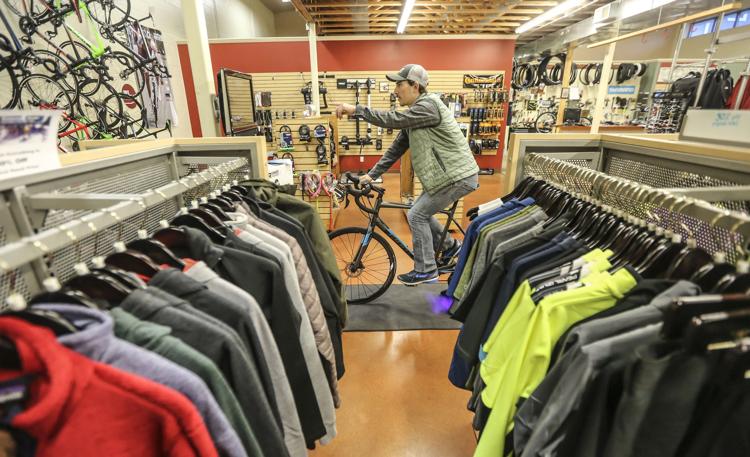 "We've had a very successful two months," said A.J. Miller, store manager of Hibbett Sports, which opened in the mall in September. "We are trending above new store expectations for (the company)."
Zupkoff, who started at his position in Forsyth this year, said promoting the village's high median income is helping attract more national chains.
"A lot of the time, when we bring up the Decatur market to a group of brokers and the company (representatives), they'll even say, 'If you want to be in the Decatur market, Forsyth is where you want to be," Zupkoff said.
According to the U.S. Census Bureau, Forsyth's median household income is $95,000, versus $50,500 in Decatur, and $93,000 in Mount Zion.
"Our sales tax (receipts) over the last several years have been very stable," said Julie Miller, Mount Zion village administrator.
Mount Zion's local sales tax has dipped slightly over the last three years, from $340,000 in 2014, to $331,000 last year.
"The village doesn't have any of the major retailers. We have lots of small businesses, so it's very stable," Miller said.
Mount Zion's reliance on property taxes to fund local schools and government services is also much less of a guessing game when sales taxes can ebb and flow based on any range of economic factors.
"The economy doesn't affect us as much as say, Forsyth or Decatur," Miller said.
Decatur officials, including McDaniel and Moore Wolfe, say the city's slumping sales tax figures could be boosted if state lawmakers, or even Congress, established measures to ensure all online purchases see sales tax collections go to where the consumer is.
Zupkoff said the strip of national retail stores on U.S. 51 near the mall sees some of the highest car traffic in the area, and even though online shopping has grown, it's still only 10 percent to 15 percent of total sales in the country.
According to a report from the U.S. Department of Commerce, e-commerce sales brought in $394.9 billion in 2016. The Commerce Department said online sales grew 15.1 percent in 2016 and accounted for 8.1 percent of total retail sales for the year.
"I don't know if news of the retail apocalypse is overblown, or we're insulated from it, but people are still going out and shopping," Zupkoff said.
"There's still nothing better than going to the store and getting that item on that day," Miller said. "Amazon is great, but you still have to wait; and everybody still likes going to the store to get something new, and there's nothing quite like that feeling."