DECATUR — Those working to match Macon County jobs with people to fill them saw a positive sign Thursday in the downward trend of the area's unemployment rate, saying efforts continue to increase workforce training and awareness of job openings.
"There's a lot of good organizations and people working hard to continue to move this in the right direction," said Ryan McCrady, president of the Economic Development Corp. of Decatur and Macon County. "I think we're making progress. I think there's a lot more that we can do, and we're going to keep doing that."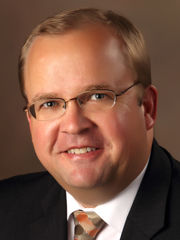 The Decatur metropolitan area's unemployment rate dropped to 5.1 percent in September, according to preliminary data released Thursday by the Illinois Department of Employment Security. In 2016, the unemployment rate in the Decatur area was 6.5 percent.
At its peak during the Great Recession, unemployment reached. 12.7 percent in October 2009. It has been on a steady decline since hitting 11.8 percent in October 2013.
The city of Decatur saw its number improve year over year as well, down to 5.8 percent from 7.3 percent in 2016. Thursday's latest statistics were not seasonally adjusted.
The Decatur area did lose 100 jobs nonfarm jobs over the course of the year, reporting 51,300 in September.
Construction added 100 jobs, as did educational and health services. Offsetting those gains was a loss of 100 jobs each in other services and information. All other major industry sectors were stable.
Rocki Wilkerson, director of Workforce Investment Solutions., said it doesn't appear to her that there are fewer jobs in Decatur, but many of those that are available recently seem to require more specific skillsets.
"It's probably a little more difficult to get the employee that is a fit for that specific skillset, and I think that might be more of a challenge," Wilkerson said. "That's why that alignment of services and programs and pathways is so critical. Not one entity can do it all."
The Decatur area had an estimated 2,500 unemployed people in the labor force in September.
While he said the lower unemployment number is a good sign, McCrady said it's just one indicator of many that must be considered when looking at the city's economic health.
He recommended looking at the economy like you look at your car dashboard: comprehensively. The oil might be fine, but the car won't run if it's out of gas. In the same way, he said, it's also important to consider factors like median income and the total number of wages earned.
McCrady said he expects that the number of actual jobs in the community will increase soon. Information about available jobs is published at careersdecatur.com, he said.
A number of collaborating agencies have the goal of a well-trained workforce in their crosshairs, Wilkerson said. The EDC, Richland Community College, the Greater Decatur Chamber of Commerce and others are working closely together, she said.
Healthcare, manufacturing and transportation are the areas most in need of workers, she said.
"I personally think there's jobs out there that we're in the midst of trying to build the workforce with skills (for)," she said. "We're in that transition phase right now."
Anyone who is having trouble finding work or training for a job can seek help at Workforce Investment Solutions, which is federally funded and offers employment and training services to Macon and DeWitt County residents. Call 217-875-8751 or visit 757 W. Pershing.
Unemployment rates in metro areas throughout the state decreased compared to 2016, the IDES said. Statewide, unemployment dropped to 4.6 percent; it was 5.6 percent in September 2016.
"Seeing the rate drop across the board in all 102 counties is certainly encouraging," director Jeff Mays said. "But the job growth in the Chicago metro area, while it has carried the state during this past year, still lags behind the growth in neighboring states."
In Central Illinois, Bloomington's jobless rate was 3.6 percent in September and Springfield stood at 3.9 percent.
Counties measured by the IDES showed Christian (4.7 percent), DeWitt (3.9 percent), Logan (3.9 percent), Piatt (3.5 percent) and Shelby (4.0 percent) all improved from 2016. Shelby County showed the best improvement at 1.5 percentage points.
Nationally, the unemployment stood at 4.1 percent, which measures those who are out of work and actively seeking jobs.