SPRINGFIELD — Fresh flowers grown in Decatur, Bloomington, Mattoon and across Central Illinois will greet visitors to the Governor's Mansion on Saturday when it reopens after $15 million in renovations.
Donations from eight growers in different communities will appear on the dining room table, seating areas, outdoor areas and catering tables. Several area florists and growers are working together to craft the arrangements and centerpieces for the high-profile celebration, scheduled from 9 a.m. to 4 p.m. Saturday with a ceremony at 10:30 a.m. 
The effort grew from a meeting earlier this year of Central Illinois flower farmers, who were looking for ways to promote their products. Flower farmers sell their work to florists, at farmers markets and for weddings and other special events. 
"Most of us don't have a retail store," said Becky Newton, whose three-acre flower farm, Wren's Gate Garden and Studio, is off Baltimore Road in Decatur.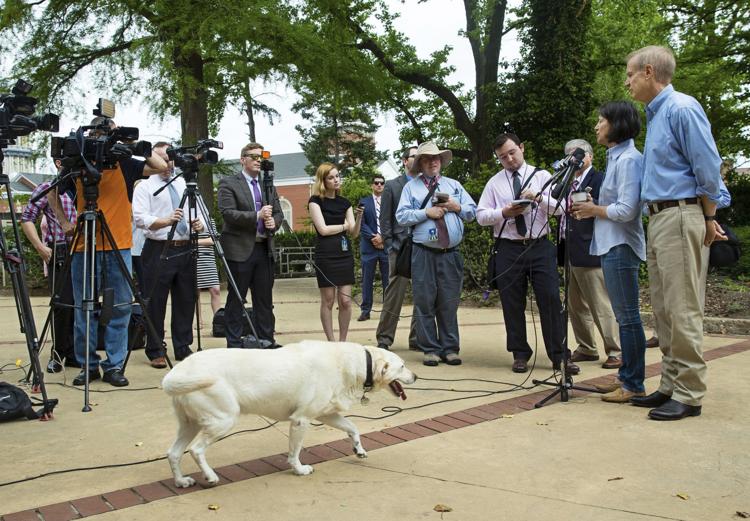 Newton contacted the governor's office asking for opportunities to showcase local products, and the nonprofit Illinois Governor's Mansion Association reached out a few weeks later. 
The reopening event is the culmination of years of work on the 1855 home, one of the nation's oldest continuously occupied governor's residences. Gov. Bruce Rauner and his wife Diana, who moved back into the residence in May, led the private fundraising effort to reverse decades of deferred maintenance. 
Improvements include increased accessibility, a new roof and a visitor's center meant to provide an educational experience for visitors. The mansion will also be decorated with more than 80 pieces of Illinois art donated by individuals, organizations and museums.
For the flower farmers, the event offers an opportunity for visitors to see the beauty and availability of their products. 
"We just want to showcase what we can do as Illinois farmers," said Candice Hart, who owns Pollen and Pastry, a wedding florist and bakery business in Bloomington. 
While members of the Illinois Flower Farmers group often talk with each other, this is the first time they've collaborated on an event, Hart said. 
"It gives people a chance to know about flower farms," said David Annis of Nature Specialities in Mattoon, who also donated product to the effort. 
Annis and others hope to encourage more people to consider locally grown flowers, rather than those that might be shipped from a distance or even other countries. In addition to supporting local businesses, he said, they're likely to receive a more vibrant result. 
"Some flowers don't ship well," he said. "The quality isn't that great when they are shipped in."
Members of the flower farm organization say they have noticed growth in their field over the past 20 years. Opportunities such as Governor's Mansion event allow a bigger audience to see what they have to offer. 
"We want people to recognize what we can grow," Hart said.