DECATUR — Talk about an early Christmas gift — for now. 
Plummeting fuel prices have sent the average cost of a gallon of regular unleaded gas in Decatur to $2.25 Tuesday, 39 cents lower than this time last month, according to AAA. Compare that to the all-time high back in June 2013 of $4.18 a gallon. 
A huge surge in domestic production of oil and gasoline played a part. Domestic crude oil production remains at a record-high 11.7 million barrels per day. That's 21 percent more than last year.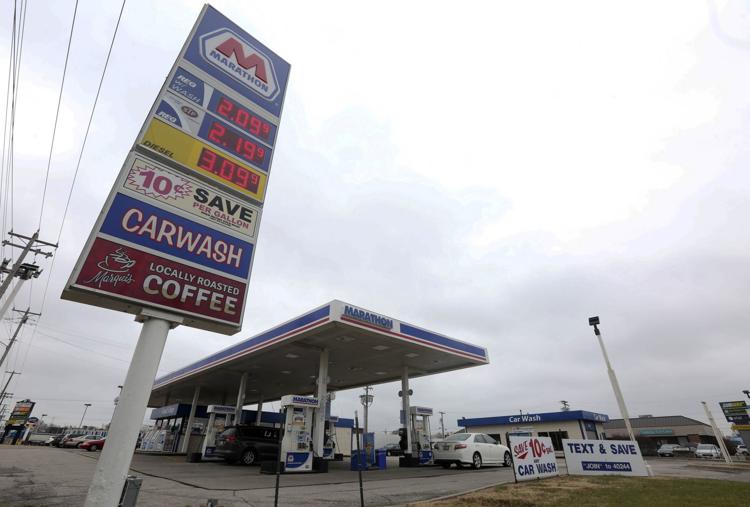 And there was a deep dive in the price crude oil to near $50 a barrel.
"Plunging oil prices have made gasoline far less expensive to produce," said AAA spokesman Mark Jenkins. "Oil prices sank to 14-month lows, because there's so much oil in the global market and not enough demand to absorb it."
That means motorists in 32 states are paying less to fill up compared to 2017. Statewide, there was a 41-cent drop in the past month, to an average $2.36 a gallon, with some Central Illinois stations going much lower. On Tuesday, the Marathon station on East Pershing Road in Decatur was selling for $2.09 a gallon, for example. 
Jim Arundel, of Heyworth, paid $2.16 per gallon at a Casey's in Bloomington. 
"It's more money in my pocket and that's a good thing," he said. "Nobody is complaining right now about the gas prices, so I give the credit to (President Donald) Trump. Good things happen when people are working and the economy is rolling."
Patrick DeHaan, head of petroleum analysis for GasBuddy which surveys fuel prices nationwide as well, said at least one gas station in 27 states is offering a gallon of gasoline at $1.99 per gallon or less.
He estimated that the 2018 drop in prices has kept "nearly $200 million in the pockets of Americans every single day acting as an economic stimulus ahead of the holidays."
But there may be trouble ahead.
Jenkins warned that OPEC and Russia this week are meeting to discuss cutting production, which could lead to a spike in prices if that happens. The meeting is Thursday in Vienna. 
Crude prices began falling in October and continued to plunge last month due to oversupply and fears that weaker global economic growth would dampen energy demand. Trump blamed OPEC and Saudi Arabia earlier this year for high oil prices. When U.S. crude skidded to $54 on Nov. 21, he tweeted, "Thank you to Saudi Arabia, but let's go lower!" 
DeHaan estimated that Americans "will likely see falling prices at least for one more week."
After that, and before the Christmas rush, prices may climb again. The promise of a trade deal with China may boost confidence in the economy, he said, pushing global oil demand back up and driving prices higher.
The Orlando Sentinel and Associated Press contributed to this report.