MOUNT ZION — On any other day, Emma Hartwig is just an average 8-year-old from Decatur.
But last week, she became a "Space Pirate," armed with a laser gun to fend off advances from evil robot enemies. 
Emma's trip to a far-away galaxy was made possible by virtual reality. She was one of many excited community members who got a taste of Heroic Age Studios' new Virtual Reality Experience Center during its official opening Thursday.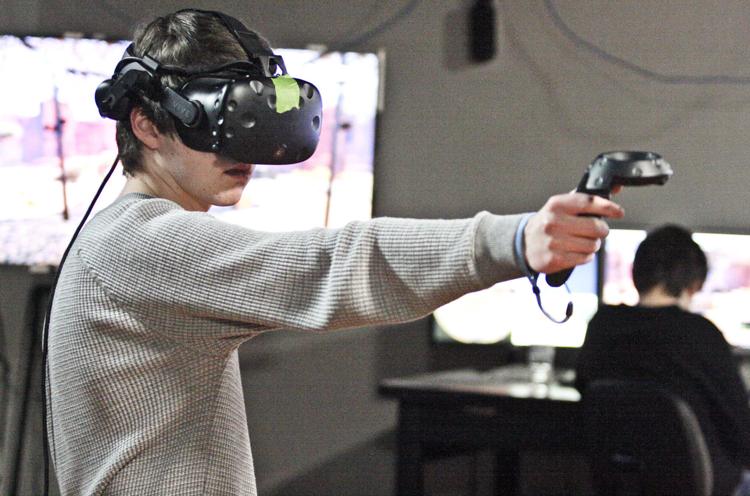 While it was her first outing as a Space Pirate, Emma said she wasn't afraid of the challenges she faced. "It wasn't scary. I was kind of ready for it."
Heroic Age is celebrating its 25th year operating as a video and art production studio. In honor of that milestone, the Greater Decatur Chamber of Commerce sponsored a Business After Hours networking event at the studio's art center, located at 135 N. Henderson in Mount Zion. 
Community members and business professionals were invited to test the virtual reality center, and could also tour the art center while enjoying appetizers and good company.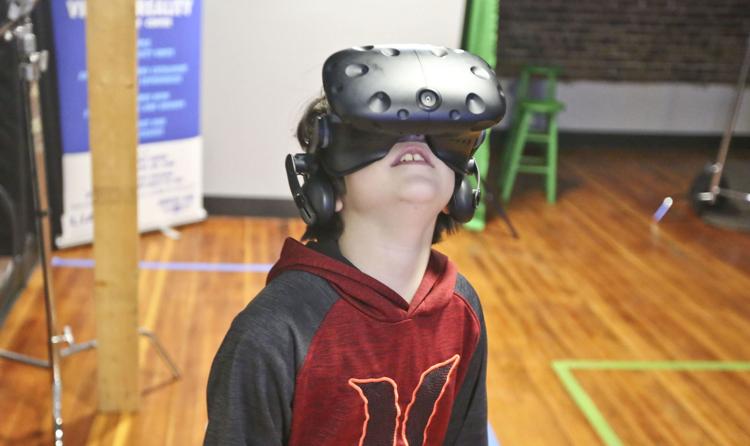 The virtual reality room features multiple game headsets and also doubles as a studio for filming small-form videos and corporate media, said Alexander Borisov, Heroic Age technical director. 
"Everything we do here, we make sure that it benefits our production house in some way, shape or form," Borisov said. "We want to do a tie-in experience with the movies that we create, and also use it to sculpt."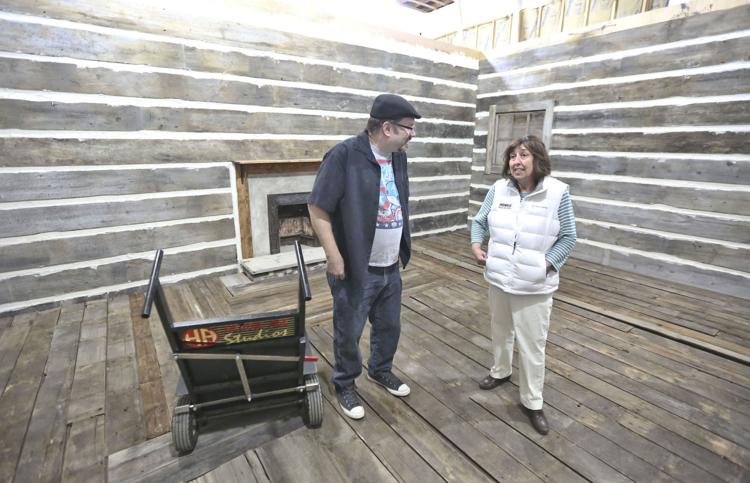 In addition to providing realistic virtual reality experiences for patrons, Borisov said the studio also uses the technology to "sculpt" props for its movies by scanning paper mâché prototypes into the system and 3D printing the final products.
"This has been an ongoing project for about half a year now," Borisov said. "Because this isn't the same as having a V.R. system in your house."
Among the virtual reality games that people were able to play Thursday were an immersive, plank-walking simulation, a zombie fighting game and the "Space Pirate Trainer" that Emma became fond of. Borisov said his favorite is a game called "The Gallery," which involves solving a series of puzzles. 
Visitors were also able to check out the opening of Heroic Age's new 4K theater, which displays movies in other images in incredible detail, and could receive tours of the studio's 18,000-square-foot art center. 
"You're getting the exact same experience here as you would at a movie studio in Chicago," Borisov said. 
Emma said she's interested in trying the virtual reality experience again someday. Her mother, Stefanie Rohman, said she'd consider trying it too — with one exception. "Just not the plank one," she said.