But for those workers in Illinois who make minimum wage, the unthinkable will become reality Wednesday when the mandated base pay rate increases to $10.
Walking into Spare Time Lanes for the first time in almost three months was a moment the Jones family will always remember. 
"I'm going to be a college student," said Nicole Girard, 19, who works at the restaurant at the Decatur Park District's Hickory Point Golf Club. "I'm trying to save up. So this is very helpful."
Tanner Woodruff, 23, works part-time in the pro shop. He too, is thankful for the additional cash, but wonders about the hidden costs.
"It might be beneficial the first year," he said. "But as soon as an entire fiscal year goes by, and businesses have to pay their employees more, they might up the prices. Cost of living will just go up. It'll be interesting to see how it plays out."
Woodruff isn't alone in his concern, especially with the economic turmoil caused by the coronavirus.
Employment specialist Larry Peterson is a consultant for special projects for Workforce Investment Solutions. "I'm the employer's guy," he said.
The employers have known about the graduated increase in wages since the beginning of the year. They did not know about the pandemic affecting their business.
"Most employers have learned to adjust to the $10 an hour," Peterson said. "But with COVID, a lot of the places that have entry level or below minimum wage employees, a lot were laid off. They might not be coming back to work right away."
According to Peterson, most employers will adjust their prices to reflect the wage increase. "How it's going to go in six months, or a year from now, it all depends on their industry or their business turning around to cover the appropriate labor costs," he said.
And it will be an annual re-evaluation for every business owner.
Gov. J.B. Pritzker in February 2019 signed Senate Bill 1 into law, increasing the minimum wage in phases to $15 an hour by 2025.
The Illinois rate went up $1 in January, then to $10 starting Wednesday. Another $1 increase will occur each Jan. 1 until 2025.
The approval by lawmakers was seen as an early victory for Pritzker, a Democrat, who had made the issue a central campaign message. Pritzker defeated one-term GOP Gov. Bruce Rauner, who previously vetoed a plan to raise the rate to $15 by 2022.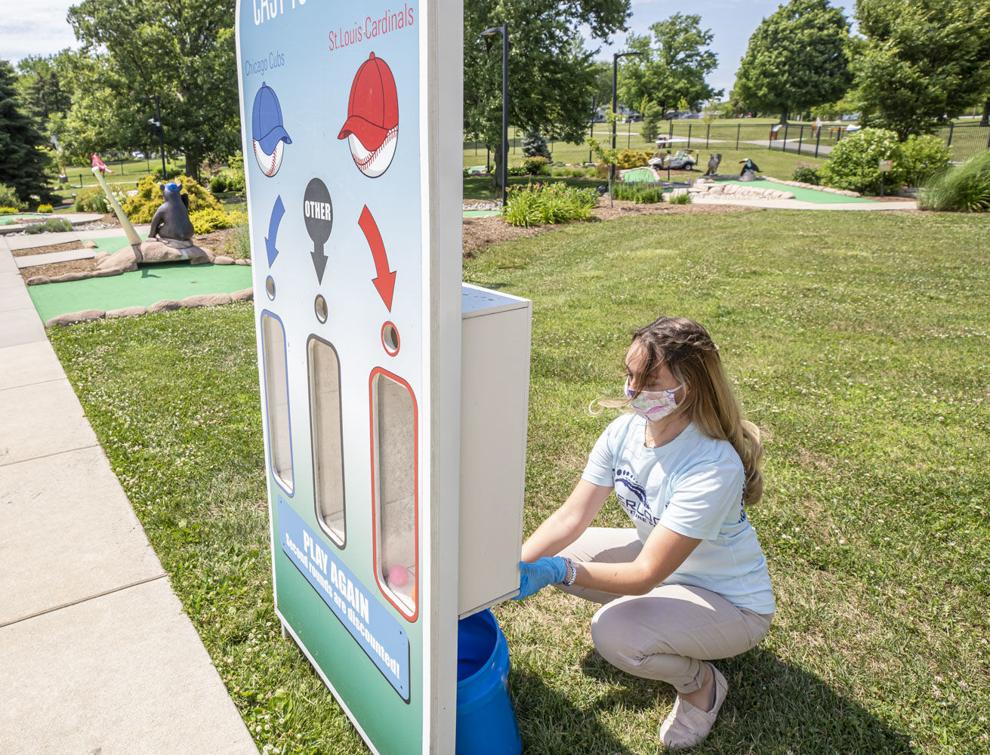 The minimum wage at the time was $8.25, set in 2010, and Illinois became one of the first states to target $15 an hour.
The labor-backed Fight for $15 movement led efforts to change the amount. California, Massachusetts and New Jersey also are on track to have a $15 rate in coming years. Several states — including neighboring Iowa, Wisconsin, Indiana and Kentucky — don't have minimum wage and default to $7.25 an hour, the amount set by the federal Fair Labor Standards Act.
Republicans and business groups have raised concerns that the jump will cause employers to reduce hours or positions and that businesses would flee across state lines.
"People vote with their dollars, and they vote with their feet," Rep. Randy Frese, R-Paloma, said during the debate last year. "Our region may see economic growth, but the growth will be on the other side of the border, which doesn't benefit Illinois."
The legislation also includes a tax credit for businesses with fewer than 50 employees to offset the additional cost.
"The timing for a minimum wage increase couldn't be worse," said Mirinda Rothrock, president of the Decatur Regional Chamber of Commerce, noting the steps that began in March to curb the spread of coronavirus that led to the closing of businesses deemed non-essential and putting restrictions on those that remained open.
Those restrictions have gradually lifted, the most recent coming Friday, when the stated entered Phase 4 of the Restore Illinois plan. This phase allowed  many businesses that had been shuttered since March to reopen.
Other elements of this phase allow for indoor dining and retail shopping with proper distancing, as well as the reopening of health clubs and other recreational facilities, and increasing the maximum number of people in group gatherings at 50.
Plans call for 25,000 square feet of space, with an estimated cost of $6 million.
The state's economy won't fully reopen until Phase 5, which is dependent on the availability of a treatment or vaccine. 
Anticipating the negative impact, a coalition of Chamber's throughout Illinois sent a request to legislators in April asking them to postpone the July 1 increase.
"We are advocating on behalf of our local businesses by asking legislators to delay the July 1, 2020 increase until Jan. 1, 2021," Rothrock said. "Businesses would then not have to take on the burden of resuming limited business operations with increased overhead costs of payroll while revenue is decreased from this time of social distancing."
But Peterson anticipates another issue — the lack of people wanting to work.
Many people collecting unemployment have been able to survive on the extra $600 they receive each week. The supplemental unemployment benefit is a bigger check than an employee would get working for $10 or more an hour.
"The employers aren't getting a whole lot of candidates that want to come back at $10 an hour," Peterson said. "People can sit at home and get $15 an hour."
However, this benefit will not last long. According to Illinois law, employees will no longer receive unemployment benefits if they refuse to return to work when called back or decline an offer of an appropriate job.
The $600 benefit was designed to end on July 31. "Although the federal government is really talking about extending that until the end of the year," Peterson said.
Since so many people will be unemployed, Peterson hopes employers will be able to find workers. "But will they actually come back," he asked.
It's a problem Rocki Wilkerson, executive director for Workforce Investment Solutions, has witnessed firsthand.
The group created a program for youth to provide them with experience, as well as a paycheck, through summer work. Of the 25 applicants, only one followed through with the requirements and is currently employed. "It is an opportunity to learn how to go to work for someone who has never had a job before," Wilkerson said. "You are bringing no skills to the table."
In a typical year, the park district would be an employee training ground for hundreds of high-school and college-age workers.
"But a lot of the programs haven't been able to run as normal," said Kristin Sowa, chief financial officer for the park district.
The park district has opened a few facilities in the past weeks, allowing more employees to return. Scovill Zoo and several golf courses have welcomed people back with limited capacity.
The park district had anticipated the minimum rate increases through to 2021. According to Sowa, the additional cost would have had an approximate $135,000. She said the estimate for this year will be about half of the original amount, but that isn't necessarily a good thing.
The parks generate revenue for the district.
"Not only do we have this additional expense, we have a lot of reductions in revenue and unfunded mandates as well," Sowa said.
The park district is prepared for hardships, such as a minimum wage increase and a pandemic, according to Sowa. "Through our revised budget, with the reduction in revenue we've also looked for reductions in expenses to compensate for that," she said. "I'm comfortable we'll be weathering this storm."
---
17 Decatur bars you'll never drink at again