ON BIZ
ON BIZ: TLC Coffee House opens; University Corner Store has new owner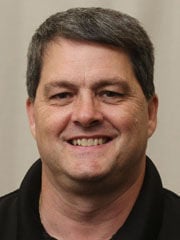 Coffee is brewing at the TLC Coffee House, 543 S. Wood St. in Maroa.
Business hours are 6 a.m. to 5 p.m. seven days a week. It offers handcrafted espresso drinks; rotating bakery items such as cinnamon rolls, muffins, danishes, bagels and breakfast sandwiches; and Nitro Brew, a canned beverage billed as an all-natural energy drink.
Owners Calli Crawford and her fiance, Chapman Schanefelt, began talking about starting their own business more than a year ago. 
From there, it all seemed to fit together. There was space for the coffee shop in the building occupied by the Crawford family business, Crawford's Pizza and Sub's. 
The idea of a coffee shop was ideal for Schanefelt. Before he graduated from Millikin University in May, he was employed at Blue Brew, a student-run coffee shop in downtown Decatur. 
"We thought it was a perfect match," he said, "since I was learning how to run a coffee shop."
The Maroa restaurant serves coffees made from a professional espresso machine. "There's not really a more fresh way to make the drinks," Schanefelt said. 
So far, Crawford and Schanefelt said customers have preferred their seasonal drinks, such as Frosted Gingerbread Latte, Peppermint Hot Chocolate, Jack Frost Mocha and Jingle Spice Chai.
TLC Coffee House was named after Crawford's mother, Tracey, who passed away from cancer. TLC were her mom's initials.
"But most people think it is Tender, Loving, Care," Schanefelt said. "It is a mixed meaning."
The University Corner Store at 1096 W. Main St. has a new owner.
Ahmed Qidan of Forsyth purchased the business from John Phillips Sr. last month and has plans to make some changes to take advantage of nearby Millikin University.
Key among those changes will be remodeling what is now the auto service portion of the building to make room for additional products, filling some of the gap left by the recent closing of the Fairview Plaza Kroger. In addition to more food items, Qidan said the store will carry beer and liquor.
The auto service is run by John Phillips Jr. who was given 90 days from the closing date to find a new location for his business. Phillips Sr. said the search for a new location is ongoing.
As for the decision to sell after 12 years, Phillips said he had been actively searching a buyer when he was approached by Qidan, who is no stranger to the neighborhood.
He has been the owner of the buildings on the east side of the 100 block of South Oakland Avenue and a portion of The Winery building across the street for three years.
"I just like the neighborhood," he said. "I like the university."
Qidan, a native of Jerusalem, added he would like to become even more involved with development in the area.
Qidan said the improvements will get underway once the auto center relocates. In an unrelated update, Qidan said he is still seeking a tenant for the space that used to house The Blue Spoon. Ideally, he would like to attract another breakfast place.
Have you opened a business? Have you expanded or moved to a new location? Have you taken ownership of an existing business? If you answered yes to any of these questions, you need to contact Scott Perry at sperry@herald-review.com or call (217)421-7976. Donnette Beckett contributed to this report.