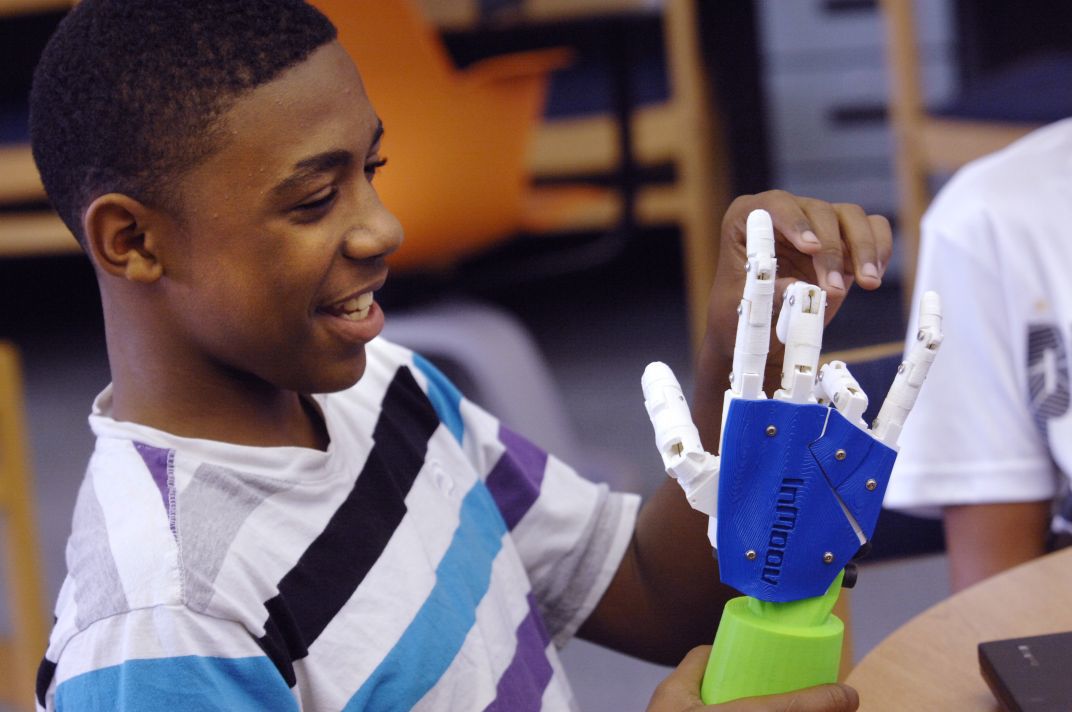 BLOOMINGTON — Seventh-grader Alexander Clayton left Bloomington Junior High School last week bursting with ideas.
"I want to make something that has a lot of lines and folds in and out," he said. "Something nobody's ever seen before."
Clayton hopes to do that and more with a 3-D printer after he and 45 other classmates got hands-on experience with the devices for two-hour training sessions in the school library.
Pairs of students operated the computer-controlled printers — which melt and mold plastic into three-dimensional shapes on a glass platform — and learned how to create and download designs on laptops from Bloomington businessman Rob Martin.
"Most teachers don't have time to learn this on their own. There's a steep learning curve," said Martin, founder of Open Source Classroom, a company that offers lessons and materials related to 3-D printing. "I can make this easy for people to learn."
Martin covered math and technology concepts, including how to find and load free schematics from the Web, navigate a 3-D blueprint and combine them to modify or craft a design for printing.
Several students said their favorite part of the lesson was when they booted up the printer and produced a tiny plastic turtle, not only a handy memento but a sign of what the device can do with time and skill.
Martin showed off several examples of 3-D printed objects, including board game pieces created last spring by a Bloomington Junior High student as part of studying a novel; a prosthetic arm; and a map of the United States demonstrating land elevation.
You have free articles remaining.
"We can take something we want to figure out and just make it," said instructional technology teacher Karen Kelly. "It's open to a lot of possibilities."
Kelly said several teachers took similar training with Martin in the spring, and she wanted to offer students the same experience so they'll help their peers. She hopes enough students will be interested to start an after-school club.
Kelly also encouraged students to check out Open Source Classroom's maker space in downtown Bloomington, where members of the public can receive similar lessons and materials. Bloomington Junior High has purchased four 3-D printers, including two of Martin's models, which cost about $5,000 each.
Seventh grader Mary Claire Coddington said she's "not a huge tech person" but left the training excited to learn more about 3-D printing. She said she could image creating a custom iPhone case with the device.
"It was interesting because we got to print the turtles and then see how to build them," she said. "I would like to do the club. It would be fun."
Clayton said he plans to put the turtle on display.
"Whenever a new friend comes over, I can show it to them and rub it in a little that I got to use a 3-D printer," he said with a laugh.
Clayton said he learned what the red, green and blue lines on a 3-D schematic mean — X, Y and Z axes, respectively — and looks forward to using that knowledge when he works with 3-D printing again.
"It was a lot of fun," he said.