DECATUR — Drive by Bold Machine Works on the city's west side and you'll see a St. Louis Blues flag flapping in the breeze.
The company's co-owner, Jennifer Latshaw, a Blues season ticket holder and super fan, raised the colors Thursday in honor of the team's first Stanley Cup championship in the franchise's 52 years. The Blues emerged victorious from a seven-game series with the Boston Bruins, clinching the title with a 4-1 victory Wednesday night in Boston.
"I'm holding on today. I'm pretty tired. With all the adrenaline last night, it kept us up and we couldn't go to sleep," said Latshaw, who watched the game from home with friends and family. "We were so excited. We stayed up and watched all the interviews and all of our friends who know how big Blues fans we are were calling us and congratulating us.
"I've had customers come in today with their Blues jerseys on high-fiving me. We are flying the Blues flag today!"
Any anxiety Latshaw had for Game 7 was relieved after she saw the game rookie goalie Jordan Binnington was having.
"We felt positive with Binnington playing the game he was playing in that first period. He was just absolutely remarkable and after the first period we felt we should have this game," she said. "Nothing was getting past him. He had it in his mind that he was going to win."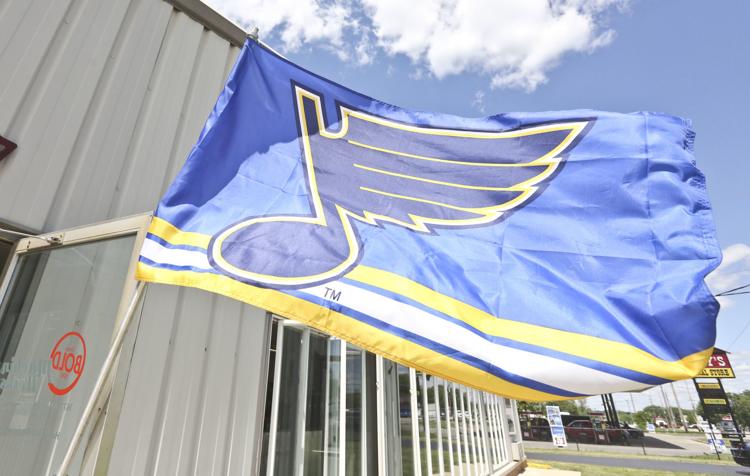 Jennifer and her husband John will make the trip to St. Louis on Saturday for the parade in honor of the team that will finish with a rally at the Gateway Arch.
"As soon as I found out what the plans were I booked rooms for Saturday night. I think it will go on for a while even if the main celebration stops; everyone will go to different bars for more celebrating. It will be wonderful."
Also planning to make the trip Saturday are Tim Bresnan, 51, and his 22-year-old daughter Megan Bresnan. The two are big St. Louis Blues fans who have been rooting for the team together for years. Wednesday night was like being on Cloud 9.
"St. Louis has always been a hockey mecca, so now they can claim to be Stanley Cup champions," Tim Bresnan said Thursday. "The whole city has been behind the Blues during the whole run."
The Bresnans were holding their breath during the last period of the game, which Megan Bresnan described as "so intense."
"I asked Megan if her heart was pounding as much as mine was," Tim Bresnan said. It was.
Now the team has won their first Stanley Cup, Tim Bresnan said, "it gets a monkey off their back." He said this win will give the team confidence to carry them into the next season.
After a season that saw the Blues come back from last place in the league and countless close calls in prior years, plenty of fans were nervous during the final game. Among them were diehard fan George Ford, 52, who is originally from St. Louis but now lives in Decatur.
"They scared me at game six, the whooping they put on us," he said of Sunday's Game 6, when the Bruins won 5-1. "They had me worried a bit."
Ford doesn't describe himself as superstitious, but he does wear a jersey with his name on it when he watches the game. He was still wearing that jersey on Thursday as he soaked up the win.
Although the Blues were ranked low at the beginning of 2019, Ford began to see promise as the games progressed. "But I didn't see us getting this far," he said.
Tommy Eichenauer was comfortable watching the game seven of the Stanley Cup game. "It wasn't close, so I wasn't nervous," he said.
Eichenauer was in the crowd at Enterprise Center during Game 3 of the series June 1, when the Blues lost 7-2. After that, he resolved to watch the games from home, and was "dead set" on doing so Wednesday night.
To celebrate, he later met up with a few friends at a local bar.
Eichenauer plans to continue the celebration this weekend at the parade. "I booked the hotel before they announced where they would have it," he said.
Ashli Crowe of Shelbyville was also convinced that a return trip to St. Louis would be bad news. She was with more than 30,000 Blues fans on Sunday night at the Market Street watch party when the team lost Game 6. She thought about returning for another party Wednesday, but decided to stick closer to home, watching instead at the Gabby Goat American Pub & Grill in Effingham.
"The bar was packed full of people who were extremely excited," Crowe said. She added, "It has just been a really exciting season."
Crowe said she was at the Enterprise Center in St. Louis on April 20 as the Blues won Game 6 to clinch their Stanley Cup Playoffs series with the Jets.
A longtime Cardinals fan, Crowe said she attended her first Blues game a couple of years ago at the invitation of friends and got hooked by the fast-paced energy of the games. Her favorite player is Binnington. "Since I am a new fan, I have a soft spot for the rookie," Crowe said.
Like Eichenauer and Crowe, Shane Brilley was concerned he was becoming a bad luck charm for his favorite team. He was in the audience at Enterprise Center for Game 3 and Game 6, both multi-goal losses for the team.
"After Sunday I decided I wasn't going to go down there on Wednesday because I was jinxing them," Brilley said Thursday. "I said to myself that I'm not going back down there because (the Blues) will win if I don't go back down there and I was right."
For Brilley, there are many lessons to take away from the Blues' worst-to-first season.
"If there is something that comes out of this it is that if you work hard and work as a team and have a focused goal, anything can be achieved," he said. "I can't stop thinking about it. I'm excited for the Blues and you feel like you are a part of the team."
Chris Harrison said he started to get a feeling that the Blues could pull off the victory near the end of the first period, where the team led the Bruins 2-0.
The Main Place Properties real estate broker said that when the game was all over, his 11-year-old son quickly grabbed a Blues flag off of their home's wall and started running with it, chanting "Let's Go Blues!"
"It was fun," Harrison said. "That's a memory that he'll have."
Harrison said the win was "awesome" for St. Louis, and he particularly enjoyed seeing the elation on the players faces, and the good sportsmanship of both teams at the game's end.
"It's respect," he said. "It's what hockey is … No other sport does that. The Blues fans are losing their minds, the Bruins fans are fighting back tears, and what (the Bruins) do is they wait patiently for (the Blues) to finish their celebration, they all line up to shake hands."