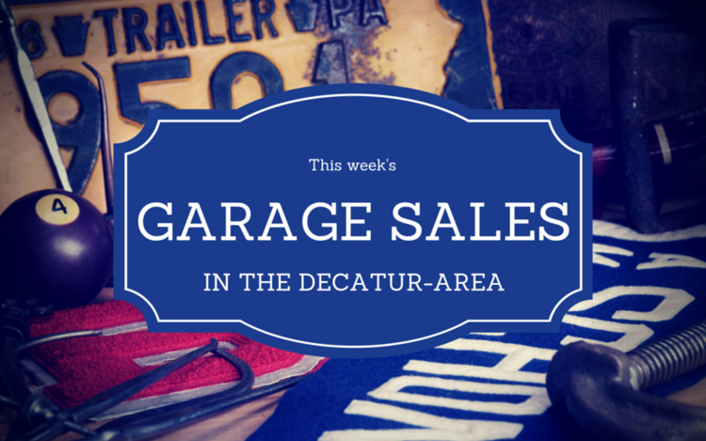 The latest garage, estate, rummage and yard sale listings in Decatur and Central Illinois.
Estate Sale -Bement. Corner of Franklin & Champaign, July 20-25, Work tools, auto &am…
Barding Ave./Carl Ct. Fri. & Sat. 8-2, Kids clothes, crafts, dishes, like new items, …
ESTATE SALE 867 Haynes Thursday 3-8, Friday-Sunday 9-4. Lots of holiday dcor! Tools, mowe…
3435 E. LEAFDALE AVESAT 7/21 ONLY 7am-1pmCostume Jewelry,Women's clothing, shoes & Ac…
**DON'T MISS THIS SALE** 1895 KING ARTHUR DRIVEEVERYTHING 50 CENTS UNLESS MARKED BOYS AND…
MTZ AREA: Dru Page Ln, 121 & E Bentonville. Follow signs to multi-family sale. Fri 7-…
Big Sale, lots of varietyJuly 21st 9:00-2:00Heartland Health Care Center444 W. Harrison (…
430 Park Place Court FORSYTH MOVING SALE! Thurs-Sat from 8-3. Tools, fishing gear, clothe…
446 Shadow Dr, Thur & Fri 8am-2pm, Sat. 7am-noon, Jewelry, clothing, home decor, pict…
Hale Dr. 4456 Sat. July 28 7-1. Furniture, Ladies (L-XL) and Men's (XL - XXL) clothing, h…
NEW LENOX 1605 Cimarron Drive. 8 am - 1pm. Leather couch, more furniture, tires, gates, d…
garage sale Saturday July 21, 7:00am-4:00pm40 Hickory Point Court, Forsyth, ILItems for s…
6145 Mayflower Drive MOVING SALE! Fri & Sat 8-3/!
Sponsored

Skip gutter cleaning this summer.
Sponsored

Look at local, professional care & support options for a parent, spouse or family member who needs some extra help.
Local Offers
SECRETARY Building Level Secretary - perform secr… View details
4649TAKE NOTICECERTIFICATE NO. 201401113TO: Blue … View details
4624TAKE NOTICECERTIFICATE NO. 201400607TO: Dixie… View details
Explore more:
| | |
| --- | --- |
| | Want to know the latest breaking news right when it happens? Read more |
More newsletters from the Herald & Review