DECATUR — December is a busy time for Sue Powell and the staff at the Decatur Area Arts Council. But that isn't stopping the current gallery director from retiring.
Powell said the time was appropriate for her stepping down, but she will miss the people she works with. "It's like a family. We are a team," she said. "We work hard and we laugh hard."
The arts council will say goodbye to its gallery director during a special DAAC retirement party on Monday, Dec. 16, on the third floor of the Madden Arts Center.
Powell's husband, Gary, retired more than a year ago. "He is ready for me to go with him," Powell said about the future of retirement plans.
As excited as she is to leave her job, this isn't her first time attempting retirement.
Powell spent 25 years as the supervisor of cultural arts with the Decatur Park District. "So I've retired once already," she said.
Powell graduated with a degree in art education in 1975 from the University of Illinois. She taught in Arkansas and Alabama before moving to Decatur with her first husband. "But there were no art teaching positions," she said. "That's when I went to the park district."
Powell decided to stay in Central Illinois after her first husband left. "This had become my community," she said. "It turned out to be a great place to live and to work and it has a supportive community."
During her time with the park district, Powell also served on the DAAC board for eight years. At the time of her first retirement in 2003, the board was in the process of renovating the current arts council building located at 125 N. Water St.
"It was the most beautiful segue, because they needed a program director for the arts council," she said.
Powell said she feels lucky to be a part of the DAAC. "It is a huge team effort," she said.
Programming for the arts council brought her back to her visual arts roots. The park district work allowed her opportunities to work with performing artists, which translated to her next job as the gallery director. "It was kind of like another stage for presenting the arts," she said. "It was fun to figure out how to put the artwork up to its best advantage, to really show off what was special about that artwork."
Powell was also able to work with various artists during her career. The opportunities to focus on a multitude of genres was important to the gallery director. Music, dance, culinary arts, poetry, theater and other arts were incorporated into events or highlighted on their own. "We are trying to really provide a broad range of exposure to the arts, to the community," Powell said.
Arts council Executive Director Jerry Johnson has worked alongside Powell since 2011 on a variety of community projects, including theater productions. "I have directed her on stage, as well as working backstage and performing with her," Johnson said. "We have joked that over the years, we've been in shows together where she has played my girlfriend, my wife, and even my mom."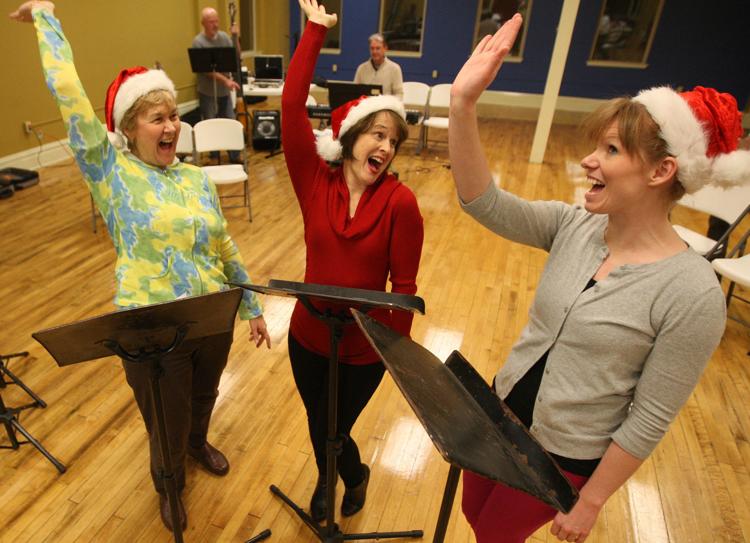 Along with her creativity and knowledge, Powell brought her experience to the arts council. "She knows everybody in the Decatur arts community," Johnson said.
Powell's replacement as gallery director is Decatur native Jami Fawley. "We're lucky to have her join our team too," Johnson said. "With Sue's retirement, along with Stella Carnahan's retirement a few years ago, the arts council is entering a new phase. Those who established the organization downtown have handed things off and we're planning and preparing for the future."
Powell isn't worried either. She said she has confidence in the future gallery director. "The girl's got it," Powell said.
The two have experience working together. Fawley worked as a DAAC art teacher for about five years. Powell and Fawley also worked together at the park district as well through BOSS, the park district's summer children's theatrical program.
"She is a great person to learn from," said Fawley, 47.
The gallery directors have been working and training together for months preparing for the transition. "There's no manual on how things are done," Fawley said. "I'm going to hate to see her go."
When she first arrived in the area, Powell researched the DAAC. "That was in the relatively early years," she said. "They had only been incorporated about 10 years at that point."
Since she was an art teacher, Powell wanted to learn more about the arts community she lived in. "And they embraced me," she said. "Little did I know I would be on the board for eight years and be on the staff for 16 years. It's been a long relationship."
The growth of the arts council has expanded across the city. The establishment began in a small house. Then it moved to Rock Springs Conservation Area, before relocating to a small building on North Main St.
The arts council moved to its current location in downtown Decatur in July 2004. "From the time we opened the doors, the community embraced it," Powell said. "People have stayed involved in it."
The building has been used for various events, such as dinner theaters, jazz performances and improv shows. "That has been really exciting to see how a community arts center could be used," Powell said.
To be part of the ground floor, Powell said was an amazing experience. "So they can't get rid of me that easily," she said. "I am a member of the community, so I would like to enjoy what is being offered. Decatur is an artsy place, it just doesn't know that."
FROM THE ARCHIVES: Remember these places? Decatur's rich theater history
Contact Donnette Beckett at (217) 421-6983. Follow her on Twitter: @donnettebHR
Stay up-to-date on what's happening
Receive the latest in local entertainment news in your inbox weekly!