DECATUR — A budding artist at Millikin University is being recognized with several shows at Blue Connection, the university's student-run art gallery.
Although she is still a student, Brasile is also a paid employee who is allowed to spend her days painting and displaying her work. "From 1 to 5 (p.m.), Monday through Friday, I am painting," she said.
Within the six weeks of her residency, she will have three shows of her work. Brasile will be the focus of the gallery's First Friday Gallery Walk exhibit, and will also show her work in August and at a final opening Sept. 7, when she plans to show an interactive installation piece. 
Brasile grew up in Northern Illinois, but fell in love with the Millikin campus during a visit her junior year in high school. She planned to study art therapy, and has since found an interest in painting.
"It's been a newer realization," Brasile said. "I never thought I would be an artist, but I really like the therapy aspect."
At the beginning of her junior year at Millikin, she found she couldn't stop painting. Her talent helped win her the Crowder scholarship.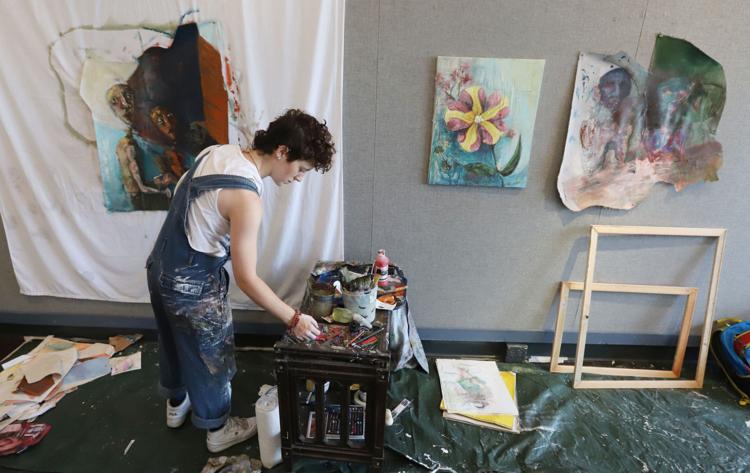 "She is a talented artist with a vibrancy we know the community will enjoy," Flemming said in a written statement. "We can't wait to see the outcomes of her use of the gallery as both a studio and a display place this summer."
Brasile now has to decide if she would like to focus her attention on fine arts or art therapy during her final year at Millikin.
"I'm trying to mesh the two," she said.
Art activism is one of the concentrations of her work. "That is more community-based, instead of individual-based," Brasile said. "I want to bring the community together by interacting with art and performing with art."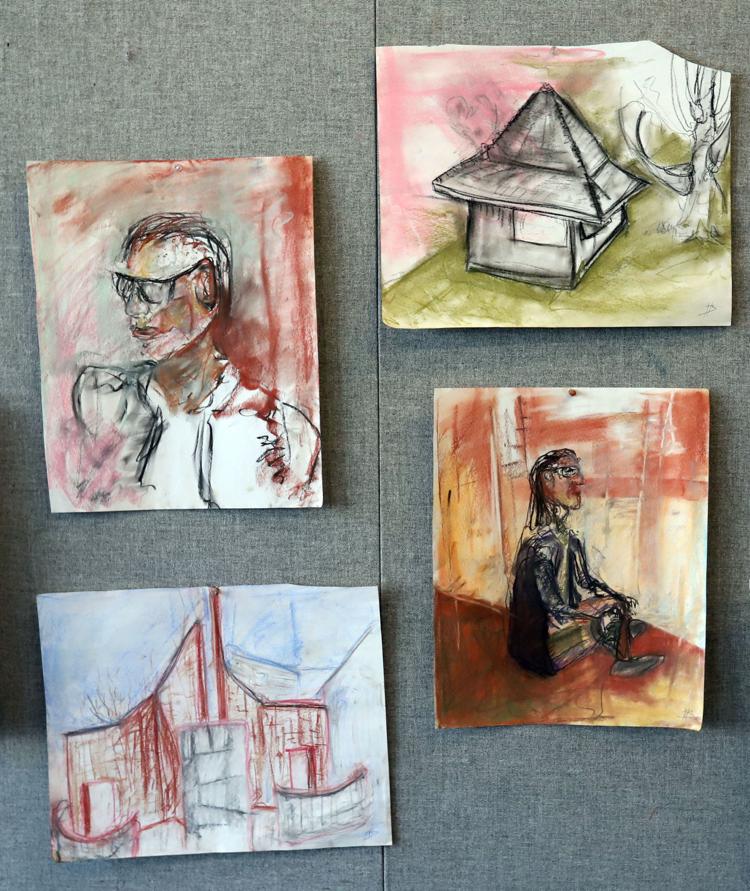 The Blue Connection exhibit will show the paintings she created during the past year. The paintings touch upon the art therapy ideas she learned about at Millikin. Brasile said these pieces show the internal look at the conscious and unconscious minds as well as a balance between the two.
"I realized everyone else is going through this so I made it a community thing," she said. "I brought in more people interacting."
---
July Art Exhibits
ANNE LLOYD GALLERY. The Decatur Area Arts Council exhibit will again exhibit the International Arts Experience, featuring the African cultural. A free reception during the First Friday Gallery Walk will be from 5 to 7:30 p.m. Friday, July 6, at the Madden Arts Center. African drums concert will be performed by Kaream Williams. Guests can participate in an African drum circle at 6 p.m. A taste of African cuisine will also be featured during the evening.
ART FARM. The downtown art store will feature the mixed media artwork of Jacob Manning titled "Radically Moderate."
BICENTENNIAL ART CENTER. The Paris art center will feature "The Beauty of Wood" by Deborah Ann Anderson until July 13.
The Annual Midwest Photography Juried Exhibition will begin July 20 with a reception from 5 to 6:30 p.m. The exhibit will remain on display until Aug. 24.
BLUE CONNECTION. The Millikin University's student-run art gallery will feature the mixed media figural art of Brooke Brasile, Millikin University's 2018 Robert Crowder Artist-in-Residence.
DECATUR AIRPORT GALLERY. Judy Kimmons's artwork will be displayed at the Airport Gallery throughout July.
FLOURISHES GALLERY AND STUDIOS. The downtown Shelbyville gallery will focus on landscape. Artwork will include Jamie Hostetler paintings from images at Shawnee as well as a flycatcher exhibit by Cheryl Schrock, the Rembrandt Society pieces and and exhibit of Shelbyville's history.
The exhibits will be displayed until Aug. 25.
For an appointment, call (217) 827-5690.
GALLERY 510. The artwork of wood-turner Jeremy Williams will be featured at the Gallery 510 throughout July. He will be featured during First Friday Gallery Walk, 5 to 7:30 p.m. Friday, July 6. An artist's talk will be at 6:30 p.m.
GIERTZ GALLERY. Parkland College Gallery will feature the exhibit "Illinois at 200."
HISTORY ROOM. Decatur Public Library local history room will feature historical pictures and memorabilia on local subjects, including vintage comic strips, Decatur Parks 1960 to 1980, early railroads in Decatur 1854 - 1910, Bicentennial Celebration, Decatur Gun Company, "The Morgue" and random photos from the local history archives.
KRANNERT ART MUSEUM. The University of Illinois art museum gallery will display in the main level's Contemporary Gallery the exhibit "Allan Desouza: Through the Black Country."
The exhibit "Basel Abbas and Ruanne Abou-Rahme: And Yet My Mask is Powerful" will be featured throughout the main level's west gallery. Both exhibits will be displayed until July 14.
"Capturing Landscape" will feature a selection of 20th and 21st century black-and-white photographs from the collection by artists working in the United States. The exhibit will be on display until Oct. 20.
LINCOLN ART INSTITUTE. The work by artists from Millikin University's Blue Connection gallery will begin showing their works on July 12. The reception will be from 5 to 8 p.m. Call (217) 651-8355 for an appointment.
ROCK SPRINGS NATURE CENTER. Rock Springs Nature Center's north wing art gallery will display the watercolors of Sue Watts.
Robert Reed photography will be featured in the south gallery of the nature center.
Both exhibits will be on display until the end of the August.
UNIVERSITY GALLERIES. The Illinois State University art gallery will feature the Central Illinois High School Art Exhibition until July 29. More than 150 works by students at nine Central Illinois high schools will be featured in the exhibit.
UPSTAIRS GALLERY. The artwork of Beki Van Meter will be featured at the Decatur Public Library's second floor gallery throughout July.