DECATUR — Artistic creations are not limited to one medium.
Chicago artist Dan Addington's paintings, using wax and other pigments, will be featured through his exhibit "Memory and Meaning" in the downtown Anne Lloyd Gallery throughout March.
"There is a beautiful sense of light," he said about his creations.
Since wax is translucent, the process allows for various layering techniques. "How much pigment you add to it is going to determine how opaque the surface is," Addington said. "If you just add a little bit of pigment, you can see the layer below and the color it was. The colors are mixing optically."
Sculptors may use wood, stone, glass or any material they find inspiring. Addington began experimenting using similar techniques with molten wax, or encaustic paintings. "It's an ancient technique that was used in ancient Egypt," he said. "They were all done with melted wax and pigment."
Addington learned the use of various materials is important to creating. He said he has always been a painter. "But I hung out with sculptors," he said.
Addington, 57, has lived in Chicago since 1992 after receiving his master's degree in painting from Illinois State University in Bloomington. His works have been in solo and group exhibits throughout the country. "A combination of anatomical imagery, memorial sculpture, and religious iconography, he attempts to explore the nature of mortality and address our desire to find spiritual meaning, " the Decatur Area Arts Council said in promoting the show.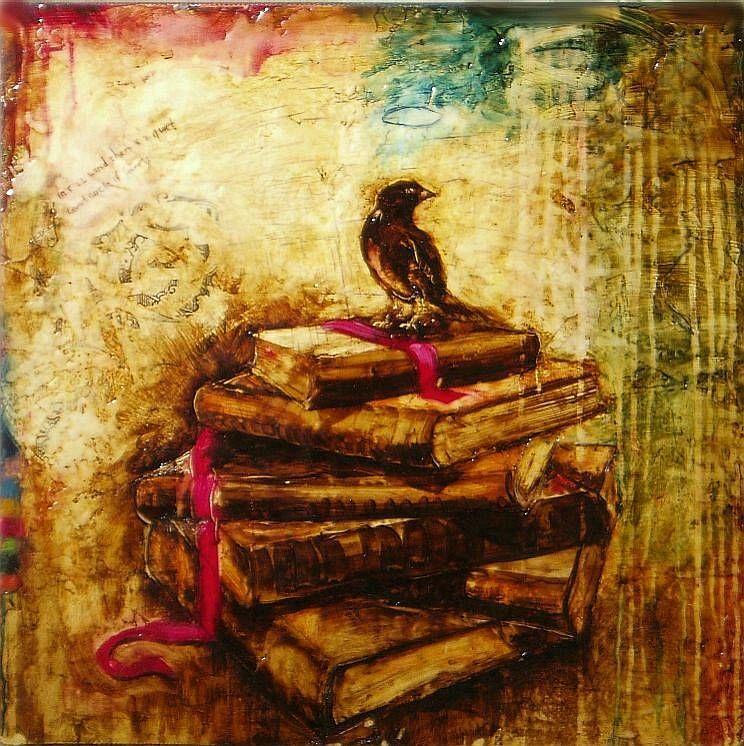 In the past decade, Addington's inspiration came from his travels in Europe when his in-laws lived in Belgium. The artist became aware of the monuments throughout the region and beyond. "There were a lot of figurative sculptures, not just in the museums, but outdoors in parks and hanging off buildings," he said.
The pieces celebrated the history and mythological times. "It added a sense of identity to the communities," Addington said. "But often the people wouldn't know what it's origin was."
Inspiration also came as a student at Illinois State. The wax used to create much of his pieces was found at a local bee keeper's farm. "I would filter it in its raw form," Addington said. "It would have this beautiful, golden color. The material was great already."
Overtime, color was not the focus of Addington's paintings. The pieces became similar to drawings or sculptures, using materials that performed like paint. "These materials seemed timeless," he said. "Often my paintings look like they've just been dug up. When they look like the result of an archaeological dig, I think that's great."
The Anne LLoyd Gallery exhibit will be a broad representation of his work.
Jami Fawley, Gallery Coordinator for Decatur Area Arts Council, invited Addington to the gallery through his connection with the McLean County Arts Center in Bloomington. "We are trying very hard to share ideas, collaborate, to work with other arts councils out there that don't know about us," she said. "He is very personable. He has the heart of a teacher."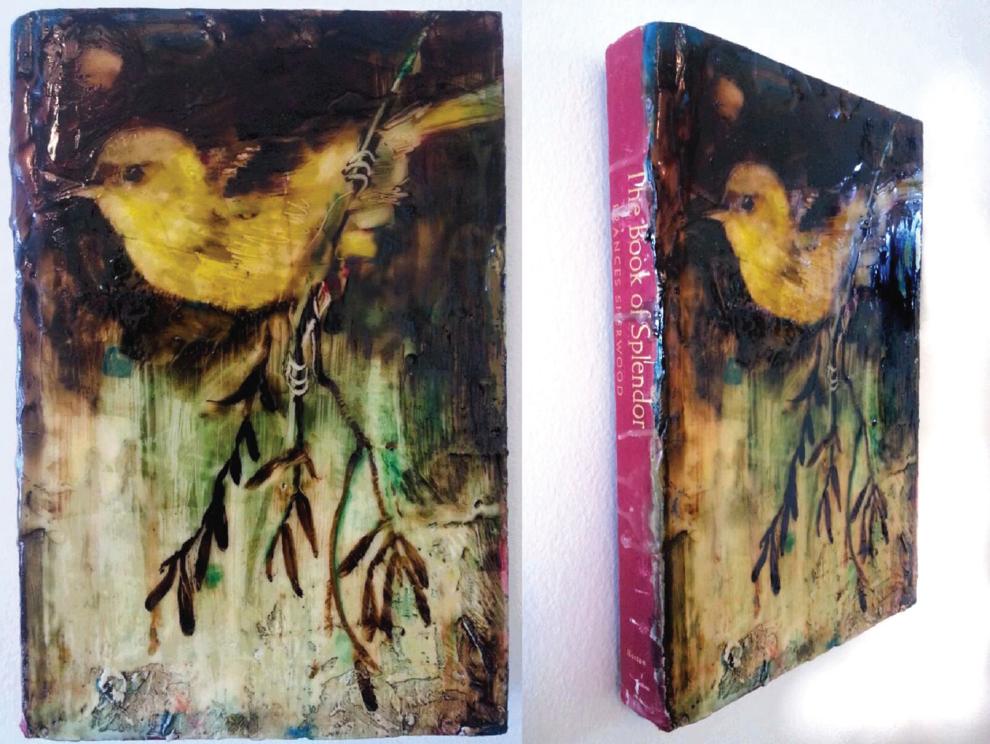 Throughout his career, Addington's pieces have grown larger in size, pushing him further to create. According to Addington, wax is not easy to control. "That's been a great motivator," he said.
His recent creations have included drawings as well. The new canvas is hardcover books. He would draw or paint on books, the technique was inspired by his young son who would scribble on books. "I could do anything on them," he said about the book paintings.
ANNE LLOYD GALLERY. The Decatur Area Arts Council downtown gallery will feature the artwork of Dan Addington.
BLUE CONNECTION. The Millikin University's student-run art gallery will be closed until further notice.
DECATUR AIRPORT GALLERY. The artwork of Leta Burch will be on display again at the Airport Gallery throughout March.
FLOURISHES GALLERY AND STUDIOS. The downtown Shelbyville gallery will feature artwork in the gallery's Main Street location during individually selected times. Check out the gallery's website for exhibits and further information. For an appointment, call (217) 827-5690.
GALLERY 510. The downtown gallery will feature the artwork of Pam Marty. Lutheran School Association's Heather Hughes will be featured as Student of the Month through March.
GIERTZ GALLERY. The Parkland College Gallery will feature the virtual gallery of the Youth Arts Competition "Celebrate Arts." For more information, visit Giertz Gallery at Parkland College Facebook page or www.artgallery.parkland.edu.
HISTORY ROOM. Decatur Public Library history room will feature exhibits regarding African American Genealogy Society and Evelyn Hood, Old Decatur Newspapers 1862 and 1864, Longview Place and Wabash Crossing, Past Decatur Schools, and Random Photos of Old Decatur.
PERKINSON ART GALLERY. The gallery located in the Kirkland Fine Arts Center will feature Millikin University's Art Department Faculty Biennial Exhibition in the Perkinson Gallery from March 8 until April 23. A reception is scheduled from 5 to 6 p.m.Thursday, April 15. Pieces will include ceramics, graphic design, painting, drawing, sculpture, printmaking and photography. For more information on the gallery, contact the Millikin Art Department at (217) 424-6227.
ROCK SPRINGS NATURE CENTER. Rock Springs Nature Center's will feature Kathrine Unruh's paintings and drawings in the south gallery of the nature center. The north gallery will display the photographs of Jane P. Koenig.
The exhibits will be on display throughout March and April.
TARBLE ARTS CENTER. The Eastern Illinois University gallery will be closed until further notice. However, "Press Play," a site-responsive digital exhibition of video and audio artworks, is available in the trees and architecture with words, music, movement, and art. QR codes and a call-in phone number are located throughout the green spaces that surround the building. For further information, call (217) 581-2787 or email tarble@eiu.edu.
UNIVERSITY GALLERIES. The Illinois State University art gallery will schedule appointments for gallery visits. Beginning March 4, the exhibits will include Chicago-based artist Alice Hargrove's photos, videos and audio in "The Canary in the Lake."
Ashley Jude Jonas' exhibit "Not Knowing" will feature photographs, drawings and other mediums. Both exhibits will be on display until May 16.
UPSTAIRS GALLERY. Annette Russo will be featured at the Decatur Public Library's second floor gallery.
---
29 celebrities with Decatur ties
Contact Donnette Beckett at (217) 421-6983. Follow her on Twitter: @donnettebHR