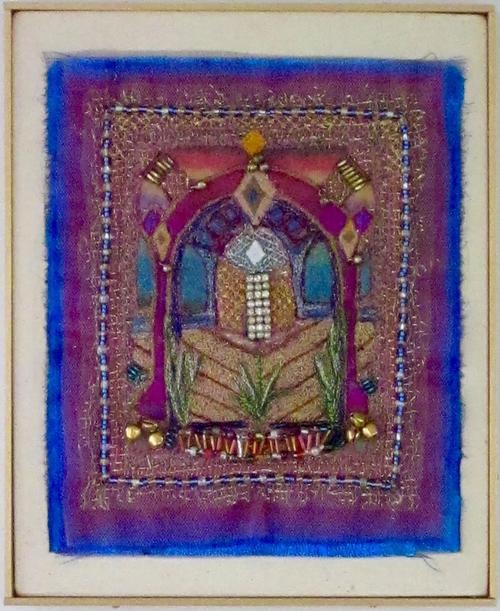 DECATUR – Like most artists, Lisa Nelson Raabe works with color, textures, symmetry and design. The end result is just not what most would see hanging from a wall or sitting on a shelf.
Raabe is a textile artist using materials, cloth, beads and other textural items to create her art.
"Fabric has always appealed to me," she said. "I like to use it by cutting it up and putting it all together."
Her artwork, which consists of embroideries, quilting, beading and sewing, has been the featured August exhibit at the Anne Lloyd Gallery. The show will remain until the end of the month.
Raabe will be available during the open reception from 5 to 7:30 p.m. Friday, Aug. 11, in the gallery at 125 N. Water St. She will be speaking about her work at 6 p.m.
Singer and guitarist Kristen Nelson will provide live music during the reception.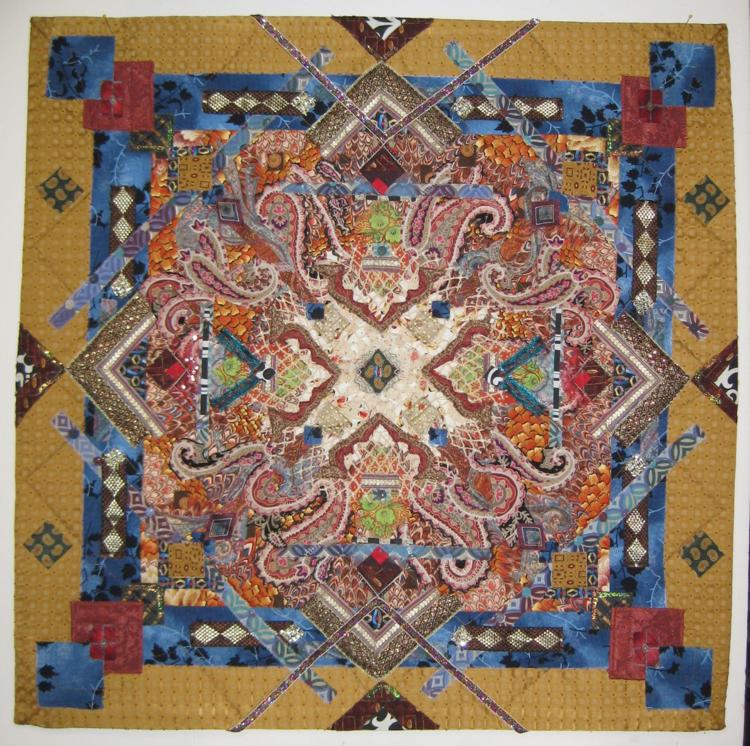 Sue Powell, gallery director for the Decatur Area Arts Council, hasn't featured a textile artist in an exhibit for a while. "So it will be nice to do so again," she said. "Her textile pieces are really beautiful."
Some of Raabe's artwork incorporates vintage textiles with hand stitching as well as a computerized sewing machines techniques. Other pieces range from sculptures using old books to quilts with paper and other materials added.
"Most are meant to be visual not functional," Raabe said.
She gradated from the Art Institute of Chicago after attending Philadelphia University studying textile design. She received her masters degree in Art therapy at Illinois State University in Bloomington and is currently a yoga instructor in Peoria.
While in college Raabe learned the textural aspect of art. She started using other fabrics, such as tulle, similar to painters who use paint, layering and adding other colors and shapes.
"But I can change it years later," she said.
Her first love had been a weaving with a loom, which she did for 35 years. Some of her 20-year-old woven pieces will be in the Decatur show. Raabe learned the art of creating images using other materials. She expanded her designs to include various textiles mixed together.
"The quilts and other pieces to be shown are modern artworks often made from older materials," she said about her exhibit.
Her installation, or mixed media, pieces consists of baskets, books and embroidery sculptures made from vintage doilies.
"The doily creations bring new life to an old piece of work," she said. "Most are meant to be visual not functional."
Raabe traded her loom for a computerized sewing machine. She uses her own drawings to create many of the designs from the machine. Although the end product may be a quilt, she doesn't use traditional techniques.
"I don't follow a quilting pattern," she said. "I work visually."
August art exhibits
You have free articles remaining.
BICENTENNIAL ART CENTER. The Paris art center will display the Annual Midwest Photography Juried Exhibition. The exhibit will be displayed until Aug. 25.
DECATUR AIRPORT GALLERY. The Greg Fombelle's artwork will be displayed at the Airport Gallery throughout August.
FLOURISHES GALLERY AND STUDIOS. The downtown Shelbyville gallery will exhibit the watercolor works of Mike Delaney beginning with the opening reception from 1 to 4 p.m. Sunday, July 23.
Artists from Shelbyville area will be featured in Studio D.
The Main Hall of the gallery will feature the floral collections of Carol Kessler.
Art work of Shelbyville High School graduates will be in the Beaux Arts Ballroom.
The displays will be featured until Oct. 14.
For an appointment, call (217) 827-5690.
GALLERY 510. The photography of Springfield artist, Jim Hill, will be featured at the Gallery 510, throughout August. He will be available during First Friday Gallery Walk, 5 to 7:30 p.m. Friday, August 11. An artist's talk will be at 6:30 p.m.
GIERTZ GALLERY. Parkland College Gallery will continue the exhibit "Around the Block II, Artists from Our Neighborhood" until Aug. 9 with a closing reception at 6 p.m. and a gallery talk.
Beginning Aug. 21, the gallery will feature 2017 Parkland College Art and Design Faculty Exhibition. A reception will be 5:30 to 7:30 p.m. Aug. 24 with a gallery talk at 6:30 p.m. The exhibit will be displayed until Sept. 16.
HISTORY ROOM. Decatur Public Library's local history room will feature historical pictures and memorabilia on local subjects, including Fairview Park bears, Carnegie Library, vintage parades and three murders that made headlines in the 1950s and 1960s. A vintage baseball display will be in front of History Room. 
LINCOLN ART INSTITUTE. Beginning Aug. 10, the Lincoln Art Institute will display the exhibit "Color Me Blue" at the Lincoln Art Institute, 112 S. Mclean St. Call (217) 651-8355 for an appointment.
ROCK SPRINGS NATURE CENTER. Rock Springs Nature Center's north wing art gallery will display the watercolor paintings of Sue Watts.
The nature photography of Robert Reed will be featured in the south gallery of the nature center.
Both exhibits will be on display until the end of the August.
UNIVERSITY GALLERIES. Illinois State University art gallery will feature the artwork from adults with disabilities during "Marc Making: Artists of Marcfirst."
Also at the gallery will be the exhibit of lighted sculptures by Dennis French. Both exhibits will be displayed until until Aug. 9.
Beginning Aug. 18, the gallery will feature Alice Hargrave "Paradise Wavering," Amy Cousins "You will never have the comfort of our silence again," Gina Hunt "New York" and "American Masters from the Kattner Family Collection." The exhibits will be displayed until Oct. 8.
UPSTAIRS GALLERY. The Nicole Christison's paintings will be displayed at the Decatur Public Library's second floor gallery throughout August.
WILDFLOUR ARTISAN BAKERY AND CAFE. Jamie Rutherford's paintings by will be featured at the artisan cafe, as well as the Rock Springs Center, throughout the month.