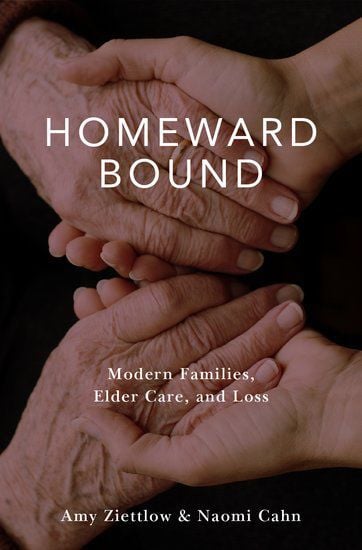 DECATUR – Amy Ziettlow received a phone call from her college friend Julie seeking advice during a family dilemma. Julie's ex-stepmother was going through a difficult surgery. Although they lived several states apart and no longer had a mother-child relationship, the friend didn't want a significant person from her childhood to be alone during a scary time.
As a hospice minister and a pastor of Decatur's Holy Cross Lutheran Church, Ziettlow has worked with families in similar situations. She has found no story is the same.
"Coming from hospice, I know every family is unique," she said.
Ziettlow believed many would find encouragement hearing stories of other families in similar circumstances. In her book "Homeward Bound," she addresses various end-of-life situations.
The book is scheduled for release April 10. The author will be available during a book release party Monday, April 10, at TapRoot Restaurant. A book signing will be Saturday, April 15, at Book World at Hickory Point Mall.
Ziettlow contacted Naomi Cahn to co-author the book. Cahn is a law professor from Washington D.C. Her expertise is in family law and inheritance law.
"It makes a fun partnership since we analyze differently," Ziettlow said.
The authors began by approaching many of the questions Ziettlow's friend Julie had during her family drama, such as 'Who will be there for my loved one if there are complications?' 'Should I be there for her?' 'What will be dad say?' 'What will my mom say?' 'What can I do?'
Ziettlow and Cahn perused obituaries searching for people who had a mom, dad, step-mom, step-dad or ex-stepparent. They sent 3,000 letters to families approximately a year after the death notice and received 63 replies.
They interviewed each analyzing the roles the family members played during the emotional time. Some of the questions they asked: How did you find out about your parent or ex-stepparent? How did you make caregiving decisions? How did you pay for the care?
They learned all families have conflicts, but they approach the difficulties differently. The book follows a normal caregiver's journey beginning each chapter with a story. The first chapter starts with Julie's story.
"We wrote it for the people who have experience in the subject," Ziettlow said. "You're not alone."
In the book, the authors follow three types of family dynamics. The first group has parents who met in high school, married early, raised a family and stayed together through the end.
"What we found is they would tell their story using the pronoun 'we'," Ziettlow said.
For example, 'We learned dad had cancer.' 'We were with dad during the illness.' 'We went through his things.' 'We did it together.'
The second group dealt with the families of single parents. He or she could be widowed, never married or divorced.
"The family members use the pronoun 'I' when telling their stories," Ziettlow said.
'I learned mom had cancer.' 'I had to call my siblings.' 'I had to organize her medicine.'
"The child is carrying the whole load through the journey. Other family members are pulling on you," Ziettlow said. "Ultimately the decision is made by one person."
The third category address the family dynamics when the parent remarries. The pronoun changes to 'he' or 'she' for the new stepparent.
"The new spouse makes the decisions," Ziettlow said.
The authors found individuals didn't always respect the new family member's choices. Their ideas often collided.
"This group needs more help from the professionals; doctors, nurses, pastors, people who will bring them together," Ziettlow said.
Portions of the book were designed to assist the professionals as well as the families through last stages of life, along with the illness, where the family member should live, hospice, end-of-life decisions, funerals and inheritance.
Although Julie's ex-stepmother survived her surgery, she gave her friend the tools needed to help others during a frightening time.
"She thought 'Is anyone else asking questions?' 'Are there other people who have ex-stepparents?' " Ziettlow said. "Yes, there's actually a lot."
Stay up-to-date on what's happening
Receive the latest in local entertainment news in your inbox weekly!