DECATUR — We've been patiently waiting for it — the unique cuisine found only at the fair. Corn dogs, cotton candy and lemon shake-ups taste best when made fresh inside a booth or food truck.
Three Herald & Reporters visited the Macon County Fair opening night to taste test. It was a tough assignment, but our reporters revel in participatory journalism. 
Jaylyn Cook, 26, is a Decatur native and has attended many fairs. He is also a major fan of food. 
Analisa Trofimuk, 24, recently moved to Decatur and was unfamiliar with fair cuisine. A lemon shake-up turned out to be life-altering.
Donnette Beckett, 52, has been with the newspaper for 10 years and is considered the fair food aficionado of the newsroom. She is happy to try a new dish.
The fair runs through Sunday, so let's get tasting ... 
MOWEAQUA — On South Main Street, past the Moweaqua Bowl & Cafe and Moweaqua Coal Mine Museum, stands a relic. The boxy device is something…
This nontraditional fair food caught my attention because of the incredible mountain of toppings. 
The taco fries are served from a food truck located on the north side of the midway.
If you plan on spending all day at the fair going on rides and playing carnival games, you are going to want more than just a snack come lunchtime. An order of this treat comes with a foundation of seasoned fries and ground beef topped with the works — onions, tomatoes, taco sauce, a blanket of a queso-like sauce, jalapenos and a healthy dollop of sour cream. You almost forget about the cardboard boat that holds the snack fit for sharing since fries hang off and cover the sides.
A shish kabob is simply meat cubes on a stick. I'm not sure why this food hasn't been a staple at fairs for years. Festival-goers can eat the meat while walking around. Other than the potential of being impaled by the ever-more prominent stick as the meat disappears, the idea of a shish kabob is pretty simple.
The success of the meal is in the spices or marinade. The shish kabob served from Dizon's Foods was a favorite. The meat was tasty, but the novelty of being able to share with our co-workers drew us to the food truck.
Elephant ears/funnel cakes
I've had many a funnel cake in my day, but I'm proud to report the Macon County Fair was the site of my experience with an elephant ear.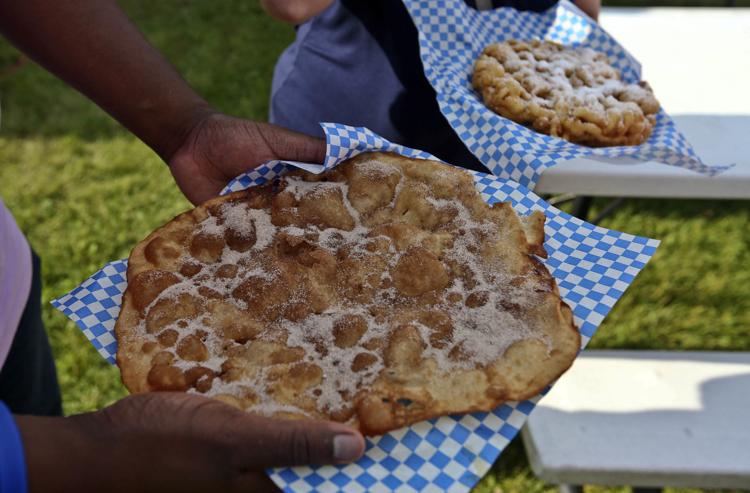 We dropped by the booth operated by New Athens-based Swyear Amusements and tried both of their versions of the fantastic fried finger foods. The funnel cake was perfect: a nice, compact treat with melty powdered sugar and a slightly crispy exterior while being fluffy on the inside. 
You have free articles remaining.
The elephant ear tasted like a giant cinnamon twist from Taco Bell (minus the twist, of course.) It's just a solid vessel for cinnamon-sugar topping. 
Both are definitely worth a shot, but if I had to choose, the funnel cake would get my vote. Always pay homage to the classics. 
The classic lemon shake up-was something I had never experienced prior to the Macon County Fair. I found a lemon shake-up at the same stand as the taco fries. Being from the south suburbs of Chicago, the closest I would get to a fair was the once- or twice-a-year small scale mini-carnival at the nearby train station, which offered only a handful of food stands. I jumped at the chance to finally try a true lemon shake up and I was not disappointed. I chugged the entire 20 ounces of sugary lemon water after realizing what I had been missing the last 24 years.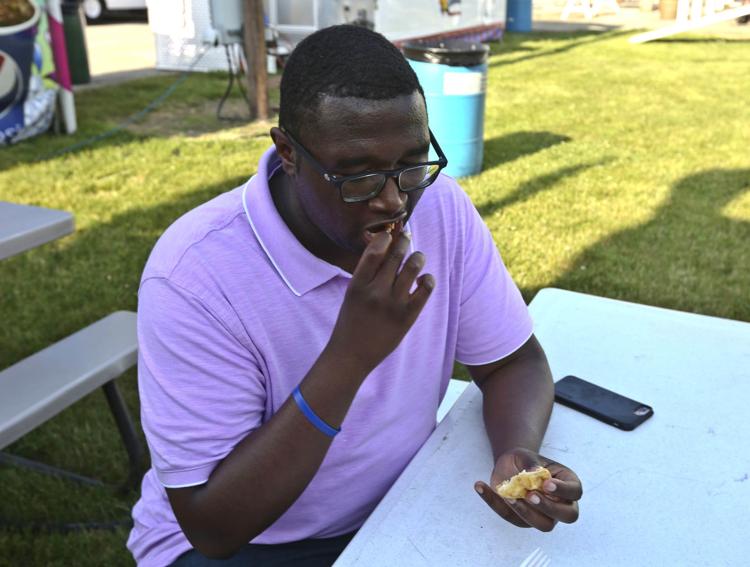 Crab rangoons should be another popular fair food that haven't caught on for some reason.
Served from Dizon's Foods food truck along with the shish kabobs, the little treats are balls of crab-flavored cream cheese wrapped in wonton wrappers then fried. Of course, all good fair food is fried.
The fair's crab rangoons are a little smaller than what is usually served in a restaurant, but this makes them easy to pop in your mouth. 
Price: Varies in price and size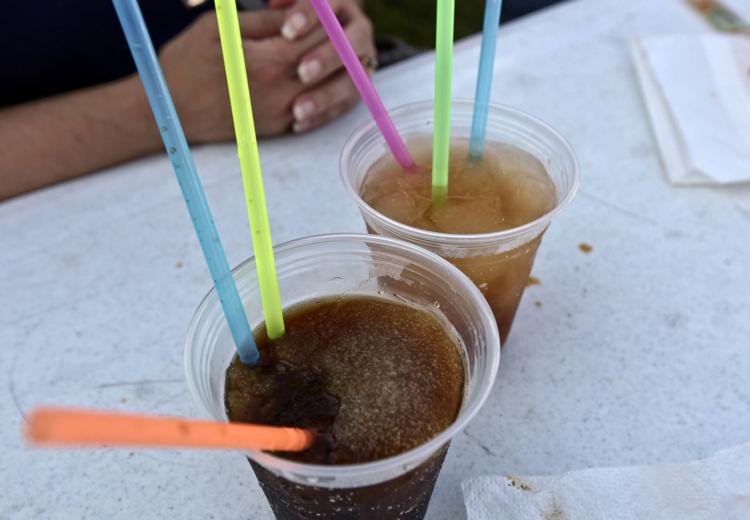 Since we've apparently decided to just pretend that spring doesn't exist this year, you're going to need something nice and cold to drink when roaming the fair in these hot and humid conditions. 
Always be sure to hydrate and drink some water first, but once you're done with that and want something sweet, swing by the massive booth selling a rainbow assortment of slushies along the midway. 
The row of slushie dispensers has just about every flavor you could possibly think of: cola, cherry and orange, among others. You can also find more unorthodox flavors to try, too, including pina colada and sweet tea. 
I tried the sweet tea and cola flavors. They hit the spot. 
---
History Photos: Macon County Fair
History Photos: Macon County Fair
Take a look back at the Macon County Fair.