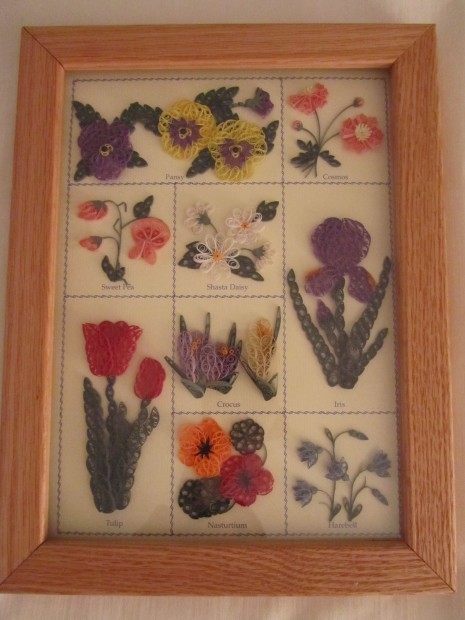 DECATUR - It's a testament to the ever-changing tastes of fine art appreciators that even after 49 years of festivals, there are novel art forms and new artists showing up at Decatur's Arts in Central Park.
In the case of Carole Harp and her paper quilling, it's a craft unfamiliar to many, but one that traces its roots back to the Renaissance and beyond.
"It was a very popular Victorian art form, actually," said the Rochester native, who will be making her first appearance to sell her goods as part of Arts in Central Park this weekend. "They would put paper quilling on just about anything they could get their hands on, from furniture to clothing."
In short, paper quilling is an art form that involves using strips of paper that are rolled, shaped and glued together to create larger designs. The bits of paper are wound around a needle-like central quill to create basic coil shapes, which are then arranged to create ornamental patterns and different artistic representations. All kinds of other art projects can be supplemented with strategically placed paper quilling.
"I do a wide variety of projects from bookmarks to jewelry and greeting cards, even some three-dimensional pieces like a gingerbread house," Harp said. "I started about four years ago, self-taught, but this is my first year doing art festivals and shows."
This learning curve reflects the complexity of the artist's work. It took several years, according to Harp, until she was pleased enough with her creations to offer them for sale to the public.
As something of a lost art, quilling isn't exactly easy to get started in, and Harp says she finds all her materials through custom specialty store orders. Those who collect her work are impressed by what can be done with tiny pieces of paper and a sturdy needle.
You have free articles remaining.
"They're impressed with the scale and level of detail that it can be taken to," she said. "It definitely takes a while to learn; it may sound easy to twist paper, but you have to roll all these little bits with different levels of tension to create different shapes. There's been a great response to them, though. A lot of people say they haven't ever seen this kind of stuff before or haven't seen it for a long time."
But Harp is only one of many artists from five states who will man the 73 booths at this year's Arts in Central Park. Decatur Area Arts Council interim president Stella Carnahan said most of the show's format will remain the same as in previous years as the organization begins to look forward toward the 50th anniversary of the event next year.
"I have no idea what we'll do yet, but I'm sure it will be a big to-do," she said. "As far as this year goes, there's more of a focus on woodworking and woodcutting than in previous years, and there hasn't been this much handmade furniture available in the past. We also had to limit the number of jewelers this time, because there's just so many who all want to be in the show."
In addition to the art, Arts in Central Park typically boasts a few other acts for entertainment, and this year is no different. A magician, The Amazing Dudley, will perform tricks throughout the park, and local dancers from Ees'a Bella Belly Dance will perform as will students from Millikin University's Pipe Dreams Studio Theatre. At the same time, the concurrent Merchant Street Block Party on Saturday also welcomes artists and art lovers over to peruse downtown Decatur businesses.
The primary focus of the weekend, however, has always been the chance for area artists to have their work seen and maybe make a few bucks in the process. That opportunity is what keeps artists like Bev Fagan coming back year after year.
"I've been coming at least 25 years now," said Fagan, a jeweler from Urbana. "I make contemporary silver and gold jewelry. It's just a good show, and it seems like the community shows up to buy every year. The quality of the work and the size of the event have definitely grown a lot in the years I've been a part of it."