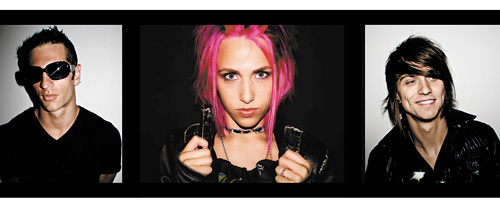 Confidence in a second opportunity coming along sometimes is rewarded.
Decatur band Icon for Hire is proof. The group will soon record its debut CD for Seattle-based Tooth & Nail Records, months after turning down an offer from another label.
The trio, winner of the Herald & Review's Battle of the Bands last year, and the label made the announcement official the final day of July, and the past two weeks have been a whirlwind of congratulations from fans, friends and family, along with preparations for a third trip to Nashville for musical preproduction work.
"We're really putting a lot of work in on our writing," drummer Adam Kronshagen said. "We want things with our music to go to the next level. We want it to be inspiring, alive. We want to make it a positive experience. We don't want to just add to the noise that's out there."
The band — whose sound has been compared to such modern rock acts as Flyleaf, Paramore and Evanescence — is far removed from turning down a recording offer from a label last year. They thought the label was more interested in the ballads, and the band didn't want to be pigeonholed into one music style.
"We weren't ready yet," Kronshagen said. "We weren't prepared for the industry. Turning it (the offer) down was easier than you'd think." 
Other things haven't been so easy. The band has played just one date this year, a February showcase for a Tooth & Nail scout.
The band hired a bass player just for the show, a fact they shared with the label scout after they played. It didn't dissuade the label.
"The songs were there," guitar player Jump said. "The guy thought we were so driven and determined. He said most groups don't have our commitment and drive. We handed him a 50-page business plan."
But other than that show, the three — Jump, Kronshagen and singer Ariel — have worked on their songs.
"It's been a hard pill for us to swallow to not play shows," Kronshagen said.
"We want to interact with our fans," Ariel said. "We're looking forward to playing, looking forward to the tour. We want to play 300 shows the first year we tour."
Ariel can't say enough about the group's fans.
"We haven't played for eight months, and they've been sticking around," she said. "I think that says so much about our Midwest fan base. The attention span for people that age is usually so short, and they're still interested."
So they're counting days waiting for the opportunity to play those 300 dates, wherever the road takes them.
"(The label has) said most of what will happen depends on the quality of the album," Kronshagen said. "They might send us out to play with a national headliner, or they might send us to play clubs like Wake the Dead."
And they have no problem with that. Decatur club Wake the Dead was where Icon For Hire played its first show.
The band knows the odds are long against them, but they feel they've battled and beaten the odds before, and there's no reason they can't do it again.
"Our optimism has gotten us where we are," Ariel said. "The whole point is to change peoples' lives. I don't think people realize how much people can affect people. I have idealism. I hear when I get old, I won't have it anymore. I want to use it while I have it."
"I've always been an optimist," Jump said. "I never planned to fail. I tell people, 'It's not just our dream, it's your dream, too. You're living it with us.' Just to go for it is a huge thing for me, to be 50 and be able to look back and say, 'I gave it my shot.' "
"Typically people love us or hate us," Kronshagen said. "If someone doesn't like us, whatever. We feel good about ourselves. If negative opinions in Decatur were to affect us, that would eat us up when we got it on a bigger level.
"There's 8 million bands on MySpace. The odds are a billion to one against you to begin with. There's enough insecurity going around. We don't want to add to it."
Stay up-to-date on what's happening
Receive the latest in local entertainment news in your inbox weekly!