Yeager Minott, 18, was among those who spent spent Saturday morning in the Moweaqua school's gymnasium, were he was drawn to the comic books.
"They have a lot of really cool things here, like the artists and the comic stands," he said. "It's a combination of stuff."
Minott and others had the opportunity to shop and study nearly 20 vendors from around the country. The event aimed to imitate larger Comic-Con events held in arenas, with comic books, graphic arts, action figures, superhero costumes and collectible toys available for purchase. Other Raider Con activities included photo opportunities, movie viewings, concessions and a children's area.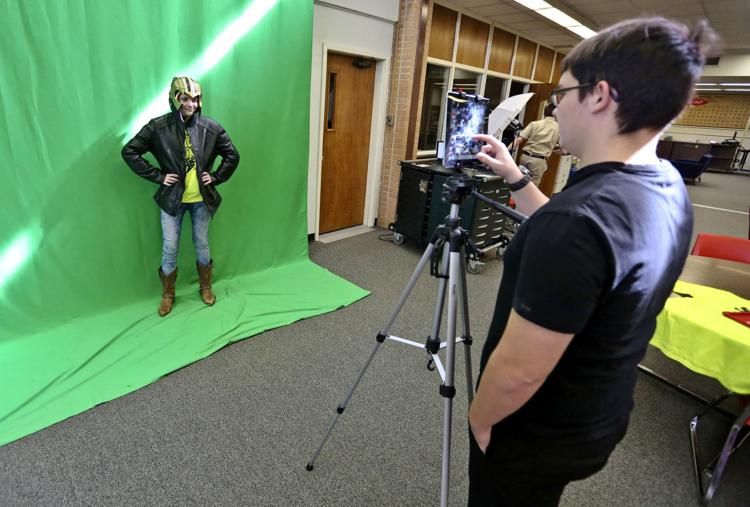 Jack Thomas traveled from Fort Campbell, Tennessee, to be part of the inaugural Raider Con. He sells comic books from the different eras — what are known among collectors as the Golden Age, Silver Age and Bronze Age. "I have been collecting since I was a kid," he said.
Thomas, 53, travels to Georgia, Mississippi, Kentucky, Missouri, North Carolina, Alabama and Illinois to attend convention-style events. He was invited to Raider Con by Central A&M teacher Justin Smith during a similar event. "I told him yes, and you have to keep your word," Thomas said.
Originally from Shelbyville, Zac Atkinson and his professional graphic art pieces are often seen at various Comic Con events, including C2E2 and Wizard World, both in Chicago, and Planet Comicon in Kansas City, Mo.
"I do about 20 a year," he said.
Atkinson registered as a Raider Con vendor because of the proximity to his home. "That's part of it," he said. "These little shows do well. There's not as many vendors and it's just fun."
Raider Con originated from the minds of Smith and Central A&M junior Cooper Morrell.
Cooper and Smith are co-founders of the Super Heroes Club, a new Central A&M student-run organization. The club has nearly 70 registered members with about 20 attending the monthly meetings regularly.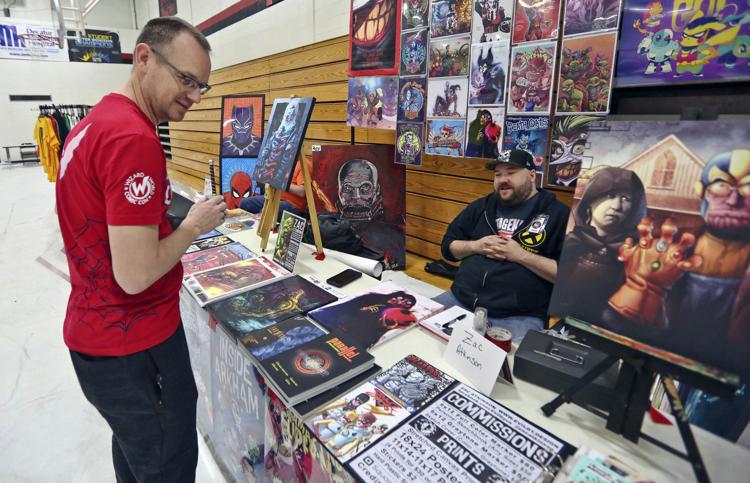 "We read comic books, talk about specific story lines and superheroes. And we do art and talk about superhero movies," Cooper said. "We also visit hospitals and nursing homes."
Smith describes the organization as a service club. "If someone needs help, say, raking their yard, the Super Hero Club comes in to save the day," he said.
Central A&M Superintendent DeAnn Heck said she was happy to have the extracurricular service club at the school.
"It is another way for students to participate in something they enjoy and to give back to the community through their service focus," she said. "When our younger Raiders see the Raider Con club members in their Super Hero costumes, I can tell you, their eyes light up."
Smith said the students are the driving force behind the club. "It allows students who may have interests in anything comic related to be involved," he said. "Sometimes school sports are the highlight, and for students who don't fit that group, then this is their chance to shine."
Proceeds from Raider Con will go towards superhero costumes that members will wear during club outings.
On Saturday, members wore specially designed event T-shirts with a small detail. The initials TF were added to the shirt in memory of Timothy Fleigle, a Central A&M student, Smith's classmate, and comic book fan, who died 25 years ago.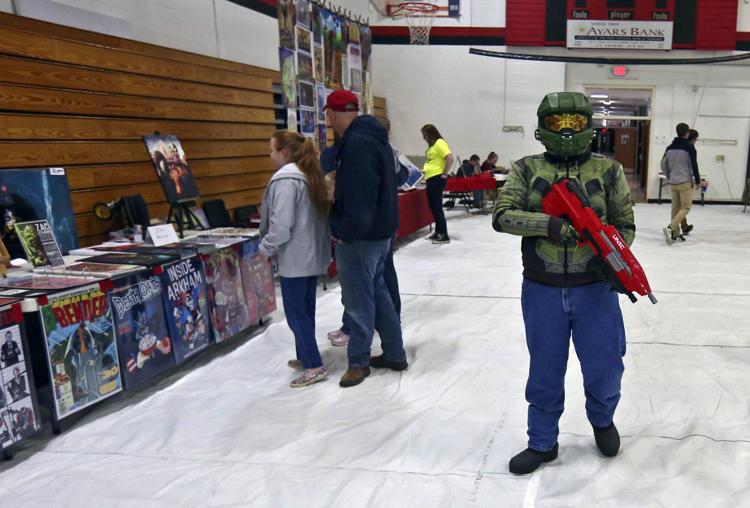 According to many of the vendors, Raider Con was successful.
"The kids are great," Atkinson said. "They are doing awesome."
Nicholas Sharp and a group of his friends traveled from Altamont to learn more about Raider Con. "I came to see what is here," he said.
Sharp has attended other Comic Con events. "A lot of them are not just comics, but other stuff," he said. "This is pretty good."
Minott was happy with his purchase of five comic books, but he was surprised to find his cheaper comics were displayed next to the more expensive ones.
"I just bought them because I like the character or they looked cool," he said. "If it has a cool cover to look at, I might frame it up."