DECATUR — Although A.E. Staley has been gone for 80 years, his legacy continues to be felt in Decatur.
To honor the man and the road to Decatur, his family is developing the feature documentary "Fields of Gold: The Rags to Riches story of A.E. Staley" about the life and times of the Decatur manufacturer. It is presented in partnership with the Herald & Review, which provided images. 
"As a family, we thought this was a good story to be told," said Julie Staley, the wife of Staley's great-grandson. "It's that American dream, a true rags-to-riches story that anybody with a dream can identify with."
"This is a story that can be told outside of Decatur or Illinois," Julie Staley said. "People can identify with that."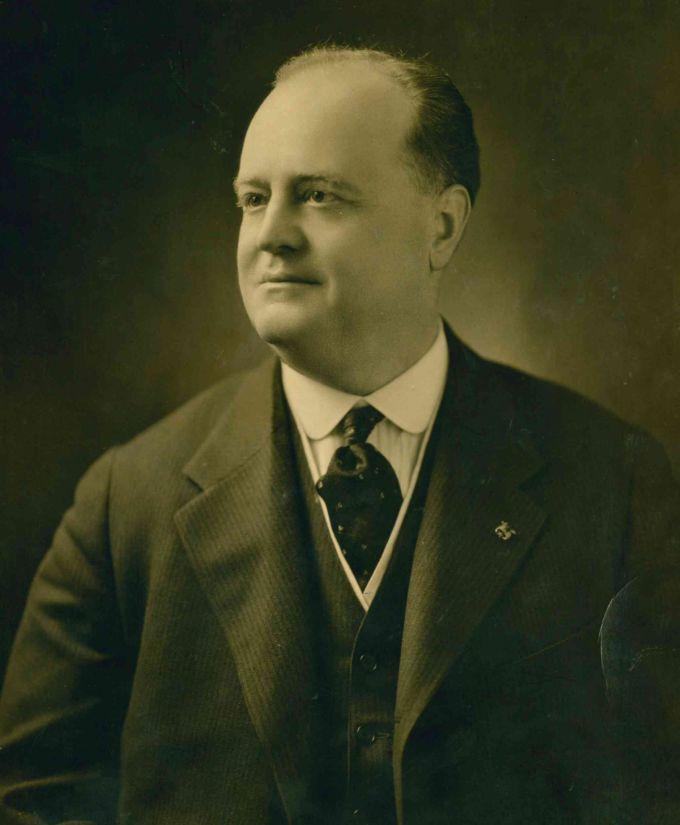 Much of the information was obtained through the Staley Museum, which in 2016 opened in the business leader's former home at 361 N. College St. in Decatur. Exhibits focus on his personal life and business, as well as Decatur history.
"Our museum is not broken down chronologically, but by era," said Laura Jahr, the museum director. "It's more by theme."
The museum has a special room devoted to the stories of the man. "Staley's prolific decade and legacy to Decatur," Jahr said. "Things that are still are around and people still remember and are nostalgic about."
Augustus Eugene Staley was born on Feb. 25, 1867, on a North Carolina farm. "He had to work instead of going to school," Julie Staley said. "The 'Blue Back Speller' was the book he learned from at home with his mother."
Never formally educated, he created his business through experience and the dreams he had. "He used his intuition and sixth sense," Julie Staley said.
A.E. Staley was a traveling salesman, having made his way throughout the country. Decatur was one of his stops. Several years later, he lived in Baltimore where he started his family. A city fire destroyed his employment and home. "He lost everything," Julie Staley said.
He would decide to take a chance and become a manufacturer. He bought a rundown factory in Decatur. "Because it was a good deal," Julie Staley said.
A.E. Staley had to reconstruct the Decatur manufacturing building, but often had setbacks before the company became a success. "He had failure after failure after failure," Julie Staley said. "Everything was pulled out from under him."
It is the lesson of someone who learned from setbacks and found his dreams.
"He has a story of comebacks after comebacks," said Julie Staley. "That is the story. Not letting your downfalls get in the way of your dreams."
These characteristics were used to describe the business mogul through many of the people who knew him. "Every time we talk to somebody or get information about people who knew him, they all say he had a clear dream," she said. "He knew right away that he was destined for big things."
A.E. Staley died in 1940, and today the company is part of Tate & Lyle. Researchers for the movie were able to interview people who were children when he was alive. Many had families working for the company. Their memories were of a kind man with a gentle spirit, Julie Staley said.
"There are many, many great stories about A.E. Staley that we're trying to get together," Julie Staley said.
They expect the film to be ready in about a year. How it will be available to the public has yet to be determined. Options include airing the film on a local television station, a theatrical release, film festivals, or streaming options. "It shouldn't be too difficult to try to figure out where we could put it," Julie Staley said.
Filming should be finished in the fall, according to producers. Marketing materials have already been produced, including a poster with Herald & Review images.
Spencer Films is the production company producing the movie. Julie Staley is owner of the company. The family film is one of their first projects they started more than three years ago.
Although research is almost complete, the producers will interview anyone who has a firsthand story of A.E. Staley. "If they can give us an insight into what it was like to live or work around A.E. Staley, we would love to hear that story," Julie Staley said. "It's not something we would just put in the film. These are things we can share at the museum too."
The museum director said she welcomes any story and artifact from the life of A.E. Staley. "Even if they aren't necessarily wanting to donate," she said. "If they just want to bring them in and tell us about them. They can donate them or put them on loan, let us exhibit them for a given period of time. Then we return them."
As information becomes available, the museum alters the displays. "You have to be willing to give something up in order to put something new in," Jahr said about the exhibits. "We struggle always to figure out what can we let go to bring something new in."
---
29 celebrities with Decatur ties
Contact Donnette Beckett at (217) 421-6983. Follow her on Twitter: @donnettebHR
Stay up-to-date on what's happening
Receive the latest in local entertainment news in your inbox weekly!