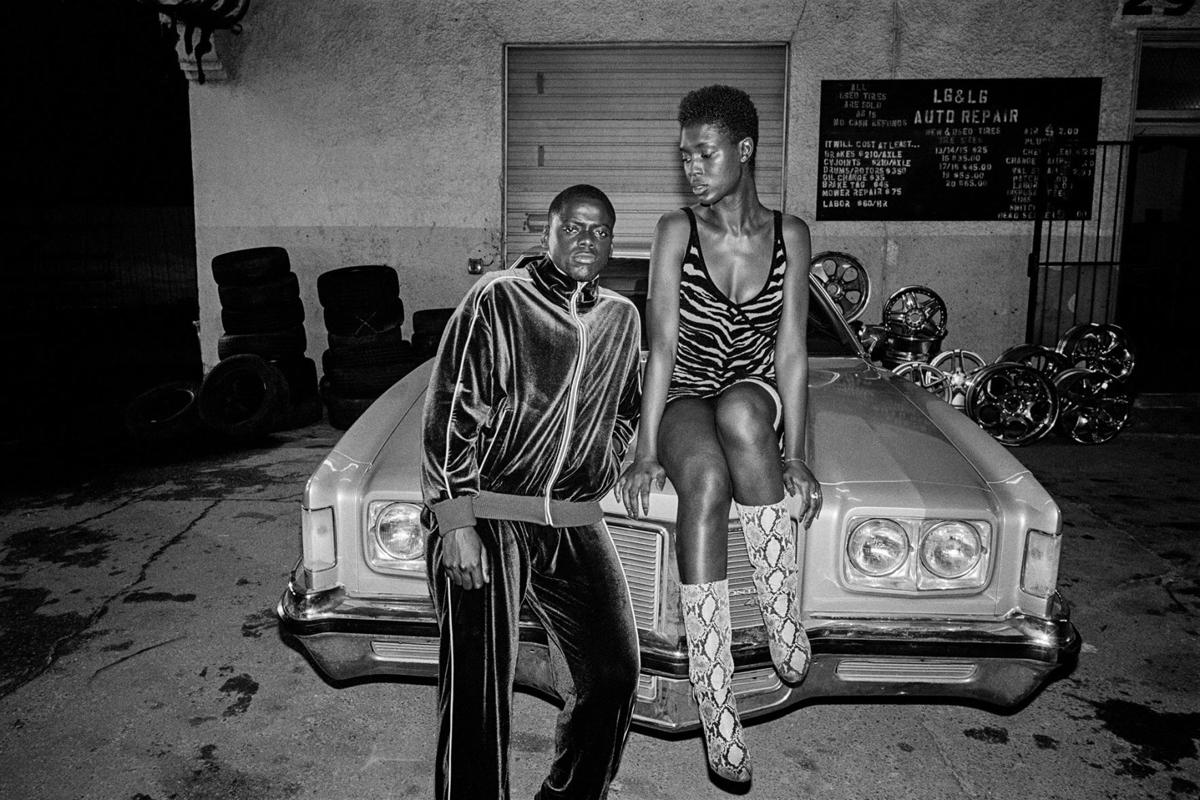 'Queen & Slim'
"Queen & Slim" is the story of a first date that goes from bad, to worse, to horrific, to something akin to fantasy, to tragic transcendence. We meet our young couple (Daniel Kaluuya and Jodie Turner-Smith), who remain nameless until the end of the film, during an awkward Tinder dinner in snowy Ohio. They're an ill-matched pair. She's an uptight career woman, a public defender with a caseload that weighs heavy; he's a warm and friendly family-oriented guy. It appears the night will end in mild disappointment until an all-too commonplace event alters the course of their lives forever: They're pulled over by an aggressive white cop (Sturgill Simpson). In the ensuing escalation, the cop is killed; the couple goes on the run.
"Queen & Slim" is a modern-day "Bonnie and Clyde" tale rooted in the urgent sociopolitical issues of the day: police brutality, systemic racism, a palpable sense of anger at the injustice that promises to bubble over. Along with screenwriter Lena Waithe (James Frey has a story credit), director Melina Matsoukas imagines a heightened version of our world, where outlaw lovers find safety and solidarity along their journey in unexpected places as they become beloved folk heroes for the African-American community, thanks to protests and viral videos.
They're ushered on their journey to Cuba by a mix of magic, serendipity and unspoken collective action, whisked toward parts south via an underground railroad of sorts, made up of friendly bartenders in blues bars, kindly sex workers, impressionable kids, reluctant white allies and even some cops. The journey isn't entirely realistic, but it remains plausible.
Kaluuya is predictably fantastic, unsuspecting and earnestly sweet. But it's Turner-Smith who stuns in a breakout performance, announcing the arrival of a major talent and screen presence. They change each other, imperceptibly and then all at once. He softens her, she hardens him, but they're bonded for life in the impossible struggle. Whipsawing between hope and devastation, "Queen & Slim" speaks to this specific cultural moment. It's not with a grounded realism, but with an almost operatic sense of melodrama, in the writing, performances and with Matsouka's daring cinematic style, where beauty and politics are inextricably intertwined. It's an adrenaline shot right to the heart, and a bold declaration of a bright new auteur.
(R, 3½ of 4 stars, 2 hr. 12 min.)
— Katie Walsh, Tribune News Service
'Knives Out'
It's hard to imagine having more fun at the movies than with Rian Johnson's delectable murder mystery "Knives Out," a sparklingly wordy delight of fascinating faces, cozy sweaters, fireplaces and a delectably depraved wealthy family fighting over the massive estate of their dearly departed patriarch. But within the tightly crafted and finely embossed package, Johnson has smuggled a deceptively radical and empathetic message of acceptance, tolerance and wealth redistribution. It's "Murder, She Wrote" with a side of political activism, two great tastes that taste great together.
We meet the tony Thrombey clan upon the unlikely demise of their patriarch, Harlan (Christopher Plummer), a wildly successful mystery novelist who has built a publishing empire off which his good-for-nothing children leech. By all appearances, it seems Harlan has killed himself, with a knife, in his study. Yet, an inquisitive detective (Lakeith Stanfield), his hapless partner (Noah Segan) and a mysterious private investigator (Daniel Craig) just have a few questions for the family, several of whom were financially cut off by Harlan on the night of his birthday party and death. It doesn't take a rocket scientist to put two and two together, but it will take a keen mind to deduce the different probabilities each family member presents.
Benoit Blanc (Craig), the flamboyant, honey-accented Southern investigator, soon latches on to Marta (Ana de Armas), the good-natured nurse and daughter of an undocumented mother, who became Harlan's closest friend and confidant in his final years. Blanc trusts in Marta's "kind heart," as well as her extreme physical reaction to telling any lie (she upchucks). In a clan of smarmy charmers with varying motivations, Marta becomes our North Star, our moral compass. But she also knows far more than she wants to let on.
You have free articles remaining.
Johnson's screenplay is like origami art, folded up upon itself in what seems a nearly impossible situation: Harlan's body in his study, no discernible motive for suicide, a house full of grifters posing as loved ones and the sweet Marta. How does this equation work out? Along the way, Johnson unfolds parts of the mystery, revealing the workings before completely rearranging everything, transforming it into a completely different beast, working the details and corners just so, lining it all up perfectly.
But at the heart of "Knives Out" is a message about the corrosive, corrupting nature of inherited wealth and what it means to be deserving of the riches a single person accumulates over a lifetime or more. What renders someone more deserving, their bloodline or the way they treat others? What would the world be like if the daughters of immigrants, if women of color held economic power? It's a cunning, stunning little moral Johnson tucks away in his star-studded mystery movie, one that makes it that much more interesting and worth watching.
(PG-13, 3½ of 4 stars, 2 hr. 10 min.)
— Katie Walsh, Tribune News Service
'Parasite'
The class system of the haves and the have nots is wonderfully illustrated in "Parasite," a scathing dark comedy from South Korean filmmaker Bong Joon-ho.
He takes the upstairs-downstairs metaphor to its extreme, delivering a vicious, bloody commentary on the powerful 1-percenters and everybody else that's left to fend for themselves. Joon-ho presents a parable that twists and turns and eats itself from the inside out. It's one of the year's best films, and also one of its most unshakable.
Kim Ki-taek (Song Kang-ho) is an out-of-work driver who lives with his wife Chung-sook (Jang Hye-jin), son Ki-woo (Choi Woo-shik) and daughter Ki-jeong (Park So-dam) in a sub-basement apartment below street level, where outside their window they see drunks urinating in the alley above them. Their wi-fi is cut off when the neighbors they're stealing it from hide it behind a password wall. No problem: they can get a signal if they gather around the toilet and hold their phones in the air.
Put plainly, they're not exactly living the good life. But Ki-woo gets an opportunity to tutor English to the daughter of the Parks, a wealthy family living the good life inside an architecturally rich home in an exclusive neighborhood. A light bulb goes off: He dreams up a way to score his entire family jobs working for the Parks so they can leave their lousy existence behind and sponge off the rich. It will only take a little deviousness, some ingenuity, and some shavings from a peach.
That merely sets the table for what Joon-ho has in store, and he serves up a delicious dish about class warfare from outside and from within. It's a fitting movie for our times, and Joon-ho delivers with uncompromising clarity and vision. See it before the inevitable American remake sands down all its razor sharp edges.
(R, 3½ of 4 stars, 2 hr. 11 min.)
-- Adam Graham, The Detroit News