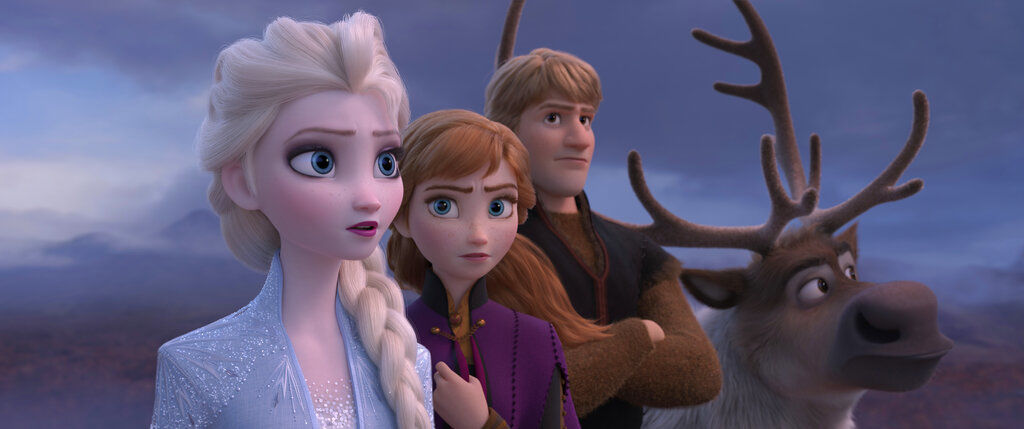 'A Beautiful Day in the Neighborhood'
Director Marielle Heller frames " A Beautiful Day in the Neighborhood " as if it were an episode of "Mister Rogers' Neighborhood," with miniature sets of cars and bridges to illustrate New York and Pittsburgh. Mr. Rogers, played with clear-eyed purpose by Tom Hanks, introduces the audience to the film's protagonist, journalist Lloyd Vogel (Matthew Rhys), using his "picture window" in that all-too-familiar living room where he's just changed into his sneakers and sweater. It's even rated PG.
But "A Beautiful Day" is not really a children's story at all. It's a story about a man who suffers from the doubly impossible combination of being an adult and an investigative journalist. In other words, he's the person least likely to be charmed by the straightforward sincerity of someone like Fred Rogers.
The film is loosely based on Tom Junod's article "Can You Say...'Hero'?" which appeared in Esquire Magazine in November of 1998. Junod has said that spending time with the then 70-year-old changed him. Cynical at first, the two formed a friendship — Junod's first ever with a subject — that would last until Rogers' death in 2003.
Essentially, Fred Rogers' lessons can apply to adults too. And "A Beautiful Day in the Neighborhood" spins its magic to show (not just tell) us how, no matter if it's mostly a fiction.
The film introduces Lloyd at a particularly unstable moment. He's got a newborn son with his wife, Andrea (an understated and excellent Susan Kelechi Watson), and his long-estranged father (Chris Cooper) has suddenly started trying to come back into his life. It's under these high-pressure circumstances that his editor (Christine Lahti) assigns him to write a "small piece" about Fred Rogers for the magazine's "heroes issue." Lloyd scoffs at what he considers a demeaning assignment. He's there to be an investigative journalist and the host of a cheesy children's show is, he thinks, below him. Andrea even asks her husband, knowing what kind of writer he is, to please not ruin her childhood.
He remains skeptical even upon meeting Fred and goes back to his editor to ask for more time, saying that he "just doesn't think he's for real." Sure, part of you is probably thinking Lloyd a monster. But consider Lloyd's point of view too: Fred uses puppets during his interview and deflects quite a bit on the more pressing questions, often diverting and asking about his interviewer instead of answering.
And yet, his goodness starts to transcend all of that. Heller does a marvelous job illustrating the effect Fred has on those around him. Even the production staff who he infuriates with his tendency to veer off schedule by spending a little too long with visitors, falls in line when he starts to work his singular magic in front of the camera. They know they're making something special.
Hanks is such an obvious choice to play someone as beloved as Fred Rogers that his performance is something that could be in danger of being taken for granted or overlooked. He just makes it all look so easy — the almost uncomfortably slow way that he speaks. But it's a testament to Hanks that you can't "see" the work. But much like Fred Rogers, you don't have to understand it to be moved.
(PG, 3½ of 4 stars, 1 hr. 48 min.)
Lindsey Bahr, Associated Press
'Frozen II'
Disney's 2013 animated "Frozen," inspired by Hans Christian Andersen's "The Snow Queen," wasn't just a hit. It was a cultural tidal wave, a ubiquitous phenomenon thanks to Robert Lopez and Kristen Anderson-Lopez's soaring songs, particularly the inescapable, Oscar-winning "Let It Go," belted by Broadway powerhouse Idina Menzel. Six years later, the Elsa Halloween costumes have yet to grow cold. So when it comes to a sequel, the only mandate is: "Don't muck it up."
The good news is they haven't. The bad news? That's about it. "Frozen II" doesn't represent some giant leap forward for the "Frozen" universe, it merely keeps the franchise on track. For many, that'll be fine: more adventures of Elsa (Menzel), Anna (Kristen Bell), Olaf (Josh Gad) and Kristoff (Jonathan Groff). But the movie has all the staying power of a snowflake: It evaporates almost on contact.
"Frozen II" merely drifts pleasantly in and out of our consciousness, a diverting way to spend an hour and 43 minutes with some great tunes and lovely snowy landscapes to ogle (just wait until kids get a load of Elsa's new ice horse). It will of course be seared into the brains of parents and kids after their millionth viewing. And it's enjoyable and funny enough to be tolerated that many times, which seems to be what it's designed for.
What made "Frozen" rather revolutionary was its sisterhood story that resonated with so many people who were sick of seeing the same old princess-saved-by-a-prince tale. A princess saved by a princess? Now there's an idea. The snowy story about sisters powered by power ballads is infectious, and Disney hasn't messed too much with the formula.
Elsa is now queen of Arendelle, playing charades with her sister, Kristoff and Olaf, enjoying a bit of domestic bliss. Like almost every animated hero, Disney and otherwise, there's a bit of singing about how great things are where they are right now, which is of course, foiled by an existential threat. Elsa's plagued by a mysterious voice from the forest, coupled with some inclement weather. Recalling a folk song her mother (Evan Rachel Wood) used to sing about memories in an ancient river, she decides to dive into her ancestral history to discover the source of the voice, save Arendelle and free the forest from a persistent fog. She does so, of course, with her sister, her sister's boyfriend, their snowman and a reindeer in tow. Isolationist Elsa insists she has to make the journey alone, but like all the emotionally healthy, therapized Disney heroines of late, she learns she can't do it all alone and accepts Anna's help.
It's not a disappointment by any means. It's what you expect from the characters and world, and it gets the job done. But the most enthusiasm one can muster for "Frozen II" is it's perfectly adequate, unlikely to create a seismic cultural shift like its predecessor.
(PG, 2 ½ of 4 stars, 1 hr. 43 min.)
Katie Walsh, Tribune News Service
'21 Bridges'
You have free articles remaining.
"21 Bridges" is a just-good-enough New York crime thriller, made with sufficient slinky shadows and leading-man charisma (Chadwick Boseman ) to do the trick. Even if its best trick is informing you, in case you ever wondered, how many bridges there are crossing into Manhattan.
The story is simple. A drug heist goes awry leaving seven cops dead. Andre Davis (Boseman) is put in charge of the investigation, largely because of his shoot-first reputation. The son of a slain officer, Davis has shot eight people in nine years. He's known as "a trigger." And no in the force will mind if this case ends with bloodshed.
With the two suspects believed to be in Manhattan, thanks to an image of them running a light from an overhead camera, Davis orders the most audacious dragnet in the history of dragnets: He shuts down Manhattan for the night, stopping all trains and ferries, shuttering the tunnels and, yes, closing all 21 bridges.
The whole film takes place at night, as Davis and the narcotics officer he's paired with (Sienna Miller) hunt their shooters. The film tells it both from the detectives' perspective and the criminals (a pair of veterans played by Stephan James and Taylor Kitsch), who stumbled into 300 kilograms of uncut cocaine when expecting a more small-time heist. That police were casually on the scene at the time adds to the mystery that unfolds while Davis steadily closes in.
"21 Bridges" is well crafted enough to pass the time, but anything more than that is a bridge too far.
(R, 2½ of 4 stars, 1 hr. 40 min.)
Jake Coyle, Associated Press
'The Irishman'
Martin Scorsese is looking back in "The Irishman," a solemn meditation on gangster life orchestrated with a master's touch.
"Goodfellas" it's not; Scorsese made that pulse-pounding 1990 epic when he was 48 years old and at the peak of his powers. Now 76, the filmmaker is contemplating existence from a different perspective, and ruminating on the toll the life of a wiseguy takes on both the individual himself and those around him.
"The Irishman" moves slowly and pensively, invests in the natural rhythm of conversations and stops to smell the roses. It's a bookend to "Goodfellas" and to Scorsese's career-long fascination with the streets, populated by his regulars and with nods to his legendary career.
The film opens with a long shot through the hallways of a nursing home that finally settles on Frank Sheeran (Robert De Niro), elderly and alone.
The Five Satins' "In the Still of the Night" is playing, a thread that will weave throughout the film, and Frank begins narrating the story of how he went from a working stiff to "painting houses," mob talk for delivering hits.
Frank flashes back to a long road trip to Detroit he took with Russell Bufalino (Joe Pesci, magnetic in his first screen appearance in nine years) and their wives. They're headed to the wedding of Russell's niece, but the real purpose of the trip is to take out Jimmy Hoffa (Al Pacino), who used Frank as his right hand man for years.
Jimmy will trust Frank because of the rapport they've built up over time, so it's decided Frank will be the trigger man. Painting houses is a truly ugly business.
That's the shell of "The Irishman," but it barely scratches the surface of Scorsese's dissertation on the mafia and crime life.
It's about the coded language of the mob, the way things are discussed without being discussed, and the meetings, sit downs and tiny exchanges that decide one's fate. If you hear "he's going," he's already gone.
It's about the lessons, the tricks of the trade, one picks up over the years. "Whenever anybody says they're a little concerned," Frank informs in voiceover, "they're very concerned."
It's about the little moments — the nights spent at the bowling alley, the ice cream sundaes, the long car trips and the stops along the way — that make up a life. "The Irishman" takes its time and lets its story unfold freely. Scorsese is drunk on details, and with a three-and-a-half hour runtime, he spares none.
All told, maestro Scorsese conducts a grand symphony with "The Irishman," a movie about a lifetime and the dramatic weight of decisions made. Frank is feeling them, Scorsese is feeling them, we're all feeling them. Movies don't get much bigger than this.
(R, 4 of 4 stars, 3 hr. 30 min.)
Adam Graham, The Detroit News