"It's like blues had a baby and named it rock 'n' roll," Asselin said.
Mixing rock 'n' roll energy with the blues traditions, bandmates include guitarist Noah Williams, Andrew Hyden on bass, Justin Culp on drums and Asselin on guitar, vocals and harmonica. "When I feel like it," he said.
The William Marsala Band formed 10 years ago after listening to each other play in different blues bands. Asselin and Williams would often watch each others' bands before they began playing acoustic shows together. "Eventually we added more people," Williams said.
The group is influenced by guitarists such as Stevie Ray Vaughan, Jeff Beck and Duane Allman, as well as other popular musicians. However, the band appreciates the Decatur sound. Members of The William Marsala Band live in Decatur and Champaign.
"Decatur has been massive for us," Asselin said. "It has been great for music."
Their style of songwriting and performing incorporates what one might see from their influences.
"It's high energy with lots of guitar and solid rhythm," Asselin said. "We come up with the idea and play from the soul."
Their latest album represents that sound.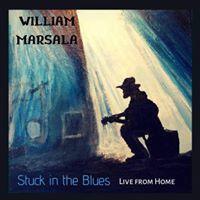 "It's a mixture of things we all love, soul, blues and rock," Williams said. "It's not traditional blues. We add a more modern take."
According to Williams, the CD came about by accident. "We were going to shoot a promo video for a show," he said. "Then we decided to add an audio version and make the CD."
Culp, the band's drummer, mixed the music in the studio, but created an album of what an audience member would hear on stage.
"There's no overdubs," Asselin said. "The long songs incorporate a lot of fun."