DECATUR — Pastor F. Todd McClelland is ready to entertain people.
Plays, music, performances, soundtracks. "We do it all," McClelland said. "I love to take somebody's dream and make it happen."
"I'm helping other people get to another level," McClelland said. "We help them get from Point A to Point B to Point C."
McClelland and his team promote the artists, including booking a recording studio, scheduling performances and finding other places to highlight the music. They sign the groups, bands and singers. "And we have a lot of radio connections," McClelland said.
Gospel jazz, gospel hip hop, love songs are listed under the category of inspirational, McClelland said. Some of the groups they promote include Christian Brothers from Cleveland, Ohio, Standard from Indianapolis, and Stars in Heaven from Chicago.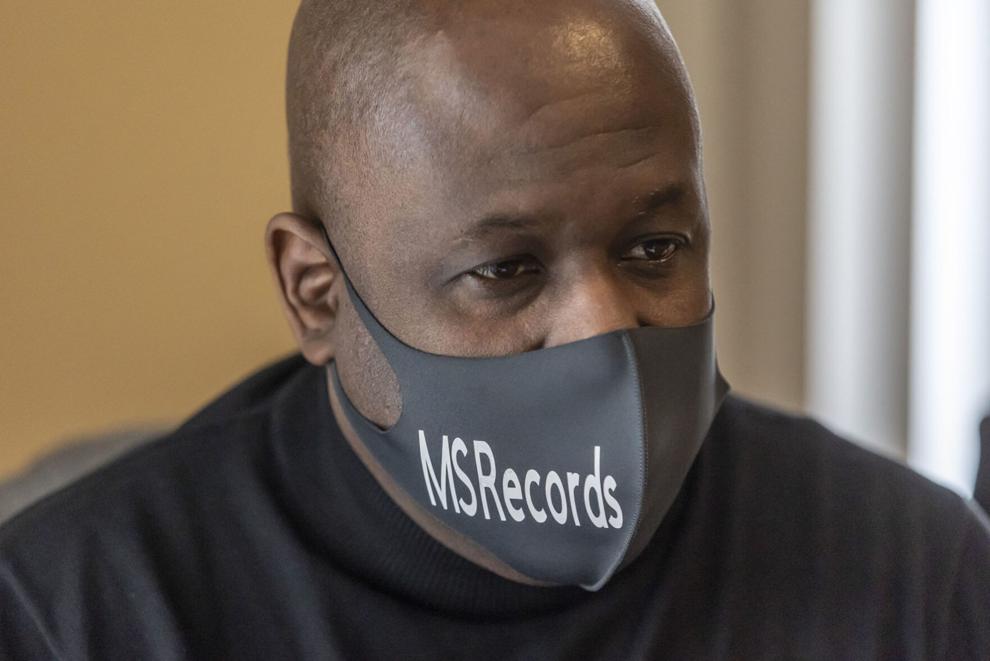 In the past, the music they promoted was classified as gospel. McClelland knew the brand needed to expand. "It's going to be inspirational, positive, encouraging," he said about the style. "The model is a sound that inspires."
Rev. Esqulaira LeSure, 58, from Cleveland, Ohio, and his group The Christian Brothers are recording artists assigned to Millennium Sound Records. LeSure began working with the Decatur company in 2003, shortly after McClelland began promoting artists. Their first recording was titled "Dear Lord."
"They are very strategic and very hardworking," LeSure said about the record company. "Especially for them being a new record label."
LeSure made his first record at the age of 15. He said his style is in the quartet genre, "with a little bit of flare contemporary," he said.
With the help of Millennium Sound, the Christian Brothers have shared the stage with several popular Gospel artists, including Shirley Caesar, Highway Q.C's, Mighty Clouds of Joy, Lee Williams, and the Jackson Southernaires. The Christian Brothers have performed in Decatur as well. "It was a packed out service," LeSure said.
McClelland was just a musician nearly 20 years ago when he was enlightened to promote artists. The company began under the name Forward This Millennium Records. Their responsibilities were limited to recordings and concerts until the company changed the name and broadened its scope. "I found out my passion was on the business side," McClelland said.
Publishing, promoting and producing are a few of the Millennium Sound Records responsibilities. However, a studio closer to Decatur is the only piece missing from the artist's experience. Finding important studio components is crucial to McClelland. "Does it sound right to be played on the radio," he said. "Anybody with a Mac computer, anybody who records, that's fine. But does it sound right, has it been mixed right, has it been mastered?"
Millennium Sound Records has worked to promote the artists while focusing on ministry. "We work with our artists," McClelland said. "They put something in, we put something in. We work together. But it is a business."
Anthony Gray, 32, has performed with the gospel group Standard for about eight years. "It's a traditional gospel sound, but we are a younger artist," Gray said. "So we flip it and call it Urban Quartet, where we give it a new-age feel. It's based on feelings."
The group signed with Millennium Sound more than a year ago, shortly before the pandemic stopped live performances. "That kind of slowed everything down," Gray said. "We haven't been able to hit the ground running."
Standard was able to record an EP, allowing Millennium Sound to promote their music through radio stations. "He has really been getting our music played over the airwaves," Gray said about McClelland.
The promotional work has paid off for Standard. The group was recently nominated as Quartet Artist of the Year by the Gospel Choice Music Awards.
McClelland has worked with various professionals throughout the music business. However, he took a five-year break after his grandmother, father and daughter passed away within a year of each other. He recently returned, ready work again. "It's patience," he said about running a successful business.
His goal is to put at least 25 people to work through the Millennium Sound Records and the ministry of its sister church City of Praise. Jobs would include production personnel, assistants, digital marketing, engineers and actors.
"I took an opportunity and I jumped on it," McClelland said about the future.
Along with a reputation for being a strong promoter of inspirational music, McClelland and Millennium Sound Records have integrity, according to LeSure. "He's a man of his word," LeSure said. "He does it in the spirit of excellence. He works extremely hard for his artists."
Although Millennium Sound Records is still considered young compared to other record labels, they are making a mark on the industry. "Many people know about Decatur because of Millennium Sound," LeSure said. "They are definitely making a mark."