If you hang around the same place long enough, not only will you see things that aren't supposed to happen, you see things you never anticipate happening.
And depending on your circumstances, you might see that stuff more than once.
Last Saturday's work shift started quietly, but before the end of the evening, dozens of people had to improvise just to get copies of the Sunday morning Herald & Review on doorsteps and to vendors.
About 4 p.m., our building lost its internet access. We relaxed and waited for it to be restored. At some point, we also recognized our phones had gone out.
Within an hour or so, those of us in the office and our bosses, who were being updated on the situation via text messages, realized the issue was serious. Our expected average Saturday night had suddenly turned into an emergency situation.
Frustrated editors tried to access what we needed by using laptop computers. The aggravation grew as personal wifi hotspots simply weren't powerful enough for us to access what was needed. After a brief discussion, some of us went to digital editor John Reidy's house to use the business wifi connection there. Employees at the Bloomington Pantagraph, one of our sister papers, gave up their Saturday evenings to help push pages through. Taking advantage of a long-standing emergency agreement, arrangements were made with Peoria to print the newspaper there.
The outcome was a printed paper was produced for Sunday morning. Some copies weren't delivered until well after they were expected, disappointing people who then couldn't get through to the Herald & Review to find out what was going on. The phones were still dead.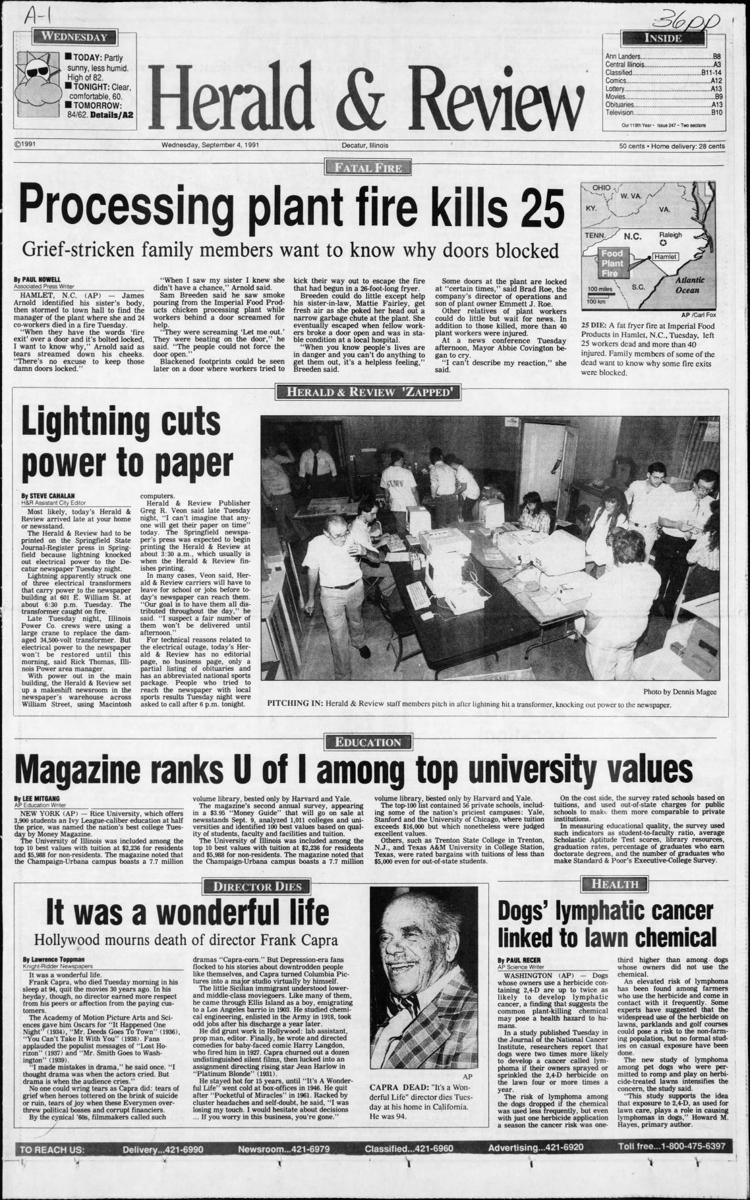 A couple of us, though, were old hat at improvising during emergencies. Jeana Matherly, who wound up working side by side with Reidy at his kitchen table to produce Sunday morning pages, and I were both employees in September 1991, the first and previously only time during our employment here that the Herald & Review printed off-site.
That time the paper was printed (and some of it was actually produced) in Springfield. A lightning strike hit a transformer just outside the back door of our building. The Herald & Review was plunged into darkness.
In 1991, deciding to print off-site took a little bit longer. But in 1991, everything took a little bit longer. I gathered up as many of the pages as we had already put together and jumped into a car with the late Rex Spires, then my sports department co-worker, and city editor Rick Manugian to do what we could to put together sports pages and answer whatever questions Springfield workers had as they tried to manufacture their first edition of the Herald & Review.
That lightning strike was at 6:30 p.m., and workers scrambled and extemporized. Some decamped across the street to a warehouse that stands no longer, taking advantage of its space and, most important, its electricity. In those very early days of mobile phones, someone captured the image of a haggard-looking editor Jim Santori with a device glued to his ear. It's as funny now as it was crucial then.
Jeana, I and since-retired sports editor Mark Tupper were all captured in a front-page photo taken in the warehouse, documenting our work.
(This time around, Central Illinois Editor Chris Coates had not one but two cell phones stuck to his ear while acting as middleman between here, Peoria, Bloomington and all points around and between.)
Spires, Manugian and I returned from Springfield as the sun came up the following morning, proud to hand off copies of the Herald & Review fresh off the press.
A bit more than 27 years later, we again improvised. This time, I wasn't holding a copy of the paper. But I smiled when the Sunday product thumped at my front door about 8:30 a.m. (I knew the production was complete because I checked the e-edition on our website when I got up about 6:30.)
I was more cognizant of others' problems this time around. Our press had electricity this time around, but the paper couldn't be printed here because the internet plays a vital role in the plates getting made, a conundrum that's being addressed in case the worst ever happens again.
We are prepared to do what needs to be done every time. Mere hours after she went home Saturday night, the first person I encountered at the office Sunday morning was regional editor Allison Petty, making arrangements to do the same thing again that night if needed.
There were challenges in 1991 as well, but I was far more aware of them this time. The one that seemed insurmountable this time was distribution of the paper. Tags for bundles are expected every day by our delivery people, but our printers were as dead as our phones. Solving that took some improvisation. But obviously it was successful improvisation.
Forty years ago, in Minnesota, I was driving the 20 miles from my hometown to my job at the Rochester Post-Bulletin. Listening to the radio on the way there, I was dumbfounded as I heard reports of what sounded like the entire city of Rochester being underwater. I didn't believe it until I was about a mile from the newspaper building and was re-routed by National Guardsmen.
Floodwaters were literally a block from the building. Unbeknownst to me, a meager grunt who proofread ads, newspaper employees had spent the night putting sandbags in place to keep the water away from the press.
The key thing in all three occurrences was no one ever said, "I don't think we can put out a paper under these circumstances." There may have been doubts, but people kept those doubts to themselves. And ultimately, those instances all became great stories to tell, and are great testaments to what newspaper people expect of themselves and from each other. We did what we had to do, and in each instance, we were successful.
I've worked in daily newspapers for 41 years, and we've never missed a day of publishing. Doing the impossible can sometimes feel like a matter of course.
This is what we do, and this is who we are.
John Reidy's kitchen is a perfectly acceptable emergency newsroom.