DECATUR - Four adults and five juveniles were charged Tuesday with felony mob action in connection with a Sept. 17 fight during a football game at Eisenhower High School.
A home video of the incident was shown to the mass public for the first time Tuesday evening on network news broadcasts. The video quickly made its way onto cable news shows for much of the night.
Macon County State's Attorney Larry Fichter had opposed the release of the video, saying it is evidence in the criminal proceedings which moved forward Tuesday.
"Obviously we have a tape that we've had for some time and it has remained in our possession. I have no knowledge of how that tape has gotten out. It is unfortunate that the information has now been viewed by many different people," Fichter said. "Those events, I can't control. All I can control is what I do. We are apparently in the politics of confrontation, and it appears some people want to remain there. That is not how I practice my profession."
The Rev. Jesse Jackson, at a rally and vigil Tuesday night, said he saw the tape for the first time earlier in the day but that it didn't change his perception of the situation.
"They finally showed us the tape, the great and mighty moment one of them leaked the tape to CBS News to further prove their point," he said. "I saw an ugly fight that should not have been.
"I didn't see what I see in a hockey match - blood; I didn't see what I saw when the Knicks played Miami in the NBA," Jackson said. "I saw a seven-minute tape and 17 seconds of fight ... (and) it takes some effort to discern who is in that film in that 17-second frame."
The criminal charges came as Jackson continued his efforts to rally support for seven high school students initially expelled for two years by the Decatur school board for their part in the fight.
Jackson and hundreds of attendees were in high spirits at Tuesday's rally, vowing to "stay the course" in fighting to have the students reinstated.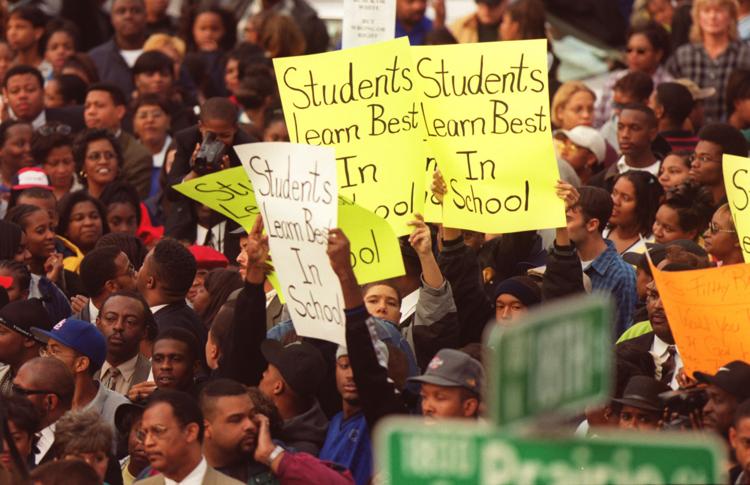 Following the rally, Jackson and others who have accompanied him this week met for more than an hour with state school Superintendent Glenn W. McGee in a restaurant at the Decatur Holiday Inn Select Conference Hotel.
"The conversations were trying to get me up to speed on what's been happening,'' McGee said. "I want to make sure that what happens from here is in the best interest of all concerned from the seven young men to the 2,800 (high school) students in Decatur.''
A legal defense fund has been established for the students - who will be represented by Decatur attorney Ruth Waller and Lewis Myers Jr. of Chicago - and the Rainbow/PUSH Coalition received pledges of $15,000 for that fund during the rally Tuesday, Jackson said.
Jackson responded to the expulsions Tuesday by taking the matter to U.S. District Court in Urbana. Six of the seven expelled students and their lawyers say the school's zero-tolerance policy toward violence is unconstitutional. They seek a court order that would force the school board to readmit them.
According to the complaint, the zero-tolerance policy violates the students' Fourteenth Amendment rights to due process of law.
The students also contend that the school board wrongly accused them of "gang-like" activity, doled out punishment disproportionately and failed to provide the students any notice or warning that they could be expelled.
Myers said a hearing before a federal judge must be held no later than Nov. 18.
The case was filed on behalf of students Roosevelt Fuller, 18; Gregory Howell, Terrence Jarrett, Errol Bond and Courtney Carson, all 17; and 16-year-old Shawn Honorable.
"If you think you want a fight," said Myers, rhetorically addressing the school board, "you've got one."
Jeffrey Taylor, attorney for the Decatur school board, said he had not seen the suit as of Tuesday evening, but welcomed it regardless.
"I think it is better to let the courts decide rather than have him (Jackson) force them through the doors of the school," Taylor said. "Go ahead and let the judge decide if they should be in school."
Tuesday morning, Jackson and about 80 supporters showed up for a second consecutive day at Eisenhower along with the expelled students. As on Monday, Decatur's three public high schools remained closed and Jackson was unable to attempt to get the students back into school. He vowed to continue his daily efforts to have the students reinstated.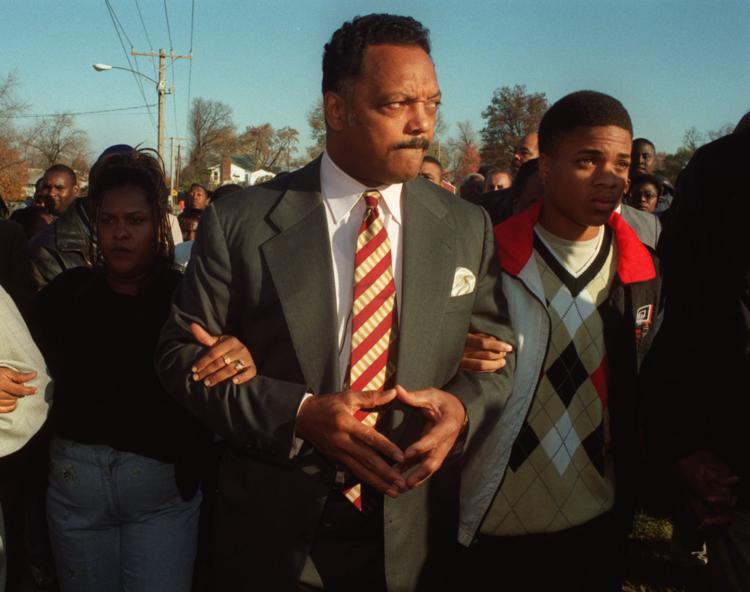 Superintendent Kenneth Arndt said he hopes this "community's nightmare will end soon."
"I hope we can get the kids back in school (today), without any confrontation. But, our first responsibility is public safety," Arndt said.
He said the decision about whether or not to have school will be made at 6 a.m. today.
A half-day of school is scheduled for today with no school for Thursday in observance of Veterans Day and Friday because of a planned teachers' institute.
Following his rally at Eisenhower with dozens of reporters from local, area and national media in attendance, Jackson returned to the Church of the Living God, PGT Temple 3, 1762 E. Prairie Ave. It was the staging site for a march last Sunday that saw a group walk to Eisenhower for a rally supporting the expelled teen-agers. Decatur police estimated the crowd at 1,200 people, although march organizers have said it was more.
Jackson said he will lead another mass march at 3 p.m. Sunday. The march is expected to originate at the Decatur Civic Center and proceed to MacArthur High School. Julius Bailey, spokesman for the Decatur Rainbow/PUSH Coalition chapter, said the group's goal is to have 10,000 people march.
There were reports of white supremacist literature having been distributed Tuesday in the area near the Decatur-Macon County Fairground. Matt Hale, leader of The World Church of the Creator, earlier announced plans to distribute the literature and visit Decatur to oppose Jackson's efforts in the city.
Carolyn Wagner, executive director of Decatur Not In Our Town, said Hale would definitely not find a welcome here.
"Decatur Not In Our Town in no way supports or invites Matt Hale to this community," Wagner said. "We don't want his assistance and we don't support his ideas. He's wrong in assuming the school board wants his support."
Jackson appeared surprised when, during a live television interview, he was informed that charges had been filed against some of those involved in the Sept. 17 fight.
"This will only make matters worse," Jackson said. "Why wait till 60 days later to make these charges?"
Members of the Rainbow/PUSH Coalition say the charges are unwarranted. They say the charges were filed in response to the organization's refusal to accept a district compromise cutting the students' expulsions from two years to one and providing alternative schooling.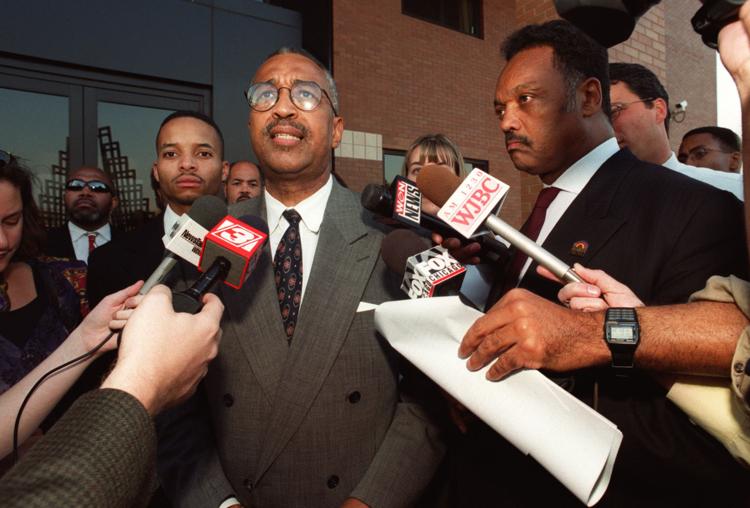 "Why is it after a major march of more than 5,000 people, a negotiations session with the governor and the board of education where we refused to cede to unreasonable demands on their part, the next day they decide that for the first time in 60 days these cases merited criminal prosecution,'' Myers said. "What happened here in your town is vicious, it's vindictive and it does not bode well for reconciliation in a community that needs to be healed."
Fichter said he announced last week that action would be taken in the case early this week.
"We followed a normal time line that we use when we have an extensive investigation involved," Fichter said. "This took place at a football game. We are still finding individuals who were witnesses or who were injured. It took time to run down people who didn't have a lot of fear involved. We had to proceed carefully."
Adults charged Tuesday with two counts of felony mob action were Carson, Howell, Fuller and 19-year-old Coryell C. Spates, 19, according to court documents. Fuller also was charged with one count each of felony aggravated battery and misdemeanor resisting a police officer, according to court documents.
Circuit Judge Jerry L. Patton said the general nature of the charges against the five juveniles was felony mob action. Juvenile petitions are not open to public scrutiny and other information about the individuals involved was not made available.
Mob action is punishable by up to three years in prison, aggravated battery by up to five years in prison and resisting a police officer by up to 365 days in jail and up to a $1,000 fine, according to state statutes.
During the school board's regularly scheduled meeting on Tuesday, Steven Moore, a junior at MacArthur High School, praised the board for its actions this past week.
Moore said he was at the Sept. 17 game and that Jackson's account of the fight has been inaccurate. He said he was in a seat about 10 feet away from the fight.
"I saw five to seven teen-agers beating on a student so brutally and maliciously," he said. "You could hear the fists hit him from the top of the stands.
"I support the expulsions."
Reaction Tuesday to Jackson's continued efforts varied from strong support to strong opposition.
Eisenhower parent Tina Corbin tried in vain Tuesday to get Jackson to stop and listen to her written statement, saying she had sat up Monday evening frustrated and aggravated by the situation with the high schools.
"There are innocent people suffering now," Corbin said. "This is beyond the line."
Another Eisenhower parent, Mark Reynolds, was escorted away by Decatur police officers after making belligerent statements about Jackson prior to Jackson's arrival at the high school.
"We have a new superintendent of schools, Jesse Jackson," Reynolds proclaimed to anyone who would listen. "I'm fed up with this. My daughter is out of school because of him. I'm here today to find out why they (the expelled students) weren't arrested yesterday when they crossed the street onto school property. I'm here to confront him (Jackson). I'll probably get arrested."
He reiterated his support of the school board during its meeting Tuesday night.
"I want to know why those expelled students didn't get arrested," he said. "The school board said they were going to have the kids arrested if they got on school property. They did it twice. And, instead I get arrested."
Staff writers Billy Tyus and Ken Dickson contributed to this story.
Originally published November 10, 1999