DECATUR - In the wake of its massive tire recall, Bridgestone/ Firestone Inc. will lay off 450 Decatur workers indefinitely and temporarily shut down the plant to bring its inventory in line with demand.
Temporary shutdowns also are planned at the company's plants in LaVergne, Tenn., and Oklahoma City starting in October and continuing through January. Layoffs are planned only at the Decatur plant.
The shutdowns and layoffs will cut the company's overall daily tire production of 170,000 by 20 percent, said John Lampe, Bridgestone/ Firestone chief executive officer and president. After the layoffs - about 25 percent of the plant's work force - production in Decatur will drop from 20,000 tires per day to between 10,000 and 15,000.
In order for the company to rebuild, it must be financially strong, Lampe said during a teleconference about the layoffs and production cutbacks Tuesday afternoon.
"To accomplish this we must take some necessary, but very painful, first steps," he said. "In no way is our reduced production and indefinite layoff a reflection of the plant's importance in our manufacturing base. We stand behind the plant, our workers and management."
Lampe stressed neither action will affect the company's ability to replace the 6.5 million tires recalled on Aug. 9. More than 4 million tires have been replaced, with the recall expected to be finished by the end of November.
The possibility of temporary shutdowns and layoffs was first mentioned by Bridgestone chief executive Yoichiro Kaizaki about four weeks ago. At that time, company officials denied the statements, saying there were no "current plans" for either.
The company's announcement came the same day a team of 20 auditors completed a weeklong study of the Decatur facility. Plant manager Harry McMillan said no problems were found at the plant that would have caused the recalled tires to fail.
"Current production meets all quality standards," he said. "The audit team did make a few minor recommendations on how the plant could further improve its operations, but there isn't anything of significance."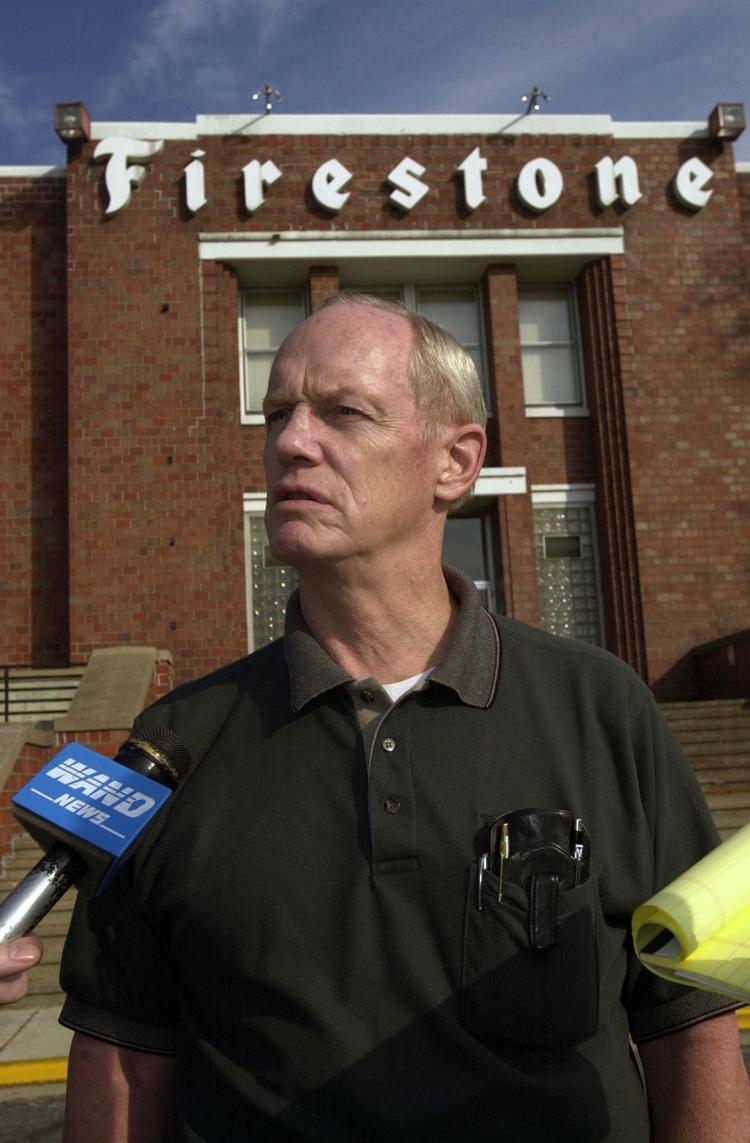 The auditors will meet with top management in Nashville the rest of this week to discuss their findings from the Decatur and LaVergne plant visits. Audits will continue at other North American tire plants.
The company has not said which of the plant's 2,000 workers will be laid off starting Oct. 29, but McMillan said most will be hourly employees. The plant shutdown from Dec. 14 to Jan. 2 will include most of the union employees and some salaried workers.
Plant management will meet with union leaders at 1 p.m. today to answer questions about the layoffs, including which workers will be included.
Randy Gordon, vice president of United Steelworkers Local 713, which represents 1,800 union members, said he was not surprised when a Firestone office worker handed him a notice about the layoff about 12:30 p.m.
"I'm not surprised with the sales down the way they are. I think Decatur is taking the biggest hit," he said. "If you're not selling tires, you don't have to keep building tires."
Julie Moore, president of the Chamber of Commerce for Decatur and Macon County, said she's concerned that the layoff is indefinite.
"I hope these workers will be brought back. Fortunately the economy is strong," she said. "Hopefully, there are better prospects for them now than there would have been a few years ago."
Jobs are available, but many are in the $6.50 an hour range, said Jodi McDermott, office manager for Olsten Staffing Services. The average Firestone worker makes $18 an hour, or $3,000 per month.
"I think the job market is pretty good right now," she said, but they will get few jobs in the $15 to $18 an hour range. "We have been getting calls from Firestone workers. We're having them in to fill out applications."
Gordon hopes that won't be necessary and that workers will be called back soon. Callbacks will depend upon whether Firestone can convince buyers that it is building quality tires, he said.
"That lies in the hands of the consumer," he said.
The decision to lay off workers at the Decatur plant was not related to the increased attention given the factory since the tire recall began, Lampe said. The plant was singled out as producing a large number of the recalled tires, and many of the tires involved in accidents.
"This decision was purely based on an inventory position," Lampe said. "Decatur is still a very important part of the manufacturing base."
Also on Tuesday, the National Highway Traffic Safety Administration increased the number of deaths linked to the ATX, ATX II and Wilderness AT tires from 101 to 119. The tires were mostly installed on Ford vehicles, predominantly the Ford Explorer. In a large number of the fatal accidents, the tire's tread separated and the Explorer overturned.
The slowdown in production is necessary because the company's inventory is up 50 percent, mostly due to preparations for a possible strike, Lampe said. Union workers came within hours of a strike at the beginning of September, but a contract was later ratified on Sept. 21. Other factors contributing to the larger inventory is a decrease in demand for Firestone tires and a shift in the market to larger tires, he said.
"Certainly in the marketplace today the trust in Firestone tires is low because of the recall and because of the bad press. We have to regain the trust of the consumers, and that's what we plan on doing," McMillan said.
The Decatur, LaVergne and Oklahoma City plants were selected for the cutbacks because they primarily have excess inventories of the affected tires, Lampe said. Decatur is involved more, he said, because it has more of an inventory, produces more Firestone tires and makes more of the smaller tires for which demand has diminished.
The Oklahoma City plant will be idle from Oct. 29 through Nov. 11 and from Dec. 10 to Jan. 2. Production at LaVergne will be cut back to 7,000 tires from Oct. 29 to Nov. 11 and completely idled from Dec. 14 to Jan. 2.
Bridgestone/ Firestone has no plans to lay off more workers at the Decatur plant, Lampe said, adding that the company hopes the steps will bring inventory in line with demand. McMillan also said there is no indication further cutbacks are needed, but it is something that is never ruled out.
`Early next year we would have to take a look at what the sales volume is and what our inventories are and adjust accordingly," he said. "Certainly we would hope that we can rebuild the Firestone name and rebuild our sales volume, and we would hope we could recall these employees as quickly as possible."
Gordon said he is optimistic the tire company can rebound, especially with Lampe committed to creating a more positive image for Firestone . Lampe pledged to rebuild the company last week when he took over as CEO.
"We don't feel the tire is the complete problem," Gordon said, adding that he believes Ford should have taken more responsibility for the accidents.
Laid- off workers will receive 80 percent of their present pay with the company making up the difference not covered by unemployment benefits. Workers with at least two years at the company will receive pay for 26 weeks, while those with 10 to 20 years will have 39 weeks. Employees with more than 20 years will receive pay for 52 weeks.
Gordon said he expects some workers will volunteer to be laid off because of the 80 percent guarantee. Some who are planning to retire soon might volunteer because that percentage is higher than they would receive from a pension.
The disadvantage of volunteering to be laid off rather than outright retiring is that workers who aren't called back would receive no seniority time toward a pension during the layoff time.
Firestone workers said they weren't surprised by the news but were frustrated they had to hear it first from the media.
Most of the time we hear about any major news we hear about it from the news media first," said Gary Miller, a 25-year veteran. "I think it goes along with the times. I've been through two major layoffs and two major strikes. New people should realize that strikes and layoffs are part of working at Firestone ."
Originally published October 18, 2000