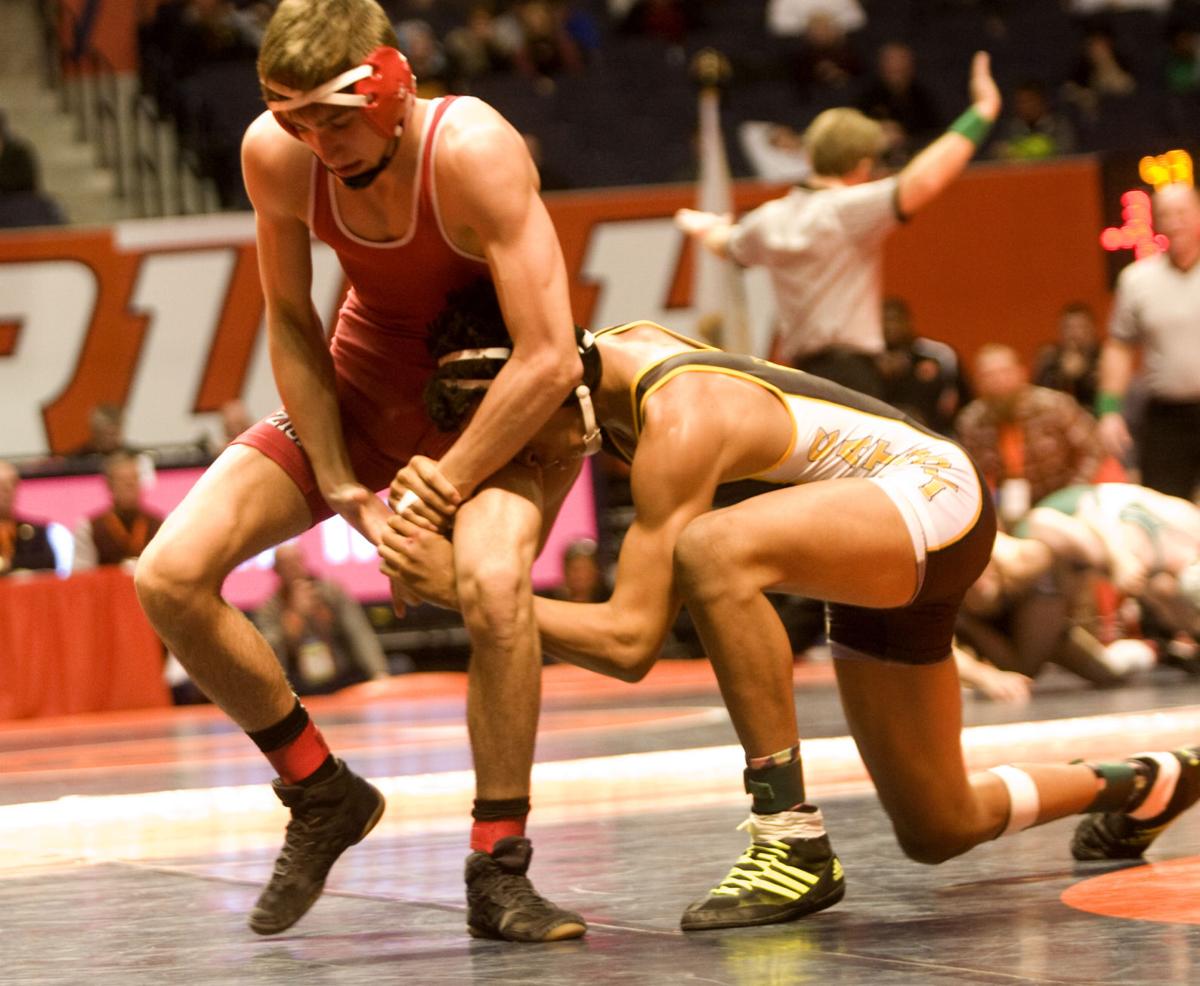 MOUNT ZION - Having some unpredictability on the mat is never a bad thing.
For wrestlers, who see many of the same opponents growing up and throughout each year, adding new wrinkles is essential.
Mount Zion's Tyler Bennett has been able to build up a network to help incorporate his own brand of wrestling.
The Braves senior broke through to state last year, and is headed to the 2A Mascoutah Sectional today as a top seed hoping a return to wrestle under the bright lights at state.
"He does a lot outside the room," Mount Zion coach Steven Owens said. "He's learned quite a few things from the college wrestlers he rolls around with at Millikin, a lot of things from Jason Eckenrod.
"It's funny, he'll do something over and over again until he finally gets it. And then gets better and better with it."
It's been Bennett's routine since the second grade. He wanted to follow in his dad's footsteps and got onto the mat at an early age. Right away he was successful, making state that first year.
Though it's Owens' first year as the head coach at the high level, he's been connected to the junior high and kids club levels for a long time and has known Bennett since he started.
"He's the kind of kid you want in the wrestling room," Owens said. "Great grades, great personality. Never gets into any kind of trouble and works his butt off in practice. If I had a room full of kids like him, I'd be happy."
Owens sees him as a student of the sport, soaking up knowledge wherever he goes.
There's been several good role models Bennett's been able to see since eighth grade, as the Braves have had several recent state medal winners. He's tried to incorporate a little bit of everything to what he does on the mat.
You have free articles remaining.
"My style has changed so much," Bennett said. "In kids club, I was always a shot person. And in junior high, I always did legs. In high school, that's all changed because everybody's bigger than you and has pretty much the same technique.
"I always worked off what Jacob Morgan did and Jake Eckenrod did, the big wrestlers that went to Mount Zion. Dalton Coleman. I think, like coach says, I have a certain type of tilt I do, but always watched those three throughout my career."
That versatility is something the best wrestlers have to succeed, and Owens sees the unique qualities as well.
Working with Millikin wrestlers like Jake Eckenrod, Bennett's seen the next level of wrestling up close.
"He's got his own style, he definitely does, Owens said. "He's got some moves that work for him that probably wouldn't work for anyone else. He's found his niche and he's developed it very well."
Bennett's hoping he's able to follow in those footsteps of Braves from the past five years. After making sectionals as a sophomore, he made state last year. There's a logical next step waiting to be checked off.
"My goal this year is definitely to get on the podium," he said.
First, though, is sectionals. The toughest opponent will likely be Carbondale's Will Meador in a possible semifinals matchup.
But with a top 4 finish comes a state qualification and a chance to forge through the State Farm Center for some hardware.
It's not easy, no matter what school or background you have. But for a school like Mount Zion, barely above the cutoff for 2A and potentially wrestling opponents from schools twice its size, there's an added barrier.
Bennett's looking to use all that knowledge he's built up to break it down, and Owens is looking for him to attack.
"It's quite a feat to medal at the state level," Owens said. "We're one of the smallest 2A schools, but you can't go into it thinking, oh 2A is hard. You just have to go into thinking I'm going to do this, and that's what Tyler does."